You are here
Ana-Maria Tanasescu
Advanced Certificate in Management
Class of 2019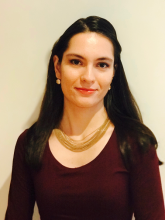 "Obtaining the Advanced Certificate in Management has definitely helped me in my current role...I've learned how organizations as a whole contribute to the well-being of employees."
What were some of the most defining aspects of your time at CUNY SPS?
Looking back at the program, what I remember most is the interactive group projects I had to complete with fellow classmates. These projects also fostered friendships and opened my thinking to other students' career paths. The connections formed with professors is also a big plus.
What is the best piece of advice, or most important thing you learned at CUNY SPS?
The most important thing I learned is how to connect to employees not just on a professional level, but also on a personal level... Making the workplace a fun, exciting place increases employee productivity. We spend so much of our time at work, so putting the emphasis on work relationships is beneficial for all.
How has your CUNY SPS education influenced your current job, and your career overall?
Obtaining the Advanced Certificate in Management has definitely helped me in my current role as a laboratory coordinator. I've learned how to assess employees' working styles, how to communicate effectively, how to motivate and retain employees, how organizations as a whole contribute to the well-being of employees, and the importance of financial records.
What is the most rewarding aspect of your job?
The most rewarding aspect of my job is the feeling of satisfaction at the end of each day. I am able to help the lab run smoothly with each task I complete. Every day is different and is filled with diverse tasks; my ability to organize, plan, and keep the lab moving forward is a big joy.
OUTSIDE THE CLASSROOM
Which show are you currently watching? America's Got Talent
What is your favorite meal? Pad Thai
Favorite or most recent book you read? Plain Truth by Jodi Picoult
Facebook, Twitter, Instagram, LinkedIn, TikTok, none, all? Facebook and LinkedIn