You are here
Alyse Zwick
BA in Communication and Culture
Class of 2012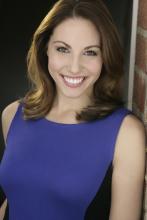 "CUNY SPS gave me the opportunity to communicate information effectively, [which] is imperative to my job in television as viewers are watching to receive the information I present."
Why did you choose CUNY SPS?
I chose CUNY SPS because it was a perfect fit for working and being in school at the same time. I was auditioning for jobs throughout New York and shoot days could have been on any day. It was hard to attend class physically due to those restrictions and lack of a set schedule, but having the ability to access all of the classes online, on my time, was just perfect.
What most appealed to you about your CUNY SPS degree program?
The appeal of the CUNY SPS program was the ability to work full-time and finish school. I was representing the state as Miss New York 2009 and competing for the title of Miss America 2010, in the Miss America Pageant. I wanted to focus on that once in a lifetime opportunity. The program afforded me the opportunity to achieve my dreams and goals while advancing my education at the same time.
How did you find your online/classroom interaction with other students? With faculty?
I loved interacting in an online classroom environment. Everyone was always attentive and alert. Video chats helped with group projects. It was great to be able to use online resources to produce great classroom results.
What were some of the most defining aspects of your time at CUNY SPS?
The faculty were always attentive and the overall school administration was helpful, available, and flexible.
What is the most important thing you learned at CUNY SPS?
Since the program is online, it takes a lot of discipline and dedication to complete work and not let assignments go by the wayside. The program reiterated to me how important structure, discipline, and productivity are in one's career and life.
How has your CUNY SPS degree influenced your current job, and your career overall?
CUNY SPS gave me the opportunity to communicate information effectively over the internet without having to physically be in the classroom. Communication is imperative to my job in television as viewers are watching to receive the information I present.
What is the most rewarding aspect of your job?
I love being a part of the Spectrum News NY1 news team that delivers important information to viewers. Whether they're New Yorkers or tourists from all over the world tuning in, it's exciting and rewarding to be a part big market that reaches so many diverse people.
Where do you see yourself in five years?
I see myself continuing to work in journalism presenting stories and events to all New Yorkers.
Outside the Classroom
Giants, Jets, other, don't care? Knicks, Nets, other, don't care? Mets, Yankees, other, don't care? JETS all the way! I am a former New York Jets Flight Crew Cheerleader and loved my time working with the NFL and the team. Currently, I'm the in-arena host for the NHL's New York Islanders. I'm always cheering on my Isles and I love New York Sports.
Favorite subway line? Least favorite subway line? My favorite subway line is the 'A' train. It gets me to work quickly and usually is running on time. As a traffic reporter, I follow this closely. Least favorite is the 'G' train. It's usually the one to have delays first.
Netflix, Hulu, Cable, all three, neither? I am for all outlets of television. Binge watching is the best.
Favorite NYC attraction? Favorite NYC cultural institution? My favorite NYC attraction is the Statue of Liberty because she represents so much. The Vietnam Veterans Memorial, 55 Water Street, is also one of my favorites. I'm a volunteer in the NYC War Veterans community and advocate on their behalf. The "wall of names" reminds NYC of our protected freedoms.
Favorite artist/band? I will always be a diehard *NSYNC fan anxiously awaiting their reunion. :) I love Bon Jovi, Guns 'N Roses, Garth Brooks. I am a music lover and love visiting local NYC bands play throughout the city.
Facebook, Twitter, Instagram, LinkedIn, none, all? All of them!
Book or e-reader? Favorite title or the most recent title you read? Book. My favorite book is Randy Pausch's The Last Lecture. It's Inspirational and uplifting. I do love psychological thrillers too. The Girl on the Train by Paula Hawkins is one of my favorite books.