Youth Studies Series Explores Issues of Social Justice and Self-Protection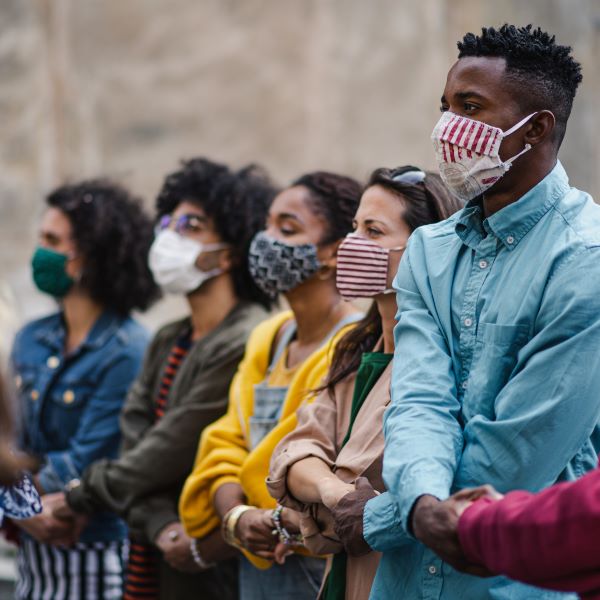 Since 2019, the youth studies program at the CUNY School of Professional Studies (CUNY SPS) has hosted an annual Community & Youth Organizing lecture series. Coordinated and moderated by CUNY SPS adjunct lecturer Lumumba Akinwole-Bandele, these events run through January and feature special guest speakers. This year's installment, which focused on issues of social justice and self-protection, was comprised of three segments: Addressing Vicarious Trauma, held on January 5; We Keep Us Safe! Alternatives to Policing, held on January 12; and No One is Illegal, held on January 19.
The first segment, Addressing Vicarious Trauma, featured guest speaker Iya Rev. DeShannon Bowens, a psychotherapist and founder of ILERA Counseling & Education Services. During the talk, Bowens discussed how people who help others cope with crisis could experience trauma themselves due to their work. Counselors, educators, youth service providers, and front-line workers are particularly susceptible to experiencing vicarious trauma. This stress can manifest in high blood pressure, shortness of breath, and other symptoms typical of high-stress situations. "We have to tune in to our bodies," Bowens advised, and offered strategies for self-care including yoga, deep breathing, and interoceptive awareness (internal signals).
In the next talk, We Keep Us Safe! Alternatives to Policing, Professor Bandele welcomed community activists Quentin Walcott, executive director of Connect NYC, and Juan Ramos, executive director of Southside United HDFC - Los Surs. Both Walcott and Ramos spoke of their roles in preventing violence in their communities so that a police presence becomes unnecessary. As they explained, these models of community safety further illustrate the value of community-centered approaches that rely on prevention rather than punitive measures. They also addressed the need to reinvest in neighborhoods. As Ramos observed, "The safest communities are the most resourced, not the most policed."
The final installment of the 2022 series, No One is Illegal, dealt with the intersection of immigration and racial justice. The guest commentators were Nana Gyamfi, executive director of BAJI (Black Alliance for Just Immigration), and Alejandra Pablos, an immigration rights organizer and activist. In their conversation, Gyamfi and Pablos explored how detention centers and deportations disproportionately affected people of color. They also noted that chilling images of border patrol and ICE agents violently attacking and detaining Black and brown immigrants expose an unfair system. Gyamfi concluded, "…the road to liberation will be when the Black people are sitting in the driver's seat."
About the MA in Youth Studies program
The CUNY SPS MA in Youth Studies, the first program of its kind in New York, was established in 2017 with the goal of supporting the needs of individuals ages 12 to 24 by training qualified frontline youth-workers, directors, and administrators. In addition to offering a high-quality degree, the youth studies program has a research agenda that uses youth-adult partnerships and a critical participatory action research approach to inform youth policy and practice in NYC. Current projects include partnerships with ACS and DOE and Amplify, a set of new and innovative research tools designed to engage young people in city-wide policy making and drive local action.
About the CUNY School of Professional Studies
As New York's leader in online education since 2006, the CUNY School of Professional Studies (CUNY SPS) offers the most online bachelor's and master's degree options at the City University of New York, and serves as the University's only undergraduate all-transfer college. With 24 degrees and numerous other non-degree and grant-funded workplace learning programs, CUNY SPS meets the needs of adults who wish to finish a bachelor's degree, progress from an associate's degree, earn a master's degree or certificate in a specialized field, and advance in the workplace or change careers. Consistently ranked highly by U.S. News & World Report for its online offerings, and noted for its soaring growth and enrollment, CUNY SPS has emerged as a nationwide leader in online education. The School's renowned and affordable online programs—which offer in-state tuition to all students regardless of where they live—ensure that busy working adults may fulfill their educational goals on their own time and schedule.
Press Contact
Andrea Fagon
Director of Marketing and Communications
andrea.fagon@cuny.edu