CUNY SPS Youth Studies Program Co-Hosts Conference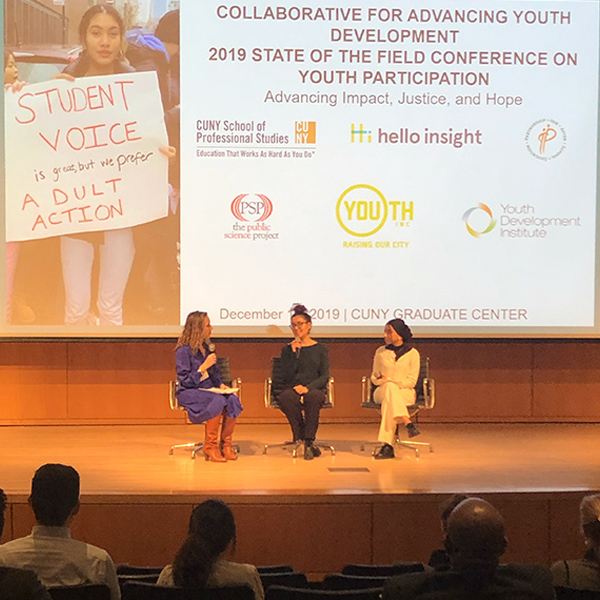 The CUNY School of Professional Studies (CUNY SPS) youth studies program co-hosted the third annual State of the Field Conference on Youth Participation on December 10, 2019, in partnership with the Collaborative for Advancing Youth Development. These partners include Algorhythm, Youth Inc, The Public Science Project, Partnership for After School Education (PASE), and the Youth Development Institute.
Nearly 300 youth workers, youth leaders, members of city government, and experts in the field attended the one-day conference, which was centered around the goal of highlighting youth participation in and around New York City, and specifically on youth activism projects led by young people. The conference's workshops, sessions, and activities provided the opportunity for attendees to evaluate and discuss the role that youth development organizations play in youth participation and to work for youth-adult partnerships that are fully reciprocal, enabling the youth voice by allowing it to lead to adult action.
Dr. Sarah Zeller-Berkman, director of the CUNY SPS youth studies program and the Intergenerational Change Initiative, said "Our students joined with 275 other youth workers to explore what could potentially happen when you layer a rights-based approach onto the deep-rooted and rich civic ecosystem that exists here in New York City….This year's topic of youth participation was very aligned with the ways in which we teach our youth studies students to partner with young people to change their communities, the programs and institutions that serve them, and the policies that impact their lives."
The conference began with a morning introduction by Zeller-Berkman and an opening activity led by young people from the Intergenerational Change Initiative at CUNY SPS. Following this, UNICEF Chief Strategy and Engagement Officer Anucha Browne delivered the keynote address to a packed auditorium. Browne spoke intentionally on the Convention on the Rights of a Child and how these rights should travel with every young person, wherever they may go, and be recognized and upheld. She also spoke about UNICEF's Child Friendly Cities Initiative (CFCI) and, along with UNICEF Youth Ambassador Abdullah Akl, explained its five goals as a framework that can exist for all youth work on a global scale. Akl also helped set the tone for the conference when he reflected, "Put in children before, during, and after everything that you do, and there you will get your solutions."
Other highlights of the conference included an exhibition of the "Civic Ecosystem" in New York City, featuring 16 local organizations, and a Child Friendly Cities Initiative assessment activity. Seven learning sessions were also offered on topics such as critical participatory action research, youth community boards, youth councils, and youth activism, along with a critical conversations session that allowed participants to analyze live data from the exhibition. The conference concluded with a listening session where attendees reflected on what they hope will happen next, as well as commit to action for what they can do to grow as allies with New York City youth moving forward.
Nicole Hamilton, director of school based programs and partnerships at Girls for Gender Equity and a current MA in youth studies candidate at CUNY SPS, was one of the feedback presenters during the listening session. While addressing the importance of the data collected at the conference, Hamilton noted, "This is about creating equitable spaces for young people to participate in the democratic process of addressing issues of equity … We need to establish networks and pathways to connect youth to opportunities with and beyond our organizations." With that goal in mind, the CUNY SPS youth studies program looks forward to building upon the progress from this year's conference in 2020 and to further enable the amazing work that young people are doing throughout New York City.
About the MA in Youth Studies program
The MA in Youth Studies, the first program of its kind in New York, was established in 2017 with the goal of supporting the needs of individuals ages 12 to 24 by training qualified frontline youth workers, directors, and administrators. In addition to offering a high-quality degree, the Youth Studies program has a research agenda that uses youth-adult partnerships and a critical participatory action research approach to inform youth policy and practice in NYC. Current projects include partnerships with ACS and DOE and Amplify, a set of new and innovative research tools designed to engage young people in city-wide policy making and drive local action.
About the CUNY School of Professional Studies
Home to the first fully online degree programs at the City University of New York, the CUNY School of Professional Studies (CUNY SPS) provides online and on campus programs that meet the needs of adults who are looking to finish a bachelor's degree, earn a master's degree or certificate in a specialized field, advance in the workplace, or change careers.
The School's growth has been remarkable. Launching twenty-three degrees since 2006, enrollment has risen by more than 30% in the last four years to over 3,700 students in the credit-bearing programs. We serve thousands more who are enrolled in our non-degree and grant funded workforce development programs. In addition, the School has an active Alumni network and established the CUNY SPS Foundation, which offers multiple scholarship opportunities to our current students.
Affirming our role as a leader in online education, CUNY SPS was ranked in the top 5% of U.S. News & World Report's list of the 2019 Best Online Bachelor's Degree Programs, making CUNY SPS the highest nationally listed program in New York City.
Press Contact:
Andrea Fagon
Director of Marketing and Communications
andrea.fagon@cuny.edu
(646) 664-8690