Yerelyn Nuñez Wins CUNY Student Photo Challenge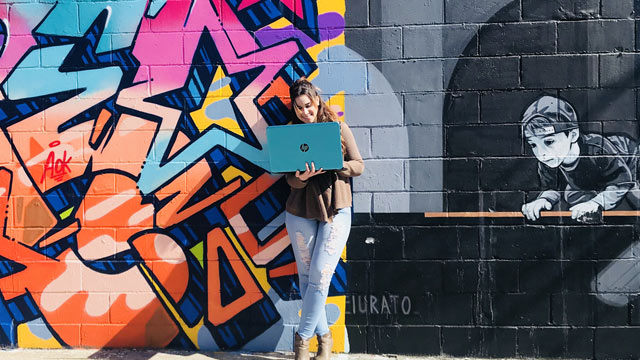 The CUNY School of Professional Studies (CUNY SPS) is proud to announce that Yerelyn Nuñez, a current online BA in Communication and Media student, has won the CUNY Student Photo Challenge for March 2018 with her self-portrait "Two Worlds Collide."
Nuñez's photo, which is part of a larger outdoor photo series, provides a rare glimpse into the daily life of an online student with a moment that depicts the accessibility and convenience of distance learning. The juxtaposition of the vibrantly colored graffiti with the black and white mural in "Two Worlds Collide" serves as a visual metaphor for the way that student life and the surrounding world come together for online learners.
"I lived in Astoria for four years, but this artwork really spoke to me," says Nuñez. "It showcases the flexibility of being an online student; the fact that you can make the sidewalk your classroom if you'd like."
Shot with an iPhone and the assistance of her brother, Nuñez's main goal was to share the concept of online learning with the rest of the CUNY community in a relatable way. Nuñez is anticipated to graduate from CUNY SPS this June after which time she plans to become a social media manager for a media company. To catch a glimpse of Nuñez's social media work, visit the CUNY SPS Instagram page where Nuñez currently serves as its main student contributor for the Spring 2018 semester.