You are here
Welcome to the Fall 2022 Semester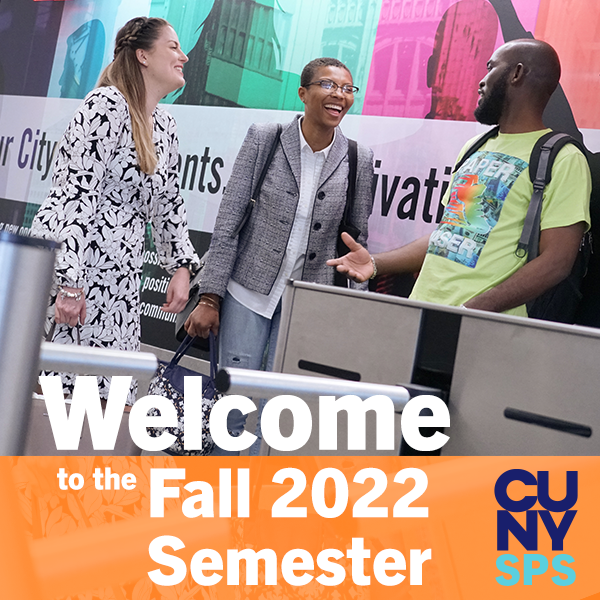 Dear Members of the CUNY SPS Community:
I am very pleased to welcome you all to the Fall 2022 Semester at the CUNY School of Professional Studies.
As we begin classes this week, there is much to look forward to at CUNY SPS. This fall, close to 4,000 students will be either starting or returning to our undergraduate and graduate degree programs, with thousands of others attending our non-degree and grant-funded workplace learning programs. Excitingly, this includes the inaugural classes of our two newest degree programs—the Bachelor of Professional Studies in Applied Management and Entrepreneurship and the Bachelor of Arts in Youth Studies.
As our students will soon discover—if they have not already—our online programs are some of the best in the nation, rated among the highest by U.S. News & World Report and many other outlets for their quality, affordability, and convenience. More than anything, these rankings serve as a testament to our deeply committed faculty and staff who work hard to ensure that working adults returning to college or seeking a graduate degree get the best possible education here.
In service of this mission, CUNY SPS will dedicate the 2022-2023 academic year to expanding further the many programs, initiatives, partnerships, and funding opportunities we offer to help our students thrive.
With all this on the horizon, I am excited for the upcoming year and can't wait to meet or reconnect with our amazing students, faculty, and staff in the months ahead. I am always available to chat and encourage you all to reach out anytime. I also invite you to view my welcome back video here.
Wishing you all a wonderful and productive 2022-23 academic year!
All the best,
Jorge Silva-Puras
Interim Dean, CUNY School of Professional Studies