We Will Never Forget: September 11, 2001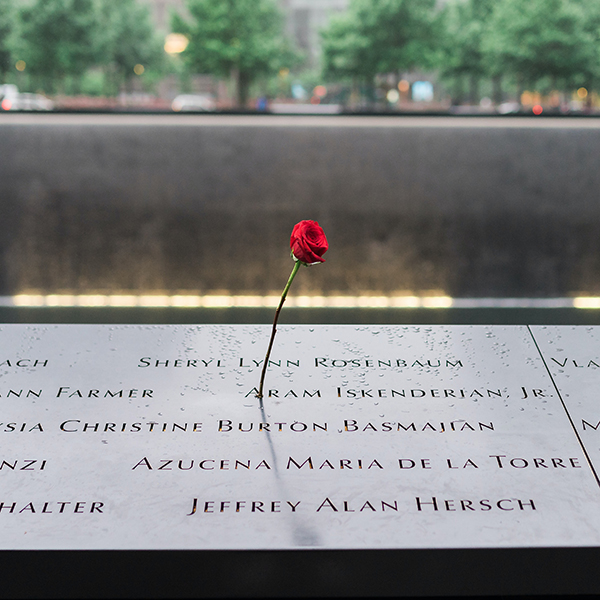 Today marks the 19th anniversary of the 9/11 attacks, a truly tragic day in American history. In annual ceremonies around the world, we mourn the tragedy and honor the victims of the attacks, as well as the first responders and service members that have sacrificed their lives since.
This year, our 9/11 commemoration takes on an even greater poignancy amid the upheaval of the past few months. The COVID-19 pandemic, a public health crisis unimaginable to us a year ago, has ravaged our cities and communities, and left so many of us either sick or terrified of getting sick, mourning loved ones lost to the illness, or struggling financially as a result of the shutdown.
Alongside this, we are experiencing civil unrest on a scale not seen for generations, which has highlighted the systemic racial injustice and inequity that has dogged this country since its founding, and led to massive protests that continue to this very day.
One lesson that I take from 9/11 is that while we cannot control the events around us, we can choose how to face them. The attacks revealed the depth of our hatred, violence, and division but also, in its aftermath, the heroism, sacrifice, courage, and compassion of our first responders, and those who have spent days, weeks, months, and even years helping the victims and their families and rebuilding New York City. During the worst of COVID-19, our essential workers—our nurses, postal workers, grocery store clerks, and janitorial staff, among others—took (and continue to take) huge risks to help others and keep the city running. And a shocking video of an unarmed Black American man named George Floyd dying at the hands of police in Minneapolis inspired millions worldwide to brave the streets to denounce racial violence and police brutality, and demand change.
Our choices, together, make a difference. New York City, decimated after 9/11, emerged in full force thanks to its dedicated citizens. Following strict public health guidelines, the city now reports its 33rd straight day with the COVID-19 positivity rate under 1%, and is opening back up. And the protests have expanded throughout the country, shedding light on racist policies and demanding that they change.
Here at CUNY SPS, I see this same commitment to making a difference embodied in our students. Last spring, we celebrated our largest-ever graduating class (over 900 students), and this fall, we welcomed a record of over 4,100 students into our degree programs. Their dedication to their education during a time of such uncertainty is, to me, truly remarkable. It is heroism like this that I celebrate on 9/11, and I encourage you all to do the same.
John Mogulescu, Dean
CUNY School of Professional Studies
For a list of commemorative events, please visit the 9/11 Memorial & Museum website.