You are here
Student Club Ends Banner First Year with Inspiring Commencement Celebration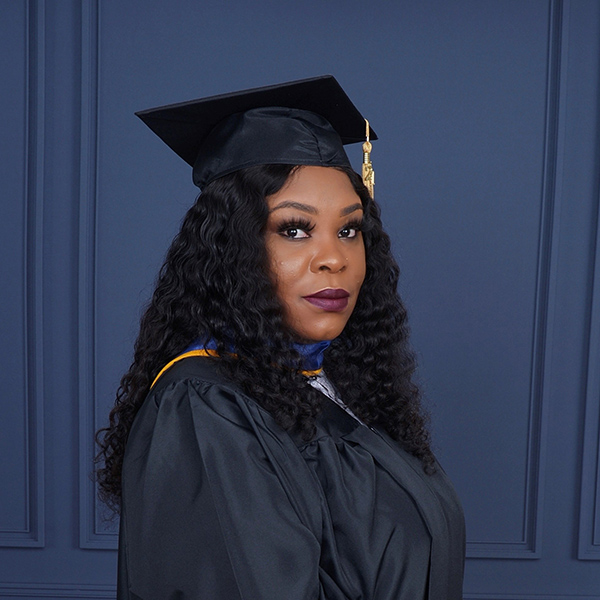 The Black Student Union (BSU), a new student club at the CUNY School of Professional Studies (CUNY SPS), ended its first year with an inspiring and moving Commencement celebration. Held virtually on May 14, the celebration aimed to collectively recognize the accomplishments of the School's Black students, many of whom are first-generation college students who have persisted against many obstacles in their journey toward their degrees, and to honor them for their hard work and dedication.
Hosted by Rachelle Russell, the BSU Meetings and Programming chair, the uplifting and heartfelt celebration featured several speeches, followed by a slideshow presentation and a special toast to all those graduating.
After opening with the video of the U.S. Army Field Band performing the hymn and Black national anthem Lift Every Voice and Sing, a number of CUNY SPS students, faculty, and staff offered remarks, including Nidia Cordova, CUNY SPS alumni relations specialist; students Shakima Williams-Jones and Desiree Baxter; Dean John Mogulescu; and Dr. H. "Herukhuti" Sharif Williams, an adjunct associate professor from the MA in Applied Theatre program.
Students attending were also invited to participate by sharing their own comments and congratulatory messages throughout the event.
In one highlight, Desiree Baxter, who is earning her BA in Communications from CUNY SPS this Spring, reflected frankly on her own academic and COVID-related struggles, and what she gained from facing these challenges.
"Through these difficulties though, we've learned…that we're strong, we're driven, we're adaptable, and we're ambitious…. This is what we've been working so hard for and sitting here during graduation just shows how much effort and belief we have in ourselves," said Baxter. "And as an African American woman whose ancestors fought so hard for their right to be educated, I'm sure my ancestors are proud of where I stand, and I'm sure yours are as well."
In another highlight, Dr. Williams delivered the keynote remarks. During a powerful speech, he offered words of advice while performing in the role of a favorite uncle or aunt speaking to a recent graduate in their family: "Don't be no educated fool… Don't forget that you live in and work in the largest prisoner of war camp in the history of humanity, this United States. And your job—like it or not—is to survive this thing long enough so you can help do some damage to this system so that maybe one day, seven generations from now, our people will be free."
This celebration marked the end of a very active year for the student organization, which was founded in the Fall 2020 semester with a mission to empower and create a safe space for Black students at CUNY SPS. Headed by the BSU Student Leadership Council, which is made up of CUNY SPS students Leandra Grinage, Jacklyn Tomlin, Rachelle Russell and Shanice Williams, the group also hosted a number of timely and engaging events throughout the academic year.
Many of the BSU's public events took place during Black History Month this past February. Alongside the organization's first inaugural general student body meeting on February 18, the BSU also hosted a month-long digital celebration of Black lives and accomplishments on Instagram, with new topics explored on the social media site each week.
On February 25, the BSU ended their commemoration of Black History Month with the first annual Raise Your Voice event, which focused on Amplifying Black Voices in both Academia and Community Activism. This interactive discussion, which was divided into two separate talks exploring the topics Black in Academia and Finding Your Movement, featured a number of acclaimed speakers.
The list of those participating in the Raise Your Voice event included Dr. Margaret Barrow, a professor at BMCC; Ariyan Johnson, an alum and associate professor at University of California – Irvine; Monique Atherley, the BSU club advisor and an adjunct lecturer in the CUNY SPS Human Relations program; Jamell Henderson, a community activist; Diandra Grinage of the National Council of Negro Women Inc.; Tia Leslie-Troy of the NAACP; and Eu'nice Mc Coy of the National Urban League.
Following these events, BSU held several other panels throughout the Spring 2021 semester. On March 25, the BSU hosted an online discussion on beauty standards, colorism, and validation, an important dialogue that focused on how black women are treated in the media, the workplace, and academia. On April 15, the BSU hosted an online panel that discussed personal finance and how the topic affects communities of color.
Many of the students, faculty, and community members who attended these virtual events noted that the panels were lively and the discussions riveting. Jacklyn Tomlin observed, in a description that could perhaps also apply to all of the BSU's offerings this year, "It was moving and so informative. We made history and I am so grateful to be a part of it."
About the CUNY School of Professional Studies
For over 15 years, the CUNY School of Professional Studies (CUNY SPS) has been leading online education in New York. Notable for offering the most online bachelor's and master's degree options at the City University of New York, and for serving transfer students as the University system's only undergraduate all-transfer college, CUNY SPS meets the needs of adults who wish to finish a bachelor's degree, progress from an associate's degree, earn a master's degree or certificate in a specialized field, and advance in the workplace or change careers.
The School's growth has been remarkable, with twenty-four degrees launched since 2006. Enrollment has risen by more than 30% in the last four years to over 4,000 students in the credit-bearing programs. Thousands more are enrolled in non-degree and grant-funded workplace learning programs. In addition, the School has an active alumni network and has established the CUNY SPS Foundation, which offers multiple scholarship opportunities to current students.
CUNY SPS has consistently been named by US News & World Report as one of the country's top online institutions. This year, the School was ranked in the top 2% in the nation on the publisher's list of the 2021 Best Online Bachelor's Degree Programs.
Press Contact
Andrea Fagon
Director of Marketing and Communications
andrea.fagon@cuny.edu