A Recovery for All of Us: The Academy for Community Behavioral Health Expands Offerings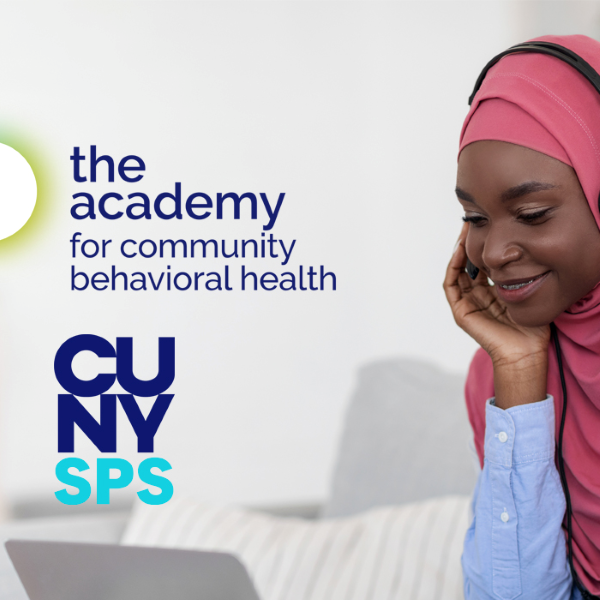 FOR IMMEDIATE RELEASE December 21, 2021 Contact: Andrea Fagon | andrea.fagon@cuny.edu Sean Redding | press@mentalhealth.nyc.gov
A Recovery for All of Us: The Academy for Community Behavioral Health expands offerings to build behavioral health capacity of thousands of social service providers
Free courses are now available for staff at community-based organizations in neighborhoods hard-hit by COVID-19
New York, NY – The Academy for Community Behavioral Health is expanding training, coaching, and technical assistance programs that empower social service providers to address behavioral health. The CUNY School of Professional Studies (CUNY SPS) runs the Academy in partnership with the Mayor's Office for Economic Opportunity (OEO) and the Mayor's Office of Community Mental Health (OCMH).
The Academy launched in June 2021, giving social service providers access to free learning programs that help providers support the mental health of the New Yorkers they serve. The Academy is now announcing new 2022 courses for staff at community-based organizations and City and State agencies across the five boroughs. The Academy will continue adding courses throughout 2022 and plans to reach more than 5,000 service providers over the next three years.
Social service providers encounter a range of behavioral health issues in their everyday work and have important opportunities to deliver care. The Academy aims to empower social service providers with:
Skills and resources to partner with community members in naming and addressing behavioral health
Support to manage the emotional demands of the work social service providers do
The Academy offers a range of programs for social service providers. 2022 courses now open for registration cover topics such as using motivational interviewing to engage parents and caregivers of young children around the COVID-19 vaccine and preventing and managing post-traumatic stress disorder during COVID-19. Providers can also apply for two multi-session courses – Understanding Grief and Loss: Supporting Bereaved Community Members and Deep Roots: Tools for Healing Mass and Intergenerational Trauma.
In December 2021, the Academy launched its first skills-based certificate program in Motivational Interviewing (MI). This program offers comprehensive training, ongoing coaching, and technical support that equips organizations to apply MI in their everyday work. Six diverse community-based organizations providing services across New York City were competitively selected for the free MI Certificate Program: CAMBA, Center for Court Innovation, Chinese-American Planning Council, Food Bank for New York City, Mercy Center, and Public Health Solutions.
Between December 2021 and June 2022, over 100 learners from these six organizations will participate in the MI Certificate Program's tracks for organizational leaders, MI practitioners, and MI supervisors. MI is an evidence-based, person-centered counseling method shown to help people make positive behavior changes and improve health and social outcomes. It offers tools to engage community members in compassionate, respectful, and collaborative helping relationships, with benefits for community members and staff delivering services.
"We are ecstatic that the Academy, a vital collaboration between the Mayor's Office of Community Mental Health, Mayor's Office for Economic Opportunity, and the CUNY School of Professional Studies, is open and has begun the incredibly important work of strengthening mental health services across the city," said Jorge Silva-Puras, Interim Dean of the CUNY School of Professional Studies. "It's imperative to focus on the most vulnerable of our city residents and provide resources to the social service providers who can help them. The Academy is housed within the Office of Professional Education and Workplace Learning (PEWL), an integral unit of CUNY SPS, which partners with city and state agencies, nonprofit organizations, and the private sector to develop innovative programs. This is another shining example of the service we provide to our fellow New Yorkers."
"NYC Opportunity is thrilled to partner with CUNY and OCMH on the Academy for Community Behavioral Health," said Matthew Klein, Executive Director of the Mayor's Office for Economic Opportunity. "Based on findings from our Connections to Care program, the Academy is equipping social service providers with essential skills so they can bring needed mental health supports to their communities, improving mental health and other outcomes for their program participants."
"You don't need to be a clinician to offer basic mental health support and connect people to care," said Susan Herman, Director of the Mayor's Office of Community Mental Health. "The Academy for Community Behavioral Health is bringing critical mental health skills to community-based organizations and City agencies so they can better serve New Yorkers at a time of profound need."
The Academy prioritizes capacity building in the 33 neighborhoods identified by the New York City Taskforce on Racial Inclusion and Equity (TRIE) as most impacted by COVID-19 or experiencing a high rate of health and other socioeconomic disparities. By expanding the number of people and organizations that can offer behavioral health support in neighborhoods with deeply rooted racial and economic disparities, the Academy plays an important role in addressing mental health care inequity across the City.
In addition to its free courses for social service providers, the Academy offers expert consultation, custom learning programs, and specialized technical assistance to New York City and State agencies who fund or deliver social services in New York. Services may focus on promoting evidence-based practices in community settings and advancing culturally responsive care; building agency capacity to integrate behavioral health and social services in their roles as funders and program administrators; or promoting more effective collaboration between social service and behavioral health providers.
"We are grateful to the Academy for Community Behavioral Health for providing free mental health trainings for social service providers, including social service workers who are part of the Department for the Aging's network. These educational opportunities will provide the essential mental health support our communities need during these tough times," said Department for the Aging Commissioner Lorraine Cortés-Vázquez.
"Providing mental health services as part of DYCD-funded programming is essential to the well-being of New Yorkers—particularly in our most vulnerable neighborhoods and among young people impacted by social isolation during the COVID-19 pandemic. The Academy for Community Behavioral Health's free trainings are a valuable, strengths-based resource for our network of providers as well as DYCD staff who work on the ground with the communities that we serve," said Department of Youth and Community Development Commissioner Bill Chong.
"Our communities, specifically our children, have experienced mental health challenges as a result of COVID-19," said Health Department First Deputy Commissioner and Chief Equity Office Dr. Torian Easterling. "The Academy for Community Behavioral Health plays a critical role in ensuring equity through partnering and supporting community based organizations to better identify, and connect New Yorkers to mental health care."
"Lockdowns, housing conditions, deaths of friends and loved ones, food insecurity, unemployment, all contribute to the deteriorating mental health of New Yorkers, while the necessary resources to provide them the help they need are not available. Low income and communities of color, in particular, are the most devastated, as they suffered the most casualties during the pandemic. These communities are infamous for being mental health "deserts," due to the lack of mental health services and professionals, which further compounds the mental health crisis. To tackle these inequities, culturally sensitive and appropriate specialists are necessary if we are to provide relief to these communities. The expansion of courses and certification programs for local CBOs and City and State agencies at The Academy is a crucial step forward in increasing the number of behavioral health services in underserved communities," said Council Member Farah N. Louis, Chair of the Committee on Mental Health, Disabilities, and Addictions.
"Being part of the Academy's MI Certificate Program will enhance our skills to engage with clients, understand their priorities and challenges, and help them build motivation and confidence to move toward their goals, such as accessing permanent housing or reducing substance use," said Carol Rubinstein, Senior Vice President of Single Adult Shelter Services at CAMBA. "Too often, training is a one-shot deal with poor follow-up. Through this program, MI can be fully woven into the daily work we do with our clients and with each other. It will provide an opportunity to have skilled individuals to impact our client outcomes, improve the quality of services, model and educate for others an evidence-based practice, and increase staff satisfaction in their work."
"Given the times we are living in, grief comes up in much of the work social service providers do," said Nicole Alston, MSW, who co-leads the Academy's courses on supporting bereaved community members. "This course is vitally important because participants have a place to learn more about grief and gain skills to support people who are grieving, while sharing their experiences in a small and supportive group environment."
"Course participants have told us that learning about grief and loss is so relevant to the work they do, especially in light of COVID-19 and its impact on the communities they serve," said Bevin Campbell, Psy.D, who co-leads the Academy's courses on supporting bereaved community members. "One of the most meaningful aspects of this course for me is that it gives providers space to open up about the impact of grief in their own lives and reflect on how this comes up in their work."
First announced by Mayor de Blasio and First Lady Chirlane McCray in April 2021, the Academy builds on the promise of Connections to Care, which integrated mental health support into the work of community-based organizations serving low-income communities across the City. Like Connections to Care and other initiatives, the Academy draws on the framework of task sharing, equipping providers and agency staff with tools and resources to address and promote mental health.
To register for the Academy's courses, please visit: https://cuny.swoogo.com/cbha
Feedback from participants:
"Early in my career, I worked in a community mental health clinic that utilized community members, paraprofessionals, and clinicians [to deliver care]…When these programs became limited to clinicians, we lost the ability to communicate with residents of these communities in a way that was sensitive to their lives," said a stakeholder who participated in a focus group of City and State agencies and community-based organizations to help develop the Academy's programming. "It makes me really happy to return to community and the idea that people other than licensed professionals can provide help and find new ways to cope."
"This is a great opportunity to care for staff. People come to us from different backgrounds and we routinely see different levels of training and skill development across staff and programs," said another stakeholder who participated in a focus group of City and State agencies and community-based organizations to help develop the Academy's programming. "There are a lot of resources that tell you what to do, and what the best practices are, but few that actually equip you to do it."
"I really appreciated the [facilitator] going through actual coping skills, all of which were quite simple to walk through for clients. It was not only helpful as a service provider to support clients, but also as a person who managed [my own] high stress, during the pandemic especially," said a service provider who attended the training on Managing Perceptions of Control.
About the CUNY School of Professional Studies
For over 15 years, the CUNY School of Professional Studies (CUNY SPS) has been leading online education in New York. Notable for offering the most online bachelor's and master's degree options at the City University of New York, and for serving transfer students as the University system's only undergraduate all-transfer college, CUNY SPS meets the needs of adults who wish to finish a bachelor's degree, progress from an associate's degree, earn a master's degree or certificate in a specialized field, and advance in the workplace or change careers.
The School's growth has been remarkable, with twenty-four degrees launched since 2006. Enrollment has risen by more than 30% in the last four years to over 4,000 students in the credit-bearing programs. Thousands more are enrolled in non-degree and grant-funded workplace learning programs. In addition, the School has an active alumni network and has established the CUNY SPS Foundation, which offers multiple scholarship opportunities to current students.
CUNY SPS has consistently been named by US News & World Report as one of the country's top online institutions. This year, the School was ranked in the top 2% in the nation on the publisher's list of the 2021 Best Online Bachelor's Degree Programs.
About the Mayor's Office for Economic Opportunity
The Mayor's Office for Economic Opportunity (NYC Opportunity) helps the City apply evidence and innovation to reduce poverty and increase equity. We work to improve the systems of government by advancing the use of research, data and design in program and policy development, service delivery, and budget decisions. Our work includes analyzing existing anti-poverty approaches, developing new strategies, facilitating the sharing of data across City agencies, and rigorously assessing the impact of key initiatives. NYC Opportunity manages a discrete fund and works collaboratively with City agencies to design, test and oversee new programs and digital products.
NYC Opportunity also produces research and analysis of poverty and social conditions, including its influential annual Poverty Measure, which provides a more accurate and comprehensive picture of poverty in New York City than the federal rate. Part of the Mayor's Office of Operations, NYC Opportunity is active in making equity a core governing principle across all agencies.
About the Mayor's Office of Community Mental Health The Mayor's Office of Community Mental Health (OCMH) oversees strategies to fill critical gaps in mental healthcare so every New Yorker, in every neighborhood, has the support they need. Building on the strong foundation of ThriveNYC, OCMH partners with 13 city agencies and nearly 200 non-profit organizations to implement innovative programs that reach people with the highest need – those with serious mental illness, those affected by trauma, and those living in historically under-served neighborhoods. OCMH is re-imagining the way New York City approaches mental health by activating every part of City government and creating strategic partnerships outside of government to promote mental health.