Q&A With Award-Winning Scholar and Museum Studies Student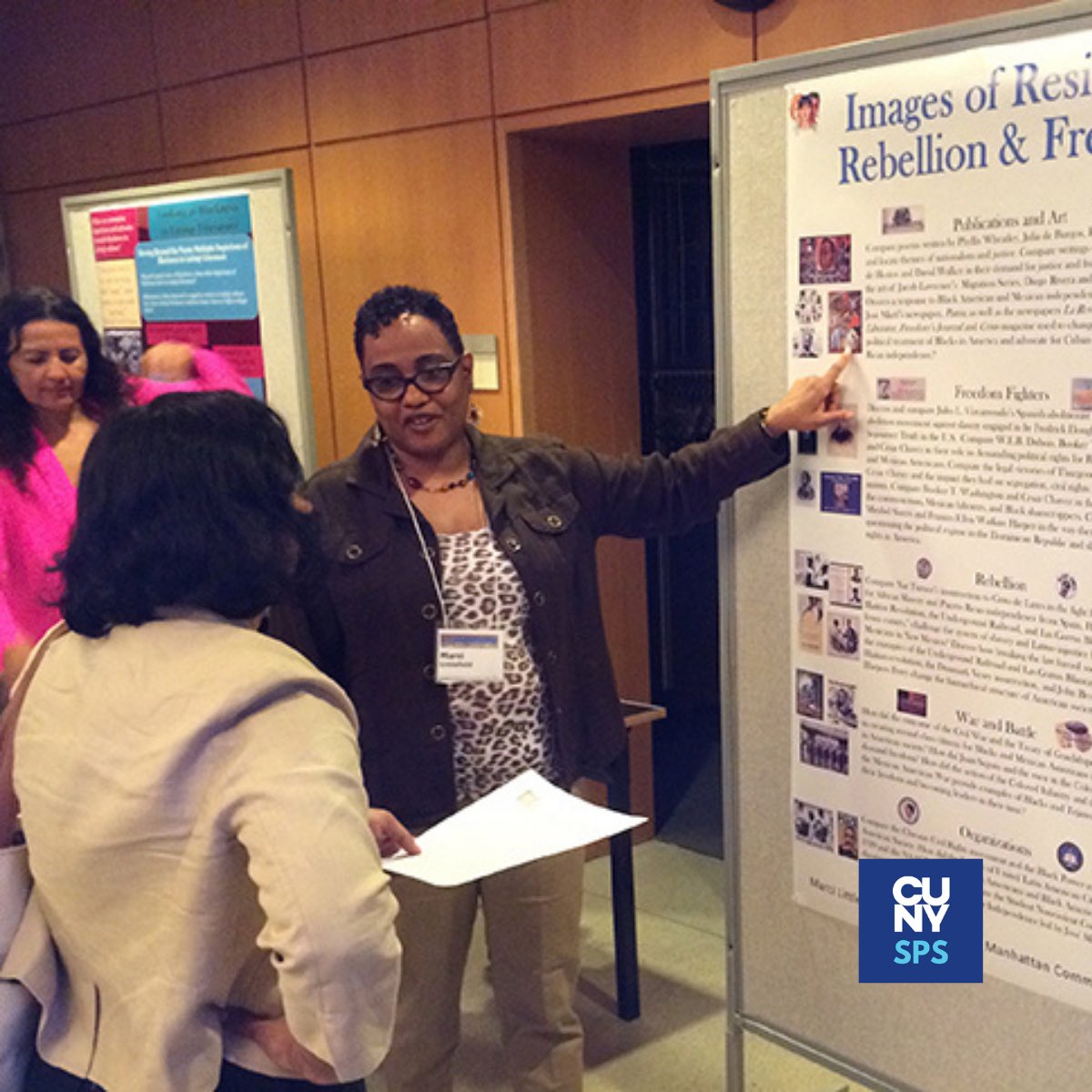 This summer, the CUNY School of Professional Studies (CUNY SPS) was delighted to learn that Marci Littlefield, a professor at the Borough of Manhattan Community College and a student in the School's MA in museum studies program, has been named one of the 2021 Andrew W. Mellon Foundation/The American Council of Learned Societies (ACLS) community college faculty fellows. Professor Littlefield was awarded this honor for her book project Reconstructed Legacies: Black People, Freedom, and the United Kingdom, which challenges the national narrative of servitude in the United Kingdom.
CUNY SPS recently sat down with Professor Littlefield to chat about this prestigious award and her work. In this Q&A, Professor Littlefield describes her inspiration and plans for her research, and the role that the CUNY SPS museum studies program has played in shaping this project.
Q: Your project, Reconstructed Legacies: Black People, Freedom, and the United Kingdom, focuses on the histories of enslaved people in 18th-century United Kingdom. Can you tell me a bit about your research? What inspired you to explore this topic?
I'm a sociologist by trade, and my areas of focus center around race, gender, and family. Much of my research has been on Black women in history and on slavery. This project came about after I went to a conference at Yale a couple years ago, and a number of scholars from University of Glasgow referenced this database of runaway slave ads from 18th-century United Kingdom, which featured nearly 900 newspaper ads posted by people trying to get their slaves back. And though Britain has this reputation of dismantling slavery and abolition, the database highlighted their major role in the slave trade, including the fact that people there owned slaves.
I had been thinking already about how to add to this whole conversation, and I realized that even though we have a lot of information already on what happened in the United States and the Caribbean, what we don't have is a broader understanding of how slavery was a worldwide phenomena and how it affected Black people everywhere. So I wrote this grant not only to do a project on the Black people who were in the UK, who were not free, but to do it from their perspective. In essence, I'm trying to visualize this question: "If I'm not free, and I'm on British soil, what does life look like for me?"
The way I'm trying to answer this is to think about it from the context of what's missing from the records, which is the slaves' own accounts of their lives. The methodology that I plan to use is critical fabulation—a style of creative non-fiction that attempts to bring the suppressed voices of the past back—to create a narrative around what could have happened and, by doing so, recover some of the missing histories of Black people.
Q: What classes do you teach at BMCC? If applicable, how does this project relate to your teaching?
I've been at BMCC since 2012, in the social sciences department. I regularly teach classes on race and ethnicity, including one on Black women in America and the Caribbean that relates directly to my areas of interest. In all my classes, I take a very historical overview, and I often use two textbooks on race and gender that I have published for reference.
Q: What led you to enroll in the CUNY SPS Museum Studies program? What are you studying in the program? How do your studies at CUNY SPS relate to your research?
I decided to attend the CUNY SPS museum studies program because I'm interested in curating projects about Black people whose stories have not been told. Representation is a huge part of the research that I do, because I'm looking at images and how Black people are seeing how people see them. That's all very much connected to museums and their work.
Since I enrolled in Fall 2020, the CUNY SPS museum studies program has really helped me construct my research. With classes like the History and Theory of Museums and Public History/Women's History in the Public Realm, I am learning to connect history and representation, how to understand historical narratives, and how to represent those narratives. The program has truly been a source of insight for me because it's one thing to say, "I want to show this story", and another thing to actually know how to do it. I've also really learned to think differently about objects and to better understand their importance.
To help maximize what I'm learning, and connect it to my area of research, in all the classes at CUNY SPS that I've taken so far, I have chosen to work on the same project—exploring, mostly through images, what Black women were doing during the Civil War—so that I continue to get feedback from faculty and students about it. My goal is to create both an exhibit and educational materials on this topic, so it can be displayed as well as used by teachers in their classroom.
Ideally, I'd like to be a visiting curator. I'd love to be a part of the process of creating museum exhibits, and use my research to help in that process. For example, I think there's a way to really think about enslaved people, and how enslaved people engage in freedom from different places, like the United States, the UK, and the Caribbean. So this connection between all three could be a perfect way to think about how Black people were fighting for their rights, and that's a connection that could be most certainly be made with an exhibit.
Q: How will the Mellon Foundation/ACLS Fellowship help you in your research?
I plan to use the grant I received as part of the fellowship toward a long research trip to the UK and Scotland. (This trip was originally scheduled for March 2020, but got postponed due to COVID.) The grant has enabled me to extend my visit so I'll be able to stay in the UK for at least a year and fully explore the local archives and the terrain. My research is based on a few critical questions: "What would it be like for a slave to run away in the UK? Where would they go? What would they do?" With this generous award and fellowship, I'll now have more time to answer these.
About the CUNY SPS MA in Museum Studies
The MA in Museum Studies online degree program grounds students in the theory and practical applications of museum operations, including administration, finance, curation, technology, and education. Developed in collaboration with the New-York Historical Society (N-YHS), students gain the knowledge, skills, and preparation necessary to engage in professional museum practice.
About the CUNY School of Professional Studies
For over 15 years, the CUNY School of Professional Studies (CUNY SPS) has been leading online education in New York. Notable for offering the most online bachelor's and master's degree options at the City University of New York, and for serving transfer students as the University system's only undergraduate all-transfer college, CUNY SPS meets the needs of adults who wish to finish a bachelor's degree, progress from an associate's degree, earn a master's degree or certificate in a specialized field, and advance in the workplace or change careers.
The School's growth has been remarkable, with twenty-four degrees launched since 2006. Enrollment has risen by more than 30% in the last four years to over 4,000 students in the credit-bearing programs. Thousands more are enrolled in non-degree and grant-funded workplace learning programs. In addition, the School has an active alumni network and has established the CUNY SPS Foundation, which offers multiple scholarship opportunities to current students.
CUNY SPS has consistently been named by U.S. News & World Report as one of the country's top online institutions. This year, the School was ranked in the top 2% in the nation on the publisher's list of the 2021 Best Online Bachelor's Degree Programs.
Press Contact
Andrea Fagon
Director of Marketing and Communications
andrea.fagon@cuny.edu