Public Art Commissioner Speaks at Museum Studies Event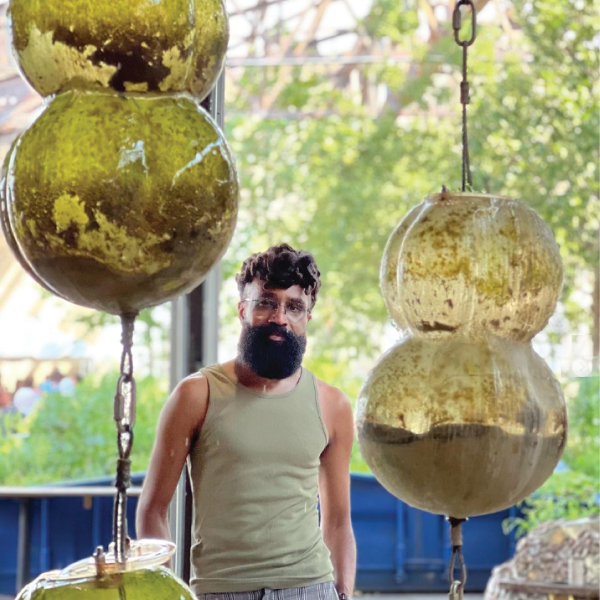 Students, faculty, and staff from the MA in Museum Studies program at the CUNY School of Professional Studies (CUNY SPS) met up online earlier this semester for a conversation with Kendal Henry, the assistant commissioner of public art and director of the Percent for Art Program at the NYC Department of Cultural Affairs.
In a wide-ranging and lively talk, Henry spoke about his career as an artist and curator, his experiences creating public art for New York City and internationally, and how public art can be used as a tool for economic and social change.
Jenna Coplin, academic program manager of the MA in Museum Studies program, moderated the conversation. In her introduction, Coplin noted that Henry has specialized in the field of public art for more than 25 years. His impressive list of accomplishments include launching many art projects in cities around the world, as well as serving in curatorial and directorial roles at the MTA and the Museum of Contemporary African Diaspora Art, among others, and teaching and lecturing at various universities and educational institutions.
During the conversation, Henry discussed his career trajectory, artistic practice, and the key role the Department of Cultural Affairs plays in bringing public art to New York City. He also shared how an internship with the DCA while in art school changed the course of his career, and inspired his passion for public art.
"One of the things about having exhibitions in school is that the people coming to these are friends or family, so you're preaching to the converted. You're not getting these interesting audiences to counter some of the statements you're making in your artwork and that was getting a bit boring for me," Henry explained. "Then I realized with public art, you're introducing artwork to people who are not interested in art, who don't necessarily have an art history background, or know anything about art, so you're…having that kind of dialogue with people who have an opposing view or a basically different view than you. So [to me] the idea of a whole agency [the DCA] dedicated to making this kind of art is incredible, and I was hooked."
Henry went on to describe some of his many internationally based art projects, including several in Tajikistan, and touched upon other topics like diversity in the art world and the role that experimentation, community, and place play in his work. He also answered questions from the audience on various issues, including conquering creative blocks, methods to achieve permanence in digital work, and the role of art in society.
Coplin, in conclusion, summed up the spirit of the event. "I always enjoy these conversations and [Henry's talk] has been...engaging and thought-provoking as well as practical. I can guarantee that there are a number of our students now that are thinking a little bit differently about their potential career trajectory post degree. There's a lot of incredibly interesting and rewarding work to be done."
Watch a recording of the event here.
About the CUNY SPS MA in Museum Studies
The MA in Museum Studies online degree program grounds students in the theory and practical applications of museum operations, including administration, finance, curation, technology, and education. Developed in collaboration with the New-York Historical Society (N-YHS), students gain the knowledge, skills, and preparation necessary to engage in professional museum practice.
About the CUNY School of Professional Studies
As New York's leader in online education since 2006, the CUNY School of Professional Studies (CUNY SPS) offers the most online bachelor's and master's degree options at the City University of New York, and serves as the University's only undergraduate all-transfer college. With 26 degrees and numerous other non-degree and grant-funded workplace learning programs, CUNY SPS meets the needs of adults who wish to finish a bachelor's degree, progress from an associate's degree, earn a master's degree or certificate in a specialized field, and advance in the workplace or change careers. Consistently ranked highly by U.S. News & World Report for its online offerings, and noted for its soaring growth and enrollment, CUNY SPS has emerged as a nationwide leader in online education. The School's renowned and affordable online programs ensure that busy working adults may fulfill their educational goals on their own time and schedule.
Press Contact
Andrea Fagon
Chief Marketing and Communications Officer
andrea.fagon@cuny.edu