PEWL Partner NYC DSS Recognized for Anti-Bias Trauma-Informed Program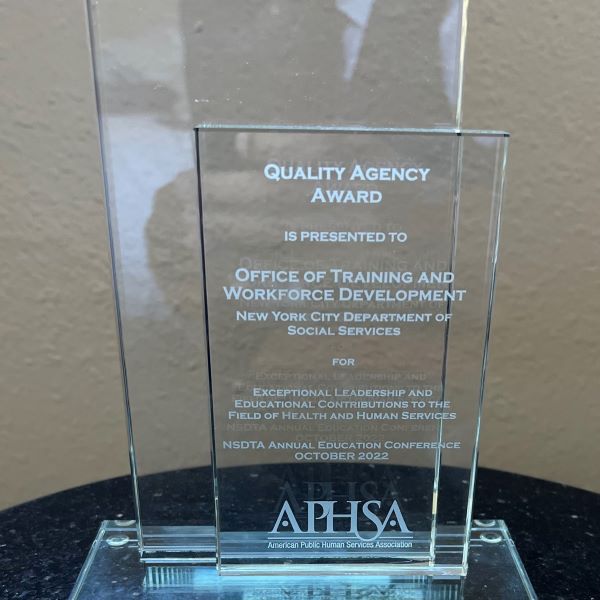 The Anti-Bias Trauma-Informed Training Initiative (ABTI), one of 16 programs within the Professional Education and Workplace Learning (PEWL) unit at the CUNY School of Professional Studies (CUNY SPS), has been nationally recognized for their innovative work.
The NYC Department of Social Services (DSS) Office of Training and Workforce Development (OTWD) received the Quality Agency Award for exceptional leadership and educational contributions to the field of health and human services.
Presented by the American Public Human Services Association (APHSA) during the National Staff Development and Training Association (NSDTA) Annual Education Conference in Spokane, WA, last month, the award acknowledges the ABTI program and its important efforts to support workers.
The ABTI program provides the DSS staff, the Human Resources Administration (HRA), and the Department of Homeless Services (DHS) with training to help recognize how individual and structural bias and trauma influence behavior and decision-making in the workplace.
These three agencies employ 17,000 staff members, all of whom will receive this training. The ABTI team, led by Program Director Dorothea Nixon-Porter, helps staff to understand automatic patterns of thinking, become aware of how unconscious bias can manifest itself in their work interactions, and mitigate bias. The team conducts this one-day training using an asynchronous eLearn program, combined with in person and virtual instructor-led training courses consisting of lecture, small group exercises, case studies, and large group discussions.
"I am overjoyed that the important ABTI work with our DSS partners was recognized at this national conference," said PEWL Executive Director Amy Perez. "As the polarization of ideas and politics continues to grip this nation, it is imperative that we endeavor to see how our biases affect the decisions we're making in the workplace, strive to understand them, and become more compassionate people. It is vital and essential."
DSS Deputy Commissioner Training and Workforce Development Terrance Stroud, who received the award during the conference, said the coordinated effort between OTWD and CUNY SPS PEWL allowed the agency to focus on equity and provide mandated agency-wide anti-bias training, out of which the ABTI initiative was born.
Originally planned for an in-person launch in February 2020, the first ABTI trainings were delayed by the pandemic until PEWL staff were able to convert everything to virtual instructor-led delivery. Stroud noted the in-person classes resumed in August 2022. 
"This is a wonderful opportunity to influence and strengthen the great work being done by the NYC Department of Social Services. We are grateful for this partnership and the agency's commitment to an equitable social service system," Nixon-Porter said. "The self-awareness and vulnerability displayed in these sessions as staff connect their experiences to the work and the larger society is incredible. The realization that we are all in this together and need to support, respect, and honor one another's experiences, helps them to serve with dignity and compassion."
"A huge thank you to the ABTI team for their commitment to each learner and the sense of community they bring to each training session," she continued. "They are unyielding in their dedication and perseverance. I look forward to our continued work with DSS, developing additional learning and growth opportunities for the agency's staff as they continue to serve the city's most vulnerable."
About DSS
The Department of Social Services (DSS) is comprised of the administrative units of the NYC Human Resources Administration (HRA) and the Department of Homeless Services (DHS). Through integrated management for HRA and DHS, client services can be provided more seamlessly and effectively. The City leverages shared services functions across agencies, which results in better day-to-day management and building an integrated mission across agencies.
About the CUNY School of Professional Studies
As New York's leader in online education since 2006, the CUNY School of Professional Studies (CUNY SPS) offers the most online bachelor's and master's degree options at the City University of New York, and serves as the University's only undergraduate all-transfer college. With 26 degrees and numerous other non-degree and grant-funded workplace learning programs, CUNY SPS meets the needs of adults who wish to finish a bachelor's degree, progress from an associate's degree, earn a master's degree or certificate in a specialized field, and advance in the workplace or change careers. Consistently ranked highly by U.S. News & World Report for its online offerings, and noted for its soaring growth and enrollment, CUNY SPS has emerged as a nationwide leader in online education. The School's renowned and affordable online programs ensure that busy working adults may fulfill their educational goals on their own time and schedule.
Press Contact
Andrea Fagon
Chief Marketing and Communications Officer
andrea.fagon@cuny.edu