CUNY SPS Nursing Student Reflects Upon State Assembly Run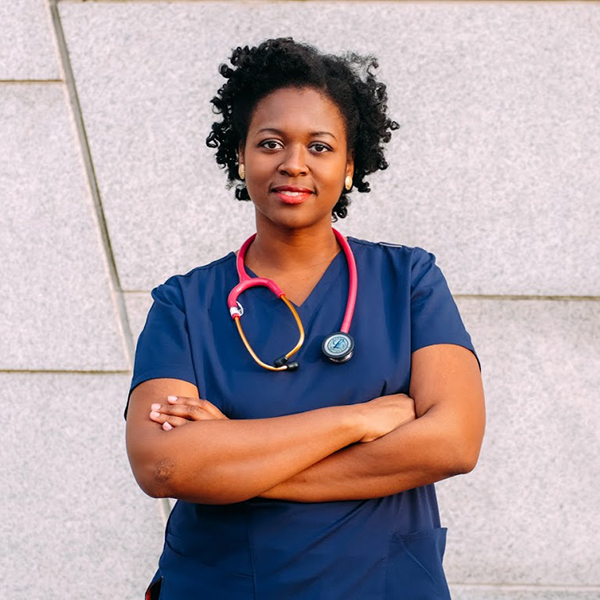 The CUNY School of Professional Studies (CUNY SPS) recently sat down with Phara Souffrant Forrest, a nursing student and Democratic contender who has won the 57th State Assembly District primary election this June. In this Q&A, Forrest discusses what led her to go into politics and how her profession and studies inspired her during the race.
Q: Tell us a little bit about yourself and your work. 
I am a 31-year-old union nurse and tenant activist. I'm the daughter of Haitian immigrants, a CUNY and SUNY graduate, a life-long Crown Heights resident, and the new Democratic nominee for the 57th District of the New York State Assembly in Brooklyn, NY. 
Q: What led you to run for State Assembly? What do you hope to accomplish there?
Part of why I ran is attributed to my work as a field nurse. In my job, you get a big-picture view of a patient's life. One of my patients was a new mother struggling with diabetes and fearful that her immigration status will be discovered. She had to balance multiple jobs to avoid the eviction of her family from their studio apartment. I could see her moldy apartment, her work uniform, and her bills piling up. Unfortunately, there's only so much you can do as a nurse. You see that what we need is a complete political transformation of our society. 
The other part of my story is my experience in tenant organizing. I joined the tenants' rights movement when my building was being converted from rent-stabilized units to luxury condos. In June 2019, the tenant movement held a demonstration in Albany fighting for stronger rent laws and I got arrested with them fighting for my rights. We were successful in passing eight out of nine bills. But I was disappointed that so many state legislators watched as if politics is a spectator sport. I decided to run then because the issues that my community and I face can't wait. We need to make sure that every tenant is protected from unfair rent increases; we need to make sure that every New Yorker has free healthcare as a right, not a privilege; and we need to reinvest police funding in social services.
Q: What are you studying at CUNY SPS? 
I'm currently working towards my Bachelor of Science in Nursing, while employed as a nurse.
Q: Is there anything that you learned while at CUNY SPS or in your work as a nurse that helped you in your primary campaign?
Being a nurse teaches you how to think strategically. As a nurse, I learned how to assess patients to determine the severity of their condition and prioritize who's going to get immediate attention. This training helps me make sense of the many crises we're dealing with—healthcare workers without protective equipment, police brutality, millions unemployed, and no money for rent. My campaign and my organizing has been so much stronger because of my work as a nurse. 
About the CUNY SPS Online Nursing Programs
The CUNY School of Professional Studies offers a portfolio of online degree and advanced certificate programs in nursing in order to help fill the growing void within the healthcare system. Serving as the first fully online nursing degrees in the CUNY system, our programs help nurses advance within their careers while continuing their education in a timely, flexible, and affordable way.
About the CUNY School of Professional Studies
For over 15 years, the CUNY School of Professional Studies (CUNY SPS) has been leading online education in New York. Offering the most online Bachelor's and Master's degree options at the City University of New York, CUNY SPS meets the needs of adults who are looking to finish a bachelor's degree, progress from an associate's degree, earn a master's degree or certificate in a specialized field, and advance in the workplace or change careers.
The School's growth has been remarkable, with twenty-three degrees launched since 2006. Enrollment has risen by more than 30% in the last four years to over 3,700 students in the credit-bearing programs and thousands more who are enrolled in non-degree and grant-funded workplace learning programs. In addition, the School has an active Alumni network and has established the CUNY SPS Foundation, which offers multiple scholarship opportunities to current students.
CUNY SPS has been ranked in the nation's top 5% by U.S. News & World Report for the past six years, most recently in its list of the 2020 Best Online Bachelor's Degree Programs, making CUNY SPS the highest nationally listed program in New York State and New York City.
Press Contact
Andrea Fagon
Director of Marketing and Communications
andrea.fagon@cuny.edu