Museum Studies Program Co-Sponsors Human Rights Talks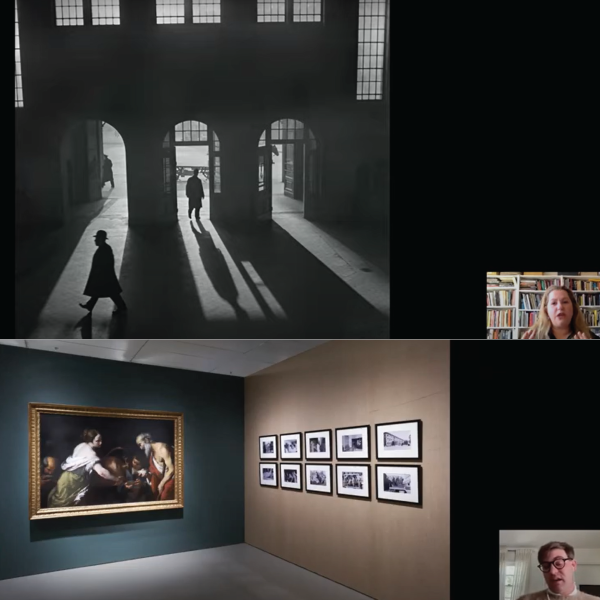 This spring, the MA in Museum Studies at the CUNY School of Professional Studies (CUNY SPS) co-sponsored the two-part Human Rights and the Museum Series hosted by the Kupferberg Holocaust Center at Queensborough Community College.
The series of talks, which were held virtually, offered students a unique opportunity to witness some of the ways that museums can directly impact human rights. CUNY SPS museum studies faculty member Kat Griefen moderated both events and fielded questions from the participants.
The first colloquium, Returning What Was Taken: How Museums Approach Repatriation, examined how Western museums institutions are increasingly grappling with a growing number of requests for repatriation—the highly politicized process of returning artwork, cultural items, and human remains to their home countries and communities.
Speakers included Sam Sackeroff, a curator from the Jewish Museum, who discussed the institution's recent exhibit about art stolen by the Nazis titled Afterlives: Recovering the Lost Stories of Looted Art.
Following him, Erin Thompson, an associate professor of art crime at John Jay College, explored contemporary cases for repatriation, including sacred Nepalese materials, some of which remain in Western institutions.
In her talk, Professor Thompson explained some of the challenges in repatriating art and antiquities. "What I really took away from this Jewish Museum exhibition was the plurality of the afterlife," she observed. "There's not just one solution to repatriation demands or questions; it isn't always just locating it back to the original owner. Because oftentimes, that's just impossible."
The second presentation, The Visual Archive: Documenting the Holocaust and Genocide Through Photography, examined the importance of using photography to document the existence and destruction of Jewish and Native American communities.
First, curator, art historian, and art critic Maya Benton discussed her efforts to create both an exhibition and archive of the Russian-American photographer Roman Vishniac, whose work chronicled Jewish life in Germany at the beginning of the Third Reich.
Next, contemporary fine art photographer Jeremy Dennis showcased his project, "On This Site," which uses photography and an interactive map to highlight culturally significant Native American sites on Long Island.
Dennis spoke of the Shinnecock's struggle for recognition, "In 2010, we got our federal recognition after 30 years of petitioning, and at that point, we joined over 570 other federally recognized tribes in the United States. It [the recognition] offers us different ways of practicing our sovereignty.…We're kind of like a country within a country now."
Other co-sponsors of the series included: the Ray Wolpow Institute at Western Washington University; the Holocaust, Genocide, and Interfaith Education Center at Manhattan College; the Center for the Study of Genocide and Human Rights at Rutgers University; and the Nancy & David Wolf Holocaust and Humanity Center.
About the CUNY SPS MA in Museum Studies
The MA in Museum Studies online degree program grounds students in the theory and practical applications of museum operations, including administration, finance, curation, technology, and education. Developed in collaboration with the New-York Historical Society (N-YHS), students gain the knowledge, skills, and preparation necessary to engage in professional museum practice.
About the CUNY School of Professional Studies
As New York's leader in online education since 2006, the CUNY School of Professional Studies (CUNY SPS) offers the most online bachelor's and master's degree options at the City University of New York, and serves as the University's only undergraduate all-transfer college. With 24 degrees and numerous other non-degree and grant-funded workplace learning programs, CUNY SPS meets the needs of adults who wish to finish a bachelor's degree, progress from an associate's degree, earn a master's degree or certificate in a specialized field, and advance in the workplace or change careers. Consistently ranked highly by U.S. News & World Report for its online offerings, and noted for its soaring growth and enrollment, CUNY SPS has emerged as a nationwide leader in online education. The School's renowned and affordable online programs—which offer in-state tuition to all students regardless of where they live—ensure that busy working adults may fulfill their educational goals on their own time and schedule.
Press Contact
Andrea Fagon
Director of Marketing and Communications
andrea.fagon@cuny.edu