Latest Issue of CUNY SPS Magazine Available Now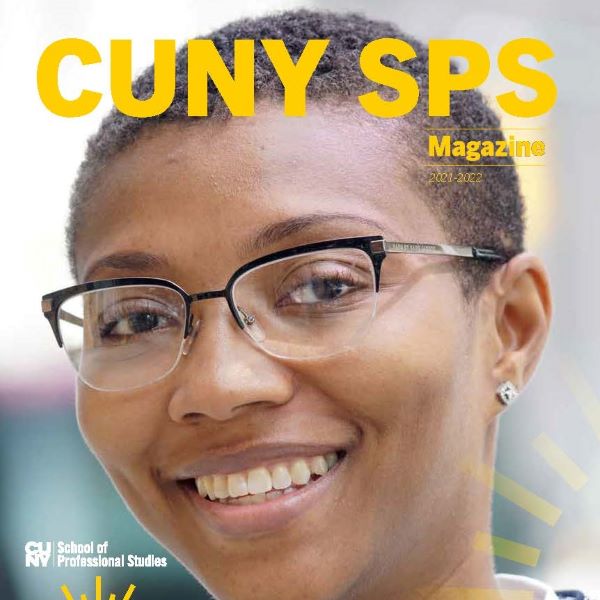 The CUNY School of Professional Studies (CUNY SPS) is proud to announce the 2021-22 issue of our Magazine is now available.
First launched in the 2019-20 academic year, the CUNY SPS Magazine offers an in-depth look at the news and goings on around the School.
The 2021-22 issue features articles and briefs highlighting some of the many milestones that the School's students, alumni, faculty, and staff have reached over the past eventful year, including the retirement of Founding Dean Mogulescu and the appointment of Interim Dean Silva-Puras.
To read current and past issues of the CUNY SPS Magazine, visit here.
About the CUNY School of Professional Studies
For over 15 years, the CUNY School of Professional Studies (CUNY SPS) has been leading online education in New York. Notable for offering the most online bachelor's and master's degree options at the City University of New York, and for serving transfer students as the University system's only undergraduate all-transfer college, CUNY SPS meets the needs of adults who wish to finish a bachelor's degree, progress from an associate's degree, earn a master's degree or certificate in a specialized field, and advance in the workplace or change careers.
The School's growth has been remarkable, with twenty-four degrees launched since 2006. Enrollment has risen by more than 30% in the last four years to over 4,000 students in the credit-bearing programs. Thousands more are enrolled in non-degree and grant-funded workplace learning programs. In addition, the School has an active alumni network and has established the CUNY SPS Foundation, which offers multiple scholarship opportunities to current students.
CUNY SPS has consistently been named by US News & World Report as one of the country's top online institutions. This year, the School was ranked in the top 2% in the nation on the publisher's list of the 2021 Best Online Bachelor's Degree Programs.
Press Contact
Andrea Fagon
Director of Marketing and Communications
andrea.fagon@cuny.edu