Dean John Mogulescu Honored by NYC Workforce Development Board Colleagues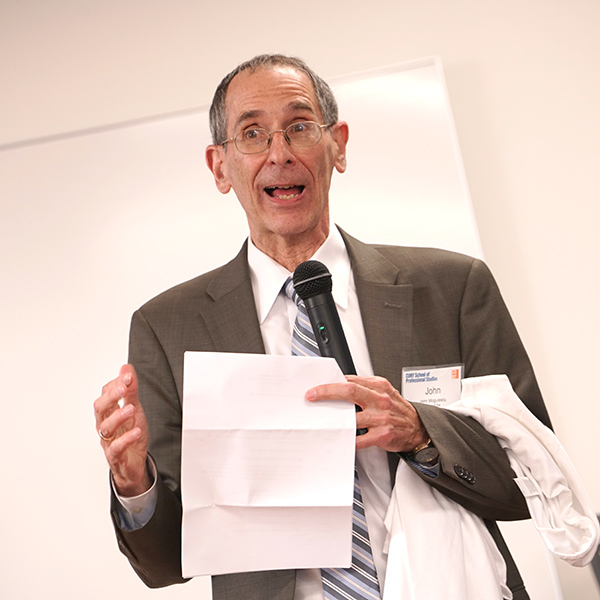 John Mogulescu, founding dean of the CUNY School of Professional Studies (CUNY SPS) and CUNY senior university dean for academic affairs, stepped down from the New York City Workforce Development Board (WDB) after 20 years of service. In a farewell ceremony in December 2019, fellow board members and colleagues gathered to celebrate his tenure and honor his contributions.
The New York City Workforce Development Board (WDB), formerly called the Workforce Investment Board, brings together leaders from local business, educational institutions, labor unions, community-based organizations, and other government agencies, all appointed on a volunteer basis by the Mayor, to help inform the City's policies and services for adult learners, jobseekers, and employers as implemented through the Mayor's Office of Workforce Development (WKDEV). Mogulescu, who was first appointed to the board in 1999 by Mayor Giuliani and later re-appointed by Mayor Bloomberg and Mayor de Blasio, has been an integral part of the WDB from its beginning in the late 1990s.
Mogulescu was always the logical choice to serve as the CUNY rep on the WDB. By the time he was appointed, Mogulescu had established himself as a leader in higher education, and at CUNY in particular, where he has made it his mission to develop workforce and employment programs, including training for city and state workers and adult and continuing education, as part of a broad portfolio of educational initiatives currently spanning four decades.
After joining the board, Mogulescu took on the role of advising the city on workforce issues, offering new ideas, and identifying the challenges they faced as they sought to develop new workforce-related policies. As he explained, "I was there to speak my mind, and to push the board to address complicated issues. For example, why is it that we have still have so many low-wage workers?"
One of the successful board initiatives Mogulescu contributed to was Career Pathways, the city's comprehensive workforce development strategy. A report published in 2014 by the Jobs for New Yorkers Task Force, of which Mogulescu was a leader, offered 10 recommendations centered on building public-private industry partnerships to help fund, train, and increase opportunities for the city's workers. One year later, the City announced significant progress had been made in several key areas of the report, including a major increase in investments in workforce training and so-called 'bridge' programs and the launch of HireNYC, the largest targeted hiring program in the country.
Mogulescu's efforts on the board have been universally recognized and appreciated. Joe McDermott, a fellow board member and executive director of the Consortium for Worker Education, gave a speech honoring him at WDB's final meeting of 2019. A longtime friend and colleague, McDermott remarked upon Mogulescu's strengths. "John…is severely underrated because he doesn't like notice. … He seems to be always achieving more and in every program does it better. So while he's resigning from this board he's not retiring, thank god."
Following McDermott's tribute, the WDB presented Mogulescu with several farewell gifts, including a framed letter of appreciation signed by Mayor de Blasio. As Mogulescu thanked the committee, in a speech summarizing his lifelong mission, he reflected, "I've always in my career tried to think about how we can shake up our institutions and make them better. And that's what I've tried a little here on the board as well….My only advice to new board members at this point is try and figure out how to be active, how to push against the status quo, how to understand there's far too many people who are working low-wage jobs in the city and that inequality is rampant.… What can we do on the board to say that is totally unacceptable?"
About the CUNY School of Professional Studies
Home to the first fully online degree programs at the City University of New York, the CUNY School of Professional Studies (CUNY SPS) provides online and on campus programs that meet the needs of adults who are looking to finish a bachelor's degree, earn a master's degree or certificate in a specialized field, advance in the workplace, or change careers.
The School's growth has been remarkable, with twenty-three degrees launched since 2006. Enrollment has risen by more than 30% in the last four years to over 3,700 students in the credit-bearing programs and thousands more who are enrolled in non-degree and grant-funded workforce development programs. In addition, the School has an active Alumni network and has established the CUNY SPS Foundation, which offers multiple scholarship opportunities to current students.
CUNY SPS was ranked in the top 5% of U.S. News & World Report's list of the 2019 Best Online Bachelor's Degree Programs, making CUNY SPS the highest nationally listed program in New York City.
Press Contact
Andrea Fagon
Director of Marketing and Communications
andrea.fagon@cuny.edu
(646) 664-8690