The Institutional Research Team at CUNY SPS Wins Best First Paper Award at 2015 NEAIR Conference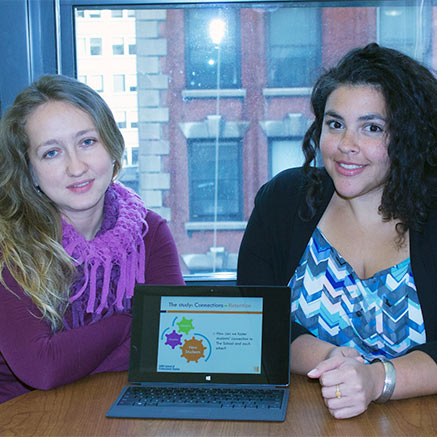 The CUNY School of Professional Studies (CUNY SPS) is proud to announce that Institutional Research Specialist Heidi Baez and Operation Data Analyst Evgeniya Reshetnyak won Best First Paper Award by the 2015 Northeastern Association for Institutional Research (NEAIR) Conference, held in Burlington, VT.
Titled Increasing Connections to Increase Online Student Retention, the paper presents the findings from the 2014-2015 CUNY OAA-funded New Student Orientation Student Success grant. Through their research, Baez and Reshetnyak found a strong correlation between the level of resources and personal connections provided to online degree completers during the orientation process and the positive academic performance outcomes of these students. The paper also confirms the need to provide new online students with a course-like orientation that operates as an interactive space, rather than offering a self-paced environment of video tutorials.
"We sought to develop an entry experience that helped our adult, mostly working, new transfer students acclimate to the online environment at CUNY SPS," says Baez. "Retention studies tell us that student integration into their social and school settings are key for retention, success, and graduation. We hypothesized that fostering and supporting our students in getting to know each other as they began would set the foundation for this integration."
The paper will be published in NEAIR's Conference Proceedings, and a formal announcement will be made at next year's NEAIR Conference. Additionally, Baez and Reshetnyak will have the opportunity to present their research at the 2016 AIR Forum in New Orleans, LA and a presentation opportunity at the 2016 NEAIR Conference in Baltimore, MD.