Dr. Lilly Mathew Attends Selective Nursing Research Boot Camp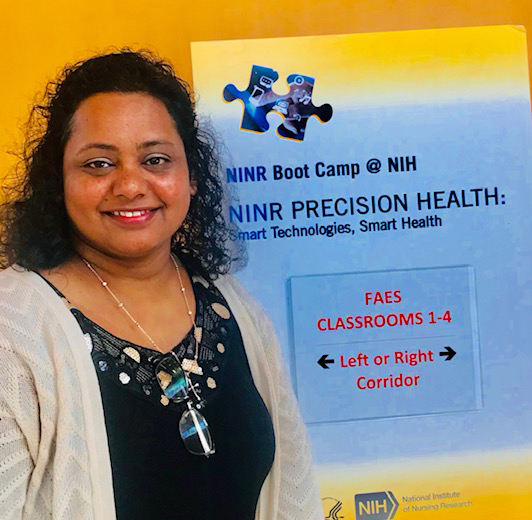 New York, NY - August 5, 2019 - The CUNY School of Professional Studies (CUNY SPS) is proud to announce that Dr. Lilly Mathew, associate professor of nursing informatics, attended the National Institute of Nursing Research (NINR)'s intensive research Precision Health boot camp last month in Bethesda, Maryland.
Dr. Mathew was one of 100 participants selected for this year's competitive national training course, which addressed digital health data and smart technologies that enable "smart health" and improve patient outcomes.
"I felt honored to be given the opportunity to attend the NINR boot camp and learn about cutting-edge research and technological innovations in the field of precision health," says Dr. Mathew.
In addition to attending the boot camp, Dr. Mathew was chosen for a poster presentation on her research titled "Designing and Developing Virtual Simulations for Cultural Competence in Nursing Education through Community Engagement." Furthermore, her poster abstract was published in the NINR Book of Abstracts.
NINR's Precision Health boot camps are attended by nurse researchers, scientists, faculty, doctoral and post-doctoral students from across the United States. The annual event serves as a way for health care professionals to network with leaders in the field, discuss strategies for research, and share research outcomes.
About the CUNY School of Professional Studies
Home to the first fully online degree programs at the City University of New York, the CUNY School of Professional Studies provides online and on campus programs that meet the needs of adults who are looking to finish a bachelor's degree, earn a master's degree or certificate in a specialized field, advance in the workplace, or change careers.
Affirming our role as a leader in online education, CUNY SPS was ranked in the top 5% of U.S. News & World Report's list of the 2019 Best Online Bachelor's Degree Programs, making CUNY SPS the highest nationally listed program in New York City.
Press Contact:
Andrea Fagon
646-664-8690