Dr. Bonnie Oglensky Publishes Ambivalence in Mentorship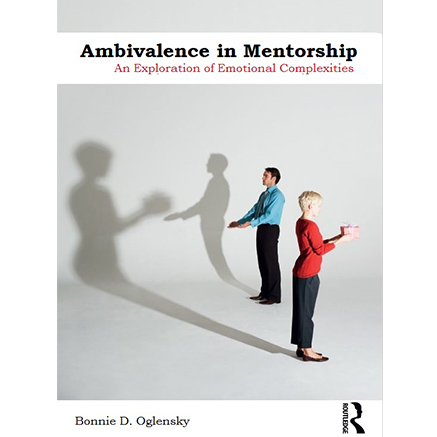 The relationship between mentor and protégé is often complicated, layered with conflicting sentiments and expectations that can either benefit or afflict the two parties involved. Dr. Bonnie Oglensky, professor and academic director of sociology and human relations at the CUNY School of Professional Studies (CUNY SPS), delves into mentorship as a way to further examine the intricacies of this power dynamic in her newly published book, Ambivalence in Mentorship: An Exploration of Emotional Complexities.
The book, which reflects Dr. Oglensky's immersion in social science research on the topic over the past 25 years, employs vivid case narratives to take a nuanced look at the emotional complexities of their mentorships.
"I have long been aware of the intensity of the emotional connection and profound influence of mentoring relationships," says Dr. Oglensky. "At the same time, I have learned from my own experience and from interviews with scores of mentors and protégés about the vulnerabilities and risks that such bonding entails. Mentorship is a hugely important relationship in a person's life - and understanding and appreciating its ups and downs is crucial to personal and professional growth."
Throughout the text, Dr. Oglensky traverses the vital and risky elements of this relationship with the intention of providing professionals in numerous fields with a new perspective to the highs and lows of mentorship.
"I hope readers will gain an appreciation of the centrality of mentorship in growing up," says Dr. Oglensky. "Mentorship – a relationship that lives apart from our family lives – can be every bit as influential in helping us to grapple with what it means to struggle to grow. And there is grace in that process, touching both mentor and protégé in ways that can often not be described but are certainly felt."
About CUNY SPS
Home to the first fully online degree programs at the City University of New York, the CUNY School of Professional Studies provides online and on campus programs that meet the needs of adults who are looking for a seamless way to finish or transition into a bachelor's degree, earn a master's degree or certificate in a specialized field, advance in the workplace, or change careers.
Press Contact:
Andrea Fagon
Director of Marketing and Communications
andrea.fagon@cuny.edu
646-664-8690