Dean Mogulescu Honored for Service to CUNY and New York City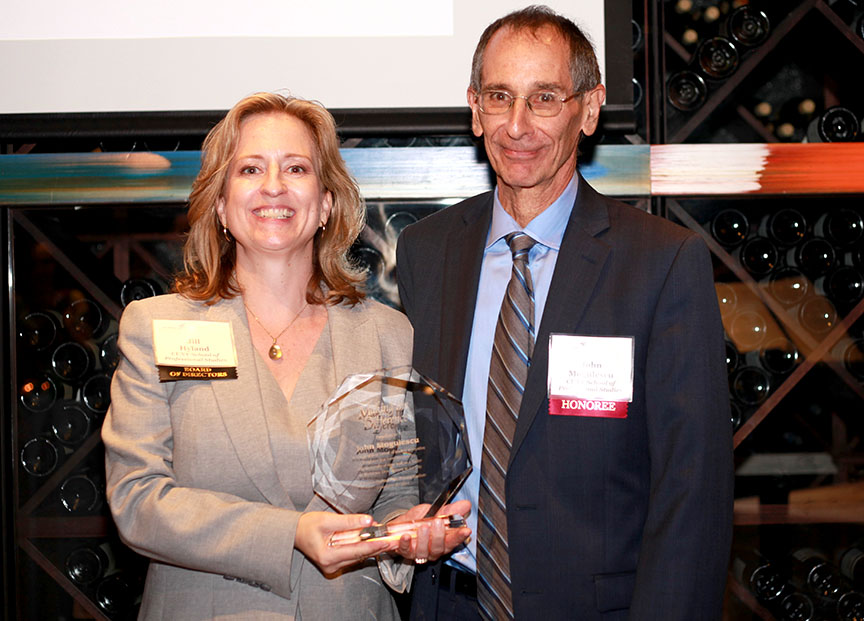 New York, NY – September 30, 2016 – The Workforce Professionals Training Institute (WPTI) honored John Mogulescu, Dean of the CUNY School of Professional Studies (CUNY SPS) and Senior University Dean for Academic Affairs for his many years of service to CUNY and New York City at the fall benefit held at the Landmarc Restaurant on September 27.
"We were thrilled to honor John for his steadfast commitment to improving the workforce development field in his far-reaching roles at CUNY. He is a respected, thoughtful voice in support of CUNY students and other New Yorkers pursuing diverse career pathways," said Blake Foote, WPTI Board Chair. "WPTI and numerous other workforce organizations are grateful for his insights and partnership over the years."
Dean Mogulescu, honored for his strong leadership and commitment to innovation, has dramatically improved the lives of countless New Yorkers. In his over 35 years at the City University, he has created highly-regarded and accomplished programs such as CUNY ASAP, CUNY Start, and the CUNY Service Corps and GED Preparation Programs. He also created the University's Workforce Development Initiative, and expanded Adult and Continuing Education services at CUNY and its non-credit programs, which now serve over 250,000 students. He has been responsible for building two new institutions at CUNY, leading the team that created Guttman Community College, the first new community college to open at the University in 40 years, and the CUNY School of Professional Studies, offering CUNY's first online degree programs.
Since 2004, the Workforce Professionals Training Institute (WPTI) has helped build the workforce development field through training, consulting, and field-wide systems building. They have trained more than 8,000 practitioners from over 800 agencies, infusing the workforce development system with strong and innovative professionals who move individuals to family sustainability.