CUNY SPS Welcomes Its Largest Undergraduate Transfer Class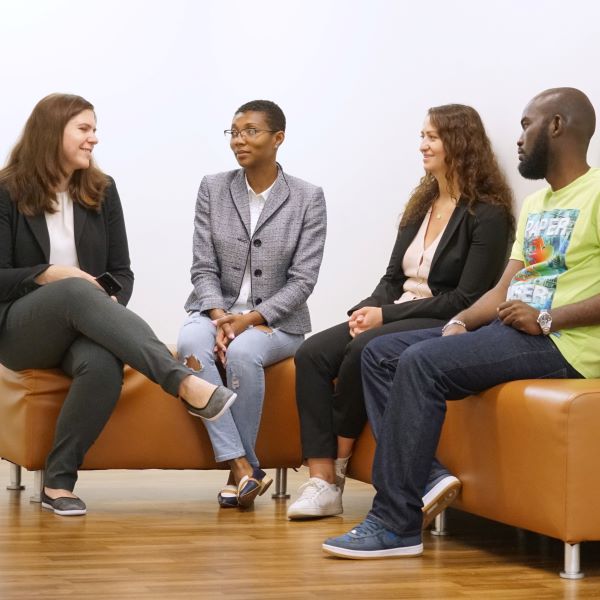 Rising Enrollment Trend Spurred by Students Seeking Flexibility, Affordability, and Credit Transfer Opportunities
For Patricia Kerrigan, a paralegal looking to complete a bachelor's she began years ago, selecting the CUNY School of Professional Studies (CUNY SPS) to finish her degree was an easy choice.
"I chose CUNY SPS for a couple of reasons," Kerrigan explained. "The first is that I have a lot of sporadic school experience under my belt, which I really wanted to transfer over to my current degree. I did a lot of work to earn those credits in the first place."
Kerrigan is one of more than 800 undergraduate transfer students attending CUNY SPS this Fall, a record number that reflects a nearly 21 percent jump in enrollment from Fall 2021—and the School's largest undergraduate transfer class to date.
This growth showcases the success of CUNY SPS' efforts to provide convenient, affordably priced, and high-quality online academic programs for working adults returning to college.
"As CUNY's leading campus for online learning, we are fulfilling our mission to serve more and more students interested in fully online degrees and in finishing a bachelor's degree, which would not be possible if it were not for the flexibility of our programs that are designed for adult learners," said Jennifer Grace Lee, associate dean of enrollment management and student services at CUNY SPS. "I would also laud the efforts of our staff that work hard to make this possible."
In a further sign of its success, CUNY SPS also been recognized by many ranking institutions, including U.S. News & World Report, which has named the School in the top ten of its list of Best Online Bachelor's Programs nationwide for multiple years running.
Kerrigan said flexibility and affordability were among the reasons she chose CUNY SPS to complete her degree. Currently a full-time paralegal, she was a business major at Pace University intermittently from 2013-2019. She is now enrolled in the inaugural class of the School's new BA youth studies program.
She added that she also liked being able to use her work experience to supplement college-level learning through the Credit for Prior Learning option.
"This was also very appealing to me since I've worn various hats in my career and have been continuously employed as a paralegal for so long. It's great that my work experience and all the effort and energy I have put into building a career for myself would be recognized in my endeavors," said Kerrigan. "Lastly, affordability was a huge factor, along with the flexibility to continue courses online, which accommodate my full-time work schedule."
About the CUNY School of Professional Studies
As New York's leader in online education since 2006, the CUNY School of Professional Studies (CUNY SPS) offers the most online bachelor's and master's degree options at the City University of New York, and serves as the University's only undergraduate all-transfer college. With 26 degrees and numerous other non-degree and grant-funded workplace learning programs, CUNY SPS meets the needs of adults who wish to finish a bachelor's degree, progress from an associate's degree, earn a master's degree or certificate in a specialized field, and advance in the workplace or change careers. Consistently ranked highly by U.S. News & World Report for its online offerings, and noted for its soaring growth and enrollment, CUNY SPS has emerged as a nationwide leader in online education. The School's renowned and affordable online programs—which offer in-state tuition to all students regardless of where they live—ensure that busy working adults may fulfill their educational goals on their own time and schedule.
Press Contact
Andrea Fagon
Director of Marketing and Communications
andrea.fagon@cuny.edu