CUNY SPS Welcomes First Cohort of Career Ladders Scholars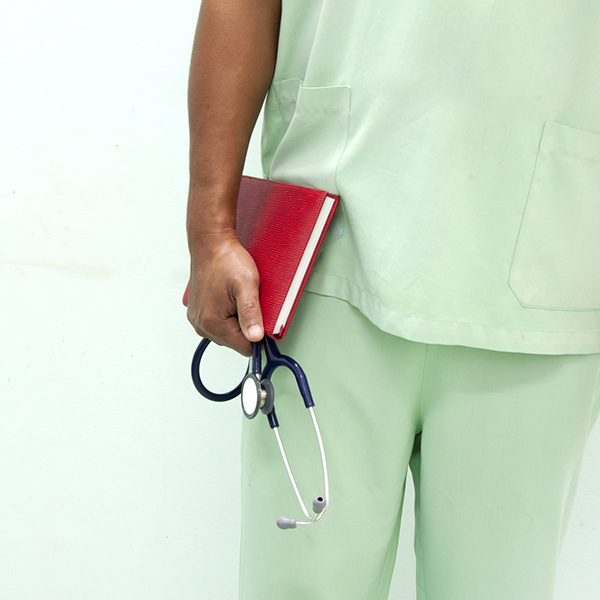 The CUNY School of Professional Studies (CUNY SPS) is pleased to welcome the first cohort of Career Ladders Scholars. These students, who are pursuing either an online bachelor's degree in nursing, health information management, or health services administration, or a certificate in medical coding, have each been awarded up to $1,000 to apply towards tuition in their first semester.
Funded by the Robin Hood Foundation, New York City's largest poverty-fighting organization, the CUNY SPS Career Ladders scholarship was established to improve diversity in nursing and related healthcare fields. With recent data showing the number of Black, Asian, and Latino men in nursing and health services professions is significantly lower than the total workforce, the scholarship seeks to increase representation by supporting those committed to the healthcare education of these groups in an effort to better promote equity and economic mobility. By providing a means to continue their education, the Career Ladder scholarship will help recipients join a job sector that seeks to improve the lives of others and is marked by career stabil­ity, advancement, and competitive salaries.
This first cohort of the Career Ladders Scholars is made up of 12 students, most of whom are enrolled in either the School's nursing or health services programs. For these students, the Career Ladders scholarship has been key to helping them start or progress further in their healthcare education by covering some of their tuition costs, in a boost that can help them achieve their personal and professional goals. Below, several students in the cohort reflect upon what it means to them to have been selected as a Career Ladders Scholar.
C.J. Brown, who worked as a student nurse at Flushing Hospital and Long Island Jewish Medical Center before completing his national licensing exam, is starting a BS in Nursing degree at CUNY SPS with the goal of becoming a nurse educator. "I was inspired to choose the nursing field because I always liked science-related courses and teaching. By becoming a nurse, I would be able to incorporate both of these things into my daily work," he said.
For Brown, the Career Ladders scholarship "…has already helped me so far in the program because normally I would have to rush to take out loans but I can currently pay off the amount of tuition left with my remaining balance. This reduced financial strain has allowed me to focus on studying for my boards and completing classes. I could not be more grateful for the generosity of the scholarship department."
Another first-year student, Okezi Akpokene, is beginning a BS in Health Information Management this spring, with the hope of applying his degree toward a job as either a health information management consultant or privacy officer.
Akpokene selected this field based on his family's history of working in healthcare—and in facing health issues that disproportionately affect Black and Latino populations. "I have become passionate about helping where I can as I have lost family and friends because of lifestyle-related illnesses. My father was a diabetic, my maternal grandmother was also a diabetic, and my maternal uncle is hypertensive. With the knowledge I gained in my chosen profession, I can help my uncle adjust both his own and his friend's and family's diets, resulting in healthier communities and populations." The Career Ladders scholarship, Akpokene observed, "…will help me achieve my educational and career goals by granting me the opportunity to start on my academic journey, lessen the financial burden, and boost my morale."
Reginald Presume, another incoming Career Ladders Scholar, is starting his first semester in the Certificate in Medical Coding program. Currently a special procedures technologist at the interventional radiology department at Coney Island Hospital and NYU Langone Medical Center, Presume has worked in the radiology field for more than a decade and is hoping to further hone his skills with this certificate.
As Presume remarked, it's a passion as much as a job. "... I graduated with my XRay Technologist license in September 2010. I started working about a month later and it's been a great experience ever since. I work with patients from all walks of life, from premature day old babies to patients as old as 101 years old. I've performed exams on television and Broadway stars and NBA basketball players. I've performed exams on homeless and mentally disabled people, as well." The Career Ladders scholarship will cover a part of Presume's costs for the certificate to further develop his skillset. "It has paid for some of my tuition, which is a big help," he noted.
Michael Briones is a registered nurse currently pursuing his nursing degree online at CUNY SPS while working as a float nurse at the Parkview Health hospital network in Indiana. With more than ten years of experience practicing in the field, first as a pharmacy technician and later as an EMT, Briones loves the patient care aspect of his work and is excited to do more of this with a bachelor's degree in nursing.
For Briones, the Career Ladders scholarship is another step toward fulfilling his dreams. "By not having to worry about yet another expense in addition to rent, food, utilities, etc., I can focus more on advancing my career and eventually getting my BSN. I hope to one day become a nurse practitioner, so this [scholarship] will certainly prove invaluable in the pursuit of it. …I view tuition aid from donors as an investment in me, for which I am grateful. …The very least that I can do for them is make their investment worthwhile and keep educating myself so that I can be the best version of myself."
About the CUNY School of Professional Studies
For over 15 years, the CUNY School of Professional Studies (CUNY SPS) has been leading online education in New York. Notable for offering the most online bachelor's and master's degree options at the City University of New York, and for serving transfer students as the University system's only undergraduate all-transfer college, CUNY SPS meets the needs of adults who wish to finish a bachelor's degree, progress from an associate's degree, earn a master's degree or certificate in a specialized field, and advance in the workplace or change careers.
The School's growth has been remarkable, with twenty-four degrees launched since 2006. Enrollment has risen by more than 30% in the last four years to over 4,000 students in the credit-bearing programs. Thousands more are enrolled in non-degree and grant-funded workplace learning programs. In addition, the School has an active alumni network and has established the CUNY SPS Foundation, which offers multiple scholarship opportunities to current students.
CUNY SPS has consistently been named by U.S. News & World Report as one of the country's top online institutions. This year, the School was ranked in the top 2% in the nation on the publisher's list of the 2021 Best Online Bachelor's Degree Programs.
Press Contact
Andrea Fagon
Director of Marketing and Communications
andrea.fagon@cuny.edu