CUNY SPS Student/Alumni Mixer Offers Chance to Connect and Celebrate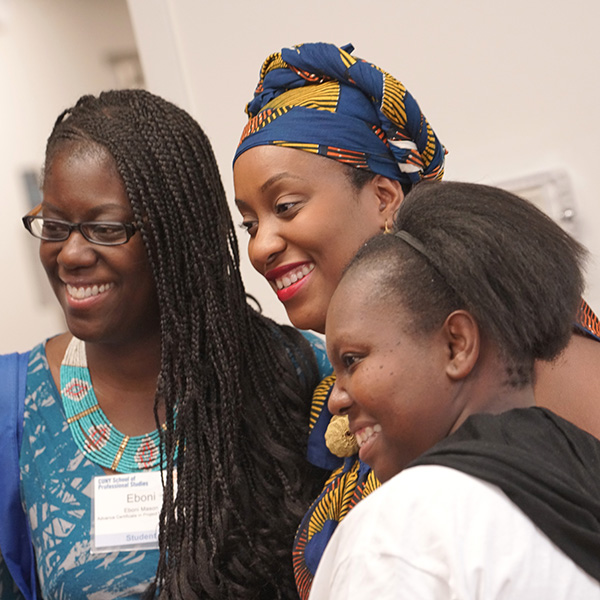 Students and alumni at the CUNY School of Professional Studies (CUNY SPS) gathered to reconnect with former classmates, build new alliances, and celebrate their collective achievements at a summer mixer held on June 23. Sponsored by the CUNY SPS Student Association and the Office of Alumni Relations, the online event drew over 60 attendees and featured speeches, a live DJ, games, and prizes.
Nidia Cordova, alumni relations specialist at CUNY SPS, gave a brief opening address and introduced Student Association co-chair Shakima Williams-Jones (MS in Business Management and Leadership '21), who welcomed guests and spoke of the group's commitment to expanding student life. 
"We largely set out to create a sense of community by being a part of as many school events and as committed as possible… [Since] this year was virtual, we've had more participation in events than ever before and [we] hope that continues," Williams-Jones noted. In her brief address, William-Jones also acknowledged her profound sense of gratitude to CUNY SPS Dean John Mogulescu, who is retiring in August after nearly 50 years with CUNY. 
After William-Jones' statements, alumna Milan Fredricks (BA in Communications and Media '19) followed with a heartwarming tribute to Dean Mogulescu. Fredricks, who is currently an MA candidate at Columbia University, emphasized that without CUNY SPS, she would never have achieved her undergraduate degree. "As much as current students and alumni tried to convey, John may never fully know how deep our love and gratitude for him and the institution he built runs. For many of us, it was literally life-changing," Fredricks said. 
Alumna Lisa Sheridan (BA in Communications and Media '20) then added details of the special alumni fundraising campaign for the ACE Scholarships drive, where contributions were made in honor of Dean Mogulescu. After thanking the fundraising efforts of Danny Shaw (MS in Business Management and Leadership '17), Sheridan pointed out that over 2,800 dollars were raised for the ACE program. 
Dean Mogulescu concluded the round of speakers by offering his reflections on his tenure with CUNY, his appreciation of the CUNY SPS students, and his hopes for the School's continued success. He said that the beautiful and heartwarming tributes of the evening touched him. "I am greatly pleased to see student leaders so committed to CUNY SPS and feel truly happy that they feel that they received a good education from the School."
Once the speeches ended, the house party began. DJ 3nigma spun an array of dance music classics. Since the party was held via Zoom, participants danced in their kitchens, living rooms, and offices. Throughout the evening, the DJ selected and highlighted dancers with a "Zoom Spotlight", which solo-featured the partygoer's moves on the screen.
Fun games were also interspersed during the dance party. Anthony Sweeney, associate director of student life at CUNY SPS, ran several raffle drawings using a digital spin-the-wheel application. Later, DJ 3nigma announced a virtual scavenger hunt, and prompted students to locate specific items from within their homes, which had participants rushing about in a mad dash. 
The Zoom chat box quickly filled with enthusiastic student and alumni comments including: "This was awesome!" (Leonard Blades, MS in Disability Services in Higher Education '20), and "Amazing DJ!" (Stephen Ippolito, MA in Disability Studies '17). 
Sweeney summed up the evening, "You know a campus event is a success when you see the Dean and his wife dancing." 
Williams-Jones later added, "I see this event as a huge success—bringing together current students and alumni has also been a goal of Student Association. Being able to celebrate John was an added bonus."  
About the CUNY School of Professional Studies
For over 15 years, the CUNY School of Professional Studies (CUNY SPS) has been leading online education in New York. Notable for offering the most online bachelor's and master's degree options at the City University of New York, and for serving transfer students as the University system's only undergraduate all-transfer college, CUNY SPS meets the needs of adults who wish to finish a bachelor's degree, progress from an associate's degree, earn a master's degree or certificate in a specialized field, and advance in the workplace or change careers.
The School's growth has been remarkable, with twenty-four degrees launched since 2006. Enrollment has risen by more than 30% in the last four years to over 4,000 students in the credit-bearing programs. Thousands more are enrolled in non-degree and grant-funded workplace learning programs. In addition, the School has an active alumni network and has established the CUNY SPS Foundation, which offers multiple scholarship opportunities to current students.
CUNY SPS has consistently been named by US News & World Report as one of the country's top online institutions. This year, the School was ranked in the top 2% in the nation on the publisher's list of the 2021 Best Online Bachelor's Degree Programs.
Press Contact
Andrea Fagon
Director of Marketing and Communications
andrea.fagon@cuny.edu