CUNY SPS Staff Share Expertise at Open Educational Resources Conference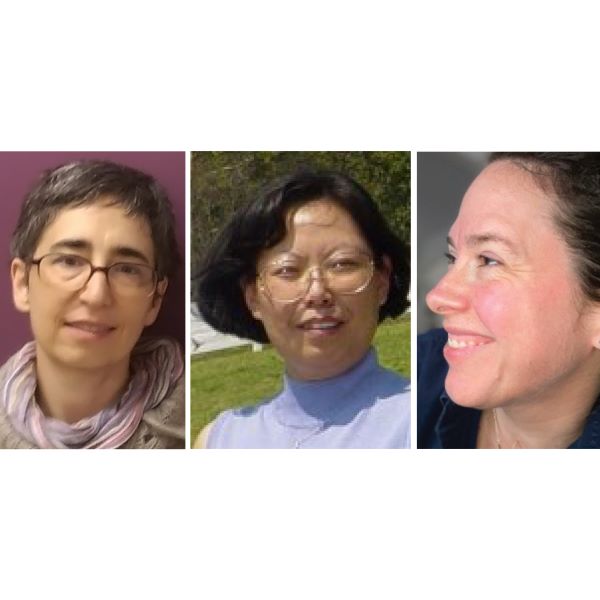 Staff from the CUNY School of Professional Studies (CUNY SPS) made a strong showing at the 2023 Northeast Open Educational Resources (OER) Summit this April, with presentations that highlighted the School's online learning expertise.
The summit, which supports practitioners working with OER, or teaching, learning, and research materials intentionally created and licensed to be free, featured several members of the School's Office of Faculty Development and Instructional Technology (OFDIT) that led a workshop and—in a major highlight—delivered the keynote address.
On April 5, Sarah Kresh, faculty development and instructional design manager at CUNY SPS (pictured above on left), gave the keynote: "The Little Team that Could: Scalable Strategies for Supporting an Institutional Culture of OER and Open Pedagogy."
Kresh, who was previously awarded the 2022 Open Education Global Emerging Leader Award for her work promoting OER and Open Pedagogy at CUNY SPS and CUNY, described in her address how her team has been able to develop a school-wide culture of using OER and Zero-Textbook-Cost materials and explore Open Pedagogy approaches for online courses. She also shared some of OFDIT's strategies for OER and discussed how they might be adaptable and scalable for OER advocates in other roles and at other types of institutions.
Kelly Hammond, OER assistant (pictured above on right), then led the workshop "Turning Reliance into Reliability: A Pressbooks and H5P project to replicate an interactive, simulations-rich OER textbook," sharing the work she, Kresh, and Rowena Li, college assistant (pictured above in middle), have done in conjunction with subject matter expert Joan Mosely.
During this presentation, the OFDIT team described the three phases of a project to replicate and sustain the OER textbook Concepts in Statistics, which is in use by CUNY SPS faculty, along with the opportunities and challenges regarding labor, domain expertise, platform choice, and accessibility. Workshop participants were also invited to share their own sustainability challenges and solutions and add to their sustainability checklist for OER practitioners.
"The Summit is a really great, affordable conference that is short but has great reach and coverage," Kresh said. "There were presenters from all over the US and even Australia this year, and topics ranged from OER in tenure & promotion, to system questions like OER course marking (in registration systems), to faculty describing their own OER creation and co-creation with students, to different perspectives on OER and inclusive pedagogy. It's also accessible and interesting for CUNY SPS faculty as well, several of whom I was happy to see attended."
Initiated in 2017, the Northeast OER Summit is a gathering of Open Educational Resources practitioners and advocates (including administrators, librarians, instructional designers, faculty, and staff) from the Northeast region of the United States.
This year's conference, which featured the theme Making Moves: Strategies for Success in OER, was a two-day, multi-state collaborative virtual event for new and experienced OER advocates that offered the opportunity to learn and share effective practices in awareness building, implementation, collaboration, strategy, and research.
About the CUNY SPS Office of Faculty Development and Instructional Technology
The mission of the Office of Faculty Development and Instructional Technology (OFDIT) is to provide faculty with the support, training and resources required at all stages in their careers and to enhance the community of practice in order to promote greater teaching effectiveness, instructional innovation, and faculty satisfaction, all with the goal of improving the quality of the student learning experience.
About the CUNY School of Professional Studies
As New York's leading online school since 2006, the CUNY School of Professional Studies (CUNY SPS) offers the most online bachelor's and master's degree options at the City University of New York, and serves as the University's first undergraduate all-transfer college. With 26 degrees and numerous other non-degree and grant-funded workplace learning programs, CUNY SPS meets the needs of adults who wish to finish a bachelor's degree, progress from an associate's degree, earn a master's degree or certificate in a specialized field, and advance in the workplace or change careers. Consistently ranked highly by U.S. News & World Report for its online offerings, CUNY SPS has emerged as a nationwide leader in online education. The School's renowned and affordable online programs ensure that busy working adults may fulfill their educational goals on their own time and schedule.
Press Contact
Andrea Fagon
Chief Marketing and Communications Officer
andrea.fagon@cuny.edu