CUNY SPS Says Goodbye to Founding Dean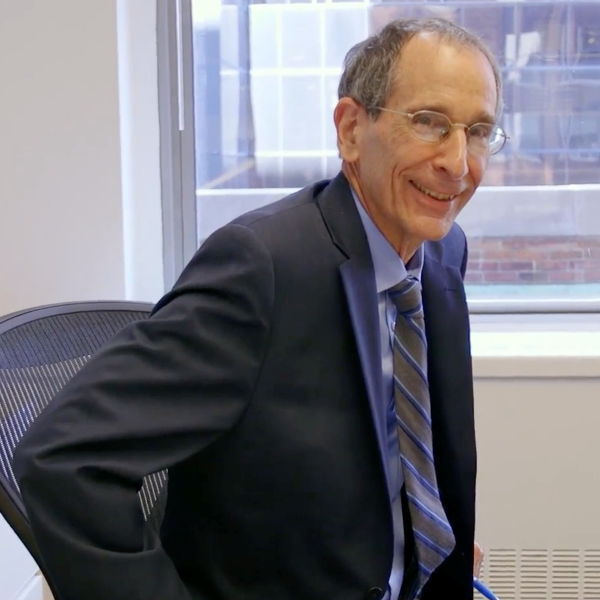 John Mogulescu, the founding dean of the CUNY School of Professional Studies (CUNY SPS), retired this August. His tremendous work and legacy, which spanned 50 years at CUNY and nearly 20 of those at CUNY SPS, was honored in a heartfelt and occasionally tear-filled retirement celebration held on August 24.
Co-hosted by Brian A Peterson, former associate dean at CUNY SPS, and Shakima Williams-Jones, a 2021 graduate of the CUNY SPS MS in Business Management and Leadership program, the online event featured a number of speeches and video tributes to Dean Mogulescu. Throughout the celebration, attendees were encouraged to toast the dean at home with a festive beverage created in his honor by the event organizers and dubbed 'The Mogulicious.'
The recurring theme of the night, as echoed by the many students, alumni, faculty, staff, and Foundation Board members who shared their reminiscences and well-wishes, was Dean Mogulescu's tireless devotion to helping adult students at CUNY reach their potential, particularly through the groundbreaking online degree and workplace learning programs offered by CUNY SPS.
Tracy Meade, senior associate dean for strategy and innovation at CUNY SPS, reflected upon Dean Mogulescu's longtime mission in her remarks. "I want…to share with you what I believe John left in our care. John left us to care for city workers. John left us to care for community college students …John left us to care about and fight for better jobs and higher wages for CUNY graduates ...John left us to care for the belief that talent and creativity are not limited to the highest degrees or the most confidence, [and that] doing matters more than talking. …John cared about the entire university but a focus on the population with untapped potential was his specialty. And this is where his impact was the greatest."
Offering a real-life example of this, CUNY SPS alum Leonard Blades (MS in Disability Services in Higher Education '20) described how Dean Mogulescu had personally inspired him in his own advocacy work for students with disabilities. "During my time serving as a member of the CUNY SPS Student Association, John taught me to take something I'm passionate about and find a way to apply it to CUNY SPS. …[With] that in mind, the Abilities and Resources Committee was founded. Now known as the Disability and Access Coalition, this group aims to serve students with disabilities, and to bridge the gap of inclusion for students both online and in person. …I want to thank you, John, for your backing and encouragement when it first got started and for consistently showing up at events to demonstrate your support. It really meant a lot."
In a surprise highlight of the evening, CUNY SPS Foundation Board Chair Blake Foote announced that the Board has established an annual John Mogulescu Innovation Prize to honor a student, faculty member, or administrator with an innovative idea that advances the CUNY SPS community. Foote also noted that the Board will continue to raise funds for this prize and the Founding Dean's Scholarship, which had been set up by Dean Mogulescu in the early days of the School to directly support students.
At the close of the celebration, Dean Mogulescu gave his farewell in an emotional speech. "I admit that I have spent a decent amount of time reflecting on my many, many years working at CUNY, and about all of the things I have been involved with. And what is clear is that my proudest accomplishment is helping create and lead CUNY SPS. …. I always say that I pinch myself for having this kind of career and I truly feel so blessed and fortunate to be part of this community."
About the CUNY School of Professional Studies
For over 15 years, the CUNY School of Professional Studies (CUNY SPS) has been leading online education in New York. Notable for offering the most online bachelor's and master's degree options at the City University of New York, and for serving transfer students as the University system's only undergraduate all-transfer college, CUNY SPS meets the needs of adults who wish to finish a bachelor's degree, progress from an associate's degree, earn a master's degree or certificate in a specialized field, and advance in the workplace or change careers.
The School's growth has been remarkable, with twenty-four degrees launched since 2006. Enrollment has risen by more than 30% in the last four years to over 4,000 students in the credit-bearing programs. Thousands more are enrolled in non-degree and grant-funded workplace learning programs. In addition, the School has an active alumni network and has established the CUNY SPS Foundation, which offers multiple scholarship opportunities to current students.
CUNY SPS has consistently been named by U.S. News & World Report as one of the country's top online institutions. This year, the School was ranked in the top 2% in the nation on the publisher's list of the 2021 Best Online Bachelor's Degree Programs.
Press Contact
Andrea Fagon
Director of Marketing and Communications
andrea.fagon@cuny.edu