CUNY SPS Publishes 2019-20 Annual Report and First Issue of Magazine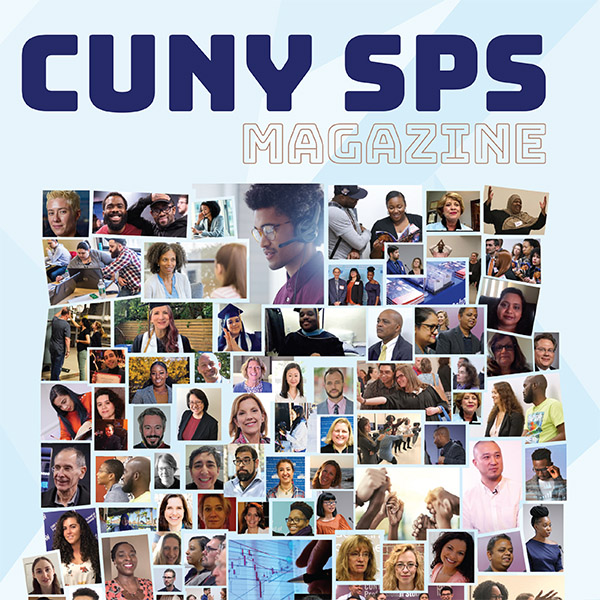 The CUNY School of Professional Studies (CUNY SPS) is pleased to announce the publication of its 2019-20 Annual Report and the inaugural issue of its Magazine, which are now available in a digital version on its website.  
Beginning in 2015, CUNY SPS has published an annual report that offers highlights from the previous academic year. For the 2019-20 academic year, the School is presenting the publication in a new format that includes an annual report and a separate magazine.
As in prior reports, the joint publication offers highlights from the School over the past year, including news and updates on its programs, initiatives, events, funding and donation opportunities, and its students, alumni, faculty, staff, and board. This year, the publication features several stories on the challenges presented by COVID-19 and the innovative and inspiring ways that the CUNY SPS community has worked to support each other and cope with the pandemic.
To view or download a pdf of the CUNY SPS 2019-20 Annual Report and Magazine, visit the website. 
About the CUNY School of Professional Studies
For over 15 years, the CUNY School of Professional Studies (CUNY SPS) has been leading online education in New York. Offering the most online Bachelor's and Master's degree options at the City University of New York, CUNY SPS meets the needs of adults who are looking to finish a bachelor's degree, progress from an associate's degree, earn a master's degree or certificate in a specialized field, and advance in the workplace or change careers.
The School's growth has been remarkable, with twenty-four degrees launched since 2006. Enrollment has risen by more than 30% in the last four years to over 4,000 students in the credit-bearing programs and thousands more who are enrolled in non-degree and grant-funded workplace learning programs. In addition, the School has an active Alumni network and has established the CUNY SPS Foundation, which offers multiple scholarship opportunities to current students.
CUNY SPS has been ranked in the nation's top 5% by U.S. News & World Report for the past six years, most recently in its list of the 2020 Best Online Bachelor's Degree Programs, making CUNY SPS the highest nationally listed program in New York State and New York City.
Press Contact
Andrea Fagon
Director of Marketing and Communications
andrea.fagon@cuny.edu