You are here
Medical Start-Up Run by CUNY SPS Adjunct Professor Wins Healthcare Competition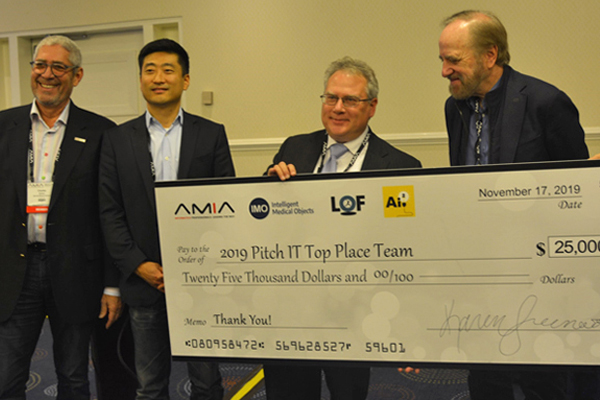 A medical start-up led by CUNY School of Professional Studies Adjunct Professor in Business, Dr. Anthony Sterns, has won the 3rd annual American Medical Informatics Association (AMIA) PitchIt competition. Dr. Stern's company, iRxReminder, received $25,000 in grants.
Founded by Dr. Sterns, who is also CEO, iRxReminder was founded to address the public health issue that many patients, particularly those with mental health needs, do not take their medications correctly. Over the last 18 months, iRxReminder has focused on the specific challenges of medication adherence in the area of mental health services while participating in the National Institutes of Health I-Corps biomedical technology start-up program.
Dr. Sterns observes, "Winning the AMIA 2019 PitchIT is recognition that we are now clearly providing a workable solution that improves [medication] adherence and also earns a strong return on investment in terms of reimbursement revenue generation for agencies."
The AMIA PitchIt contest, run in partnership with industry crowdfunding platform MedStartr, invites start-ups from all over the country to submit their project idea. iRxReminder was chosen as one of five finalists to compete in a 6-minute business pitch onstage at the 2019 AMIA annual conference in Washington, D.C. Dr. Sterns gave the winning pitch, in which he presented an overview of the company, the problem it solves, and its business case. In addition to the $25,000 in grants, iRxReminder will also gain entry into the MedStartr Accelerator business program.
About the CUNY School of Professional Studies
Home to the first fully online degree programs at the City University of New York, the CUNY School of Professional Studies (CUNY SPS) provides online and on campus programs that meet the needs of adults who are looking to finish a bachelor's degree, earn a master's degree or certificate in a specialized field, advance in the workplace, or change careers.
The School's growth has been remarkable, with twenty-three degrees launched since 2006. Enrollment has risen by more than 30% in the last four years to over 3,700 students in the credit-bearing programs and thousands more who are enrolled in non-degree and grant-funded workforce development programs. In addition, the School has an active Alumni network and has established the CUNY SPS Foundation, which offers multiple scholarship opportunities to current students.
CUNY SPS is ranked in the top 5% of U.S. News & World Report's list of the 2019 Best Online Bachelor's Degree Programs, making CUNY SPS the highest nationally listed program in New York City.
Press Contact:
Andrea Fagon
Director of Marketing and Communications
andrea.fagon@cuny.edu
(646) 664-8690