CUNY SPS Professional Education and Workplace Learning Unit Publishes First Annual Report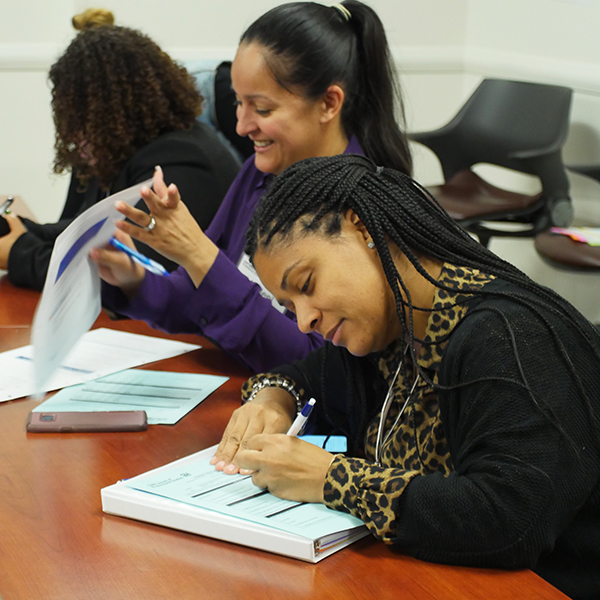 The CUNY School of Professional Studies (CUNY SPS) is pleased to announce the publication of the first annual report for The Office of Professional Education and Workplace Learning (PEWL), an integral unit of the School.
Established in 2006, PEWL's mission is to provide individuals with the opportunity to advance their careers through professional coursework, and help organizations achieve their goals with custom workplace learning programs. Since its inception, PEWL has served more than 200,000 workers.
In 2019-2020, under the leadership of Executive Director Amy Perez, PEWL managed and implemented a portfolio of $31.7 million in grants and contracts.
PEWL develops and runs training programs for City and State agencies such as the New York City Department of Homeless Services, the New York City Administration of Children's Services, the New York State Office of Children and Family Services, and the New York City Department of Correction, as well as such private organizations as the Central Park Conservatory, among others.
The unit's annual report highlights these programs and showcases the leadership team that collaborates with these agencies and organizations. The publication also recounts the rapid response of PEWL staff to the challenges presented by the Covid-19 pandemic, and the creation of a program evaluation office to define PEWL's impact for stakeholders.
"With PEWL's expertise in research-based learning practices and online as well as in-classroom curriculum development and implementation," said CUNY SPS Dean John Mogulescu, "it is uniquely positioned to respond to organizational learning needs and support change management initiatives swiftly and effectively."
Senior Associate Dean for Strategy and Innovation Tracy Meade, who oversees the PEWL unit, observed that in documenting the important work of PEWL, which has more than 200 staff members, CUNY SPS is now in a position to widely share the office's accomplishments.
"The report is full of inspiring content, not the least of which is getting to know the unit's talented management team and professional staff at our partnership sites," Meade said. "The PEWL team is remarkable. Their many accomplishments contribute to the visibility and impact of CUNY SPS. I thank them all for their commitment and passion."
"Despite the many challenges presented by COVID-19, the PEWL team remained agile, focused, and committed to supporting our partner's changing needs," Perez said. "I am very proud of the body of work accomplished this past year and of our dedicated and talented team."
Read the PEWL Annual Report.
About the CUNY School of Professional Studies
For over 15 years, the CUNY School of Professional Studies (CUNY SPS) has been leading online education in New York. Offering the most online Bachelor's and Master's degree options at the City University of New York, CUNY SPS meets the needs of adults who are looking to finish a bachelor's degree, progress from an associate's degree, earn a master's degree or certificate in a specialized field, and advance in the workplace or change careers.
The School's growth has been remarkable, with twenty-four degrees launched since 2006. Enrollment has risen by more than 30% in the last four years to over 4,000 students in the credit-bearing programs and thousands more who are enrolled in non-degree and grant-funded workplace learning programs. In addition, the School has an active Alumni network and has established the CUNY SPS Foundation, which offers multiple scholarship opportunities to current students.
CUNY SPS has been ranked in the nation's top 5% by U.S. News & World Report for the past six years, most recently in its list of the 2020 Best Online Bachelor's Degree Programs, making CUNY SPS the highest nationally listed program in New York State and New York City.
Press Contact:
Andrea Fagon
Director of Marketing and Communications
andrea.fagon@cuny.edu