CUNY SPS Office of Professional Education Workplace Learning (PEWL) & NYC Department of Health and Mental Hygiene Publish Pandemic Toolkit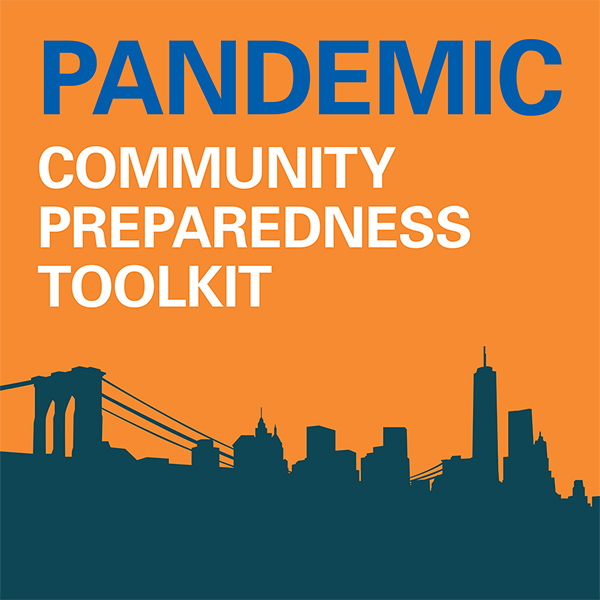 When the COVID-19 pandemic began spreading rapidly across the city, the Office of Professional Education & Workplace Learning and the NYC Department of Health and Mental Hygiene (Health Department) sprang into action.
Michael Schultz, senior program manager for emergency management, along with PEWL's partners at the Health Department created a Pandemic Toolkit for the Coronavirus.
"The Health Department realized the need for a pandemic influenza toolkit years ago, and we began working to make this a reality back in 2015," Schultz explained. "When COVID-19 began to emerge as a threat, my colleagues at the Health Department and I knew how the resources in the Pandemic Influenza Toolkit could be quickly modified to provide guidance to organizations in New York City around how to respond to Coronavirus. There are many similarities between both, and it seemed serendipitous that we already had this resource."
Developed in March, the toolkit is designed to assist community, faith-based, and other types of organizations in preparing for and responding to the effects of the Coronavirus.​
Schultz, who quickly managed and produced the project, developed the toolkit to be adaptable, with minimal modification, beyond Coronavirus to address multiple types of pandemics that may arise in the future. This project is an extension of work PEWL conducted in 2015 for the Health Department on creating a similar product specifically for pandemic influenza.
"I am so pleased that our PEWL team at CUNY SPS was able to quickly step in to assist the NYC Department of Health and Mental Hygiene in helping our fellow New Yorkers during the COVID-19 pandemic," said John Mogulescu, dean of the CUNY School of Professional Studies. "We are grateful to Michael for his alacrity and hard work."
About PEWL
The CUNY SPS Office of Professional Education and Workplace Learning creates customized workplace training programs to help people advance their careers and assist organizations in improving their effectiveness. PEWL partners with city and state agencies, non-profit groups, and the private sector to help identify needs and gaps across their workforce. The innovative and learner-specific programs include in-person and online training and project management.
About NYC Department of Health and Mental Hygiene
The NYC Department of Health and Mental Hygiene is one of the largest public health agencies in the world, as well as one of the nation's oldest public health agencies, with more than 200 years of leadership in the field.
Every day, the NYC Health Department protects and promotes the health of eight million New Yorkers, through various efforts, including the inspection grades of dining establishments, the licenses dogs wear, the low- to no-cost health clinics in NYC neighborhoods and the birth certificates for our youngest New Yorkers.
The NYC Health Department is also behind the scenes with disease detectives who investigate suspicious clusters of illness, and epidemiologists who study the patterns, causes and effects of health and disease conditions in NYC neighborhoods. 
About the CUNY School of Professional Studies
For over 15 years, the CUNY School of Professional Studies (CUNY SPS) has been leading online education in New York. Offering the most online Bachelor's and Master's degree options at the City University of New York, CUNY SPS meets the needs of adults who are looking to finish a bachelor's degree, progress from an associate's degree, earn a master's degree or certificate in a specialized field, and advance in the workplace or change careers.
The School's growth has been remarkable, with twenty-three degrees launched since 2006. Enrollment has risen by more than 30% in the last four years to over 3,700 students in the credit-bearing programs and thousands more who are enrolled in non-degree and grant-funded workplace learning programs. In addition, the School has an active Alumni network and has established the CUNY SPS Foundation, which offers multiple scholarship opportunities to current students.
CUNY SPS has been ranked in the nation's top 5% by U.S. News & World Report for the past six years, most recently in its list of the 2020 Best Online Bachelor's Degree Programs, making CUNY SPS the highest nationally listed program in New York State and New York City.
Press Contact
Andrea Fagon
Director of Marketing and Communications
andrea.fagon@cuny.edu
(646) 664-869