CUNY SPS Pays Tribute to Courageous and Dedicated Class of 2021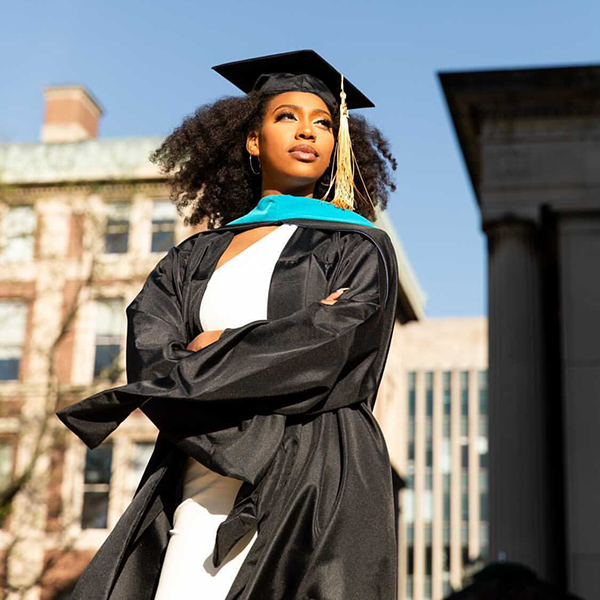 The CUNY School of Professional Studies (CUNY SPS) hosted its Commencement 2021 ceremony on Wednesday, May 26 with an uplifting and emotional tribute that honored graduates for their hard work and accomplishments, particularly during such a difficult year. The full event, which was livestreamed on YouTube, has been archived on the CUNY SPS Commencement 2021 website.
With more than 1,100 students receiving their degree this year, the Class of 2021 stands as the largest graduating class so far at CUNY SPS, a number that is even more remarkable given the challenges posed by COVID since last spring. In another record-breaking statistic, more than 400 of the over 650 undergraduate students also earned academic honors, with more than 200 of those awarded summa cum laude, or highest honors.
This year's commencement celebration featured a number of recorded video speeches and montages, along with a comments section for viewers to post congratulatory messages. Following the close of the official ceremony, attendees were invited to join a lively dance party hosted by DJ Sha Savage. These videos, along with a commemorative listing of the graduates and related social media posts, can also be viewed on the CUNY SPS graduate recognition website.
In a nod to the amazing energy, diligence, and determination displayed by the Class of 2021, this year's commencement ceremony featured several video segments organized around the theme "I am CUNY SPS", which included a number of graduates reflecting in their own words on their time at CUNY SPS, their degree, their advice for other students, and their future plans. Another highlight featured a stirring rendition of the national anthem, which was performed at the opening of the ceremony by Class of 2021 graduates Virginia Villadiego-Punto (BS in Nursing) and Jeremiah Rivera (BS in Business).
Alongside the performance and montages, the commencement ceremony featured speeches by CUNY Chancellor Félix V. Matos Rodríguez; CUNY SPS Dean John Mogulescu; Dr. George Otte, senior associate dean for academic affairs; Jennifer Sparrow, associate dean of academic affairs; Erin Jeanette, head of counseling services; and LaSheemma Norman, who was selected by members of the CUNY SPS Student Association to be the 2021 student speaker.
Many of the speakers spoke candidly about the grief that so many experienced in the past year, due to COVID and racial injustice, while acknowledging the Class of 2021's amazing strength and persistence in the face of these crises.
Dean John Mogulescu, during his speech, led a moment of silence to honor all that the graduating students, as well as the rest of the CUNY SPS family, had gone through. Following that, he observed, "… our Class of 2021 is truly extraordinary. I can't wait to see what amazing things you will all do next—because I know the same courage, resilience, and resolve that you drew on to help you finish your degree during a pandemic will also ensure your success in your future."
In a personal aside, Dean Mogulescu also reflected that this was the last graduation he would preside at as dean before his retirement, and noted that he has conferred degrees to more than 7,700 CUNY SPS students in the fifteen years since the School hosted its first commencement.
LaSheemma Norman, this year's student speaker, shared her own experiences over the past year while completing a MA in youth studies at CUNY SPS. In a deeply moving speech, she described how her efforts to better help the incarcerated students she taught in a detention facility led her to the youth studies program, where she studied how to advocate for those in the juvenile justice system.
But for Norman, life took another twist with COVID, and in addition to getting very sick herself, she also lost her aunt, two friends, her former pastor, and, in a stunning blow, her mother. "My world was completely flipped upside down," she revealed. ".… I battled with depression prior to 2020 but these events almost sent me over the edge, and I am forever changed by my losses."
Despite these tragedies, Norman persevered, driven by her calling to help others. "I completed [my degree] with something much greater and that's Purpose and Power. I'm leaving with the resilience and tenacity that my incarcerated students have to instill within themselves every day. I can now empathize with my scholars and peers who are dealing with some of life's most painful, unfair, and unrealistic obstacles and yet decide that I am worth each and every waking moment. I am eternally grateful for the academic and emotional support I received from my peers and faculty at CUNY SPS, which was critical to my success. This program reaffirmed and reinforced my confidence that my life's work will not be in vain."
About the CUNY School of Professional Studies
For over 15 years, the CUNY School of Professional Studies (CUNY SPS) has been leading online education in New York. Notable for offering the most online bachelor's and master's degree options at the City University of New York, and for serving transfer students as the University system's only undergraduate all-transfer college, CUNY SPS meets the needs of adults who wish to finish a bachelor's degree, progress from an associate's degree, earn a master's degree or certificate in a specialized field, and advance in the workplace or change careers.
The School's growth has been remarkable, with twenty-four degrees launched since 2006. Enrollment has risen by more than 30% in the last four years to over 4,000 students in the credit-bearing programs. Thousands more are enrolled in non-degree and grant-funded workplace learning programs. In addition, the School has an active alumni network and has established the CUNY SPS Foundation, which offers multiple scholarship opportunities to current students.
CUNY SPS has consistently been named by U.S. News & World Report as one of the country's top online institutions. This year, the School was ranked in the top 2% in the nation on the publisher's list of the 2021 Best Online Bachelor's Degree Programs.
Press Contact
Andrea Fagon
Director of Marketing and Communications
andrea.fagon@cuny.edu