CUNY SPS to Offer Accelerated Project Management Certificate Program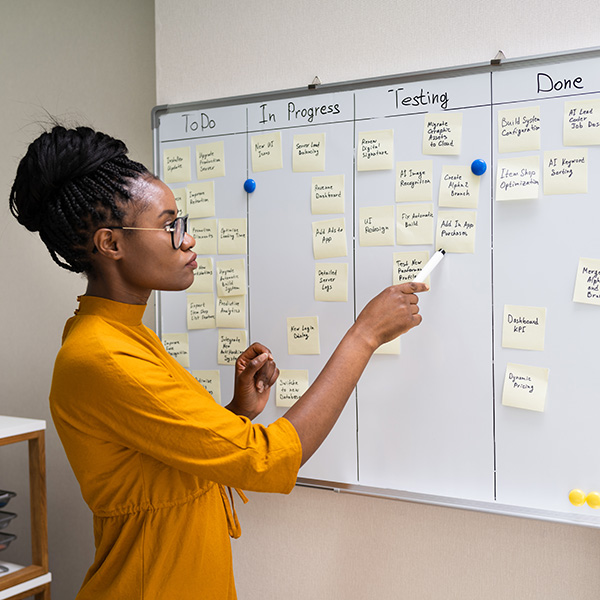 The CUNY School of Professional Studies (CUNY SPS) is pleased to announce that the Advanced Certificate in Project Management program will be condensed and offered as three consecutive seven-week courses, allowing for quicker program completion, beginning in the fall 2021 semester.
"This is a highly anticipated change for both students and faculty," said Dr. Barbara Edington, PMP, who co-founded the program in 2005 with Beth Ouellette, PMP and CEO of the Ouellette Group. "The chance to truly immerse yourself in a topic over a shorter period of time generates a higher level of enthusiasm for learning and applying the concepts."
Dr. Vicki Caruana, academic program manager, said the program had previously taken students 18 months to complete. "If we're trying to prepare people so that they can seek better job opportunities, you don't want them to wait a year and a half to make that happen," Dr. Caruana said. "This is a way to be responsive to that and to the needs of the field."
Since the launch of the CUNY SPS program, hundreds have earned the online certificate in order to further their careers. The Advanced Certificate in Project Management develops students' knowledge of and ability to apply project management standards, techniques, and practices while studying within a rigorous academic framework. The program helps graduates pursue careers as project managers in fields such as information technology, financial services, construction, management consulting, government, non-profit, and health care.
"The accelerated project management certificate program demonstrates CUNY SPS's commitment to meeting our students where they are, and offering—to the best of our ability—programs that support flexibility towards completion," said Amy Perez, executive director of the CUNY SPS Office of Professional Education and Workplace Learning (PEWL), which oversees the program.
The Project Management Institute expects 22 million new project management job openings through 2027. By teaching students to apply globally recognized project management standards, techniques, and practices, the program seeks to respond to employer demand for people who can deliver projects of a specified scope on time and within budget, as well as to prepare students for roles as project managers in a variety of fields.
"The program is centered around real-world techniques for project management and a shorter, immersive schedule for learning means students will be able to apply the concepts to their work situation more quickly. The 'learn-then-apply' cycle solidifies the mastery of the knowledge learned in the classroom," Dr. Edington added.
About the CUNY School of Professional Studies
For over 15 years, the CUNY School of Professional Studies (CUNY SPS) has been leading online education in New York. Notable for offering the most online bachelor's and master's degree options at the City University of New York, and for serving transfer students as the University system's only undergraduate all-transfer college, CUNY SPS meets the needs of adults who wish to finish a bachelor's degree, progress from an associate's degree, earn a master's degree or certificate in a specialized field, and advance in the workplace or change careers.
The School's growth has been remarkable, with twenty-four degrees launched since 2006. Enrollment has risen by more than 30% in the last four years to over 4,000 students in the credit-bearing programs. Thousands more are enrolled in non-degree and grant-funded workplace learning programs. In addition, the School has an active alumni network and has established the CUNY SPS Foundation, which offers multiple scholarship opportunities to current students.
CUNY SPS has consistently been named by U.S. News & World Report as one of the country's top online institutions. This year, the School was ranked in the top 2% in the nation on the publisher's list of the 2021 Best Online Bachelor's Degree Programs.
Press Contact
Andrea Fagon
Director of Marketing and Communications
andrea.fagon@cuny.edu