CUNY SPS Observes Day of Giving With Calls for Support and Wellness Talk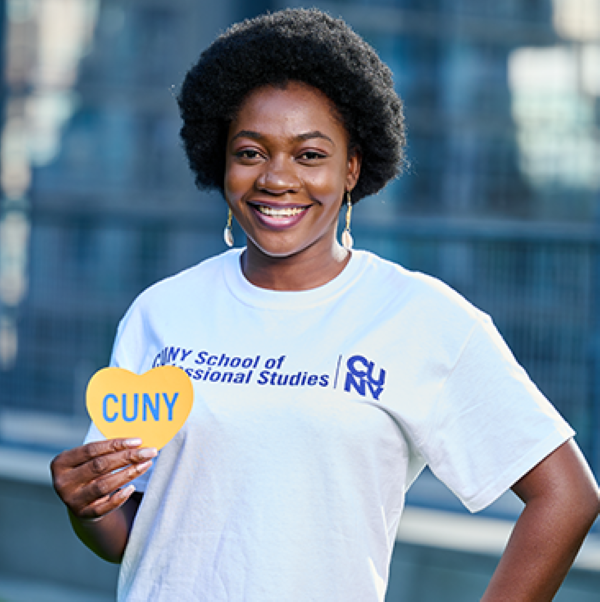 The CUNY School of Professional Studies (CUNY SPS) hosted its annual fundraising event on November 30 as part of #CUNYTuesday, the University-wide day of giving inspired by the global philanthropic movement GivingTuesday.
As in years past, #CUNYTuesday was celebrated with an insightful and lively career panel hosted by the CUNY SPS Offices of Alumni Relations and Career Services. The 2021 event, titled Finding the Balance: Navigating the Boundaries of your Career and Self-Care, featured a panel of speakers from the CUNY SPS community who offered expert advice to attendees on how to advocate for their mental health and wellbeing without compromising their career goals.
Moderated by Erin Jeanette, head of counseling services at CUNY SPS, the panel included Melissa Hinds, MSN, RN (CUNY SPS alum, nursing programs), who is the director of the online assistance unit and associate director of health and technology at Center for Practice Innovations (CPI); Sophe Pauze, MPA, senior director of strategic partnerships at the Mayor's Office of Community Mental Health; and Justine Pawlukewicz, LCSW, PhD (CUNY SPS alum and adjunct professor, disability studies programs), who is also a professor and former chairperson of the human services department at the New York City College of Technology.
During the 90-minute conversation, the speakers explored a number of extremely relevant issues facing workers and employers today. Topics discussed included setting boundaries, burnout, and tips on how to cultivate wellness in the workplace, followed by an audience Q&A.
One key theme that the speakers focused on throughout the talk was the need for setting boundaries in the workplace and how that can be an important strategy for self-care.
Dr. Pawlukewicz, in particular, suggested specific boundaries that workers could maintain in order to minimize their workplace pressures. "Sometimes we're first to think about disclosing all of our symptoms and everything that's going on. I think you need to couch it. You're not at home. These are not your friends. This is not your doctor. This might be your supervisor, but… if there is some stress going on in the workplace or some burnout, you can speak about it by using words that are related.... [For example, by saying] 'I'm overloaded, I can't finish some of my work', rather than 'I have an anxiety disorder, and it's ruling me, I can't get past it.'"
Hinds, following up on this point, shared a personal story to demonstrate how she set her own boundaries when she moved into a new role in her organization. "…In that change it was really important for me to consistently keep my boundaries established. Because although this was a new position, there were new work demands... So, for example, lots of my colleagues like to work over the weekend. I am not working over the weekend. I work Monday through Friday. I'm willing to come in early or stay a little later but my weekends are my weekends and so I'm very clear about that."
The panelists also touched upon other topics including workplace microaggression and how to find purpose and make work meaningful. Throughout the conversation, the speakers emphasized the idea that self-care in the workplace would benefit not just the individual employees, but the company overall.
"We know that when employees feel good, and have their emotional and physical health needs met, that they are more productive, that they stay in their jobs for longer, and that they have better morale," concluded Pauze as she encouraged attendees to advocate for themselves at work.
Following the success of the panel, CUNY SPS is also very pleased to report that it has surpassed its #CUNYTuesday fundraising goal of $146,000 for 2021. This year, continuing a trend of growing donations, the School ended its campaign on December 31 with a total of $148,140.
A recording of the discussion is available here. To learn more about CUNY SPS's fundraising campaign, please visit the #CUNYTuesday website.
About the CUNY School of Professional Studies
For over 15 years, the CUNY School of Professional Studies (CUNY SPS) has been leading online education in New York. Notable for offering the most online bachelor's and master's degree options at the City University of New York, and for serving transfer students as the University system's only undergraduate all-transfer college, CUNY SPS meets the needs of adults who wish to finish a bachelor's degree, progress from an associate's degree, earn a master's degree or certificate in a specialized field, and advance in the workplace or change careers.
The School's growth has been remarkable, with twenty-four degrees launched since 2006. Enrollment has risen by more than 30% in the last four years to over 4,000 students in the credit-bearing programs. Thousands more are enrolled in non-degree and grant-funded workplace learning programs. In addition, the School has an active alumni network and has established the CUNY SPS Foundation, which offers multiple scholarship opportunities to current students.
CUNY SPS has consistently been named by US News & World Report as one of the country's top online institutions. This year, the School was ranked in the top 2% in the nation on the publisher's list of the 2021 Best Online Bachelor's Degree Programs.
Press Contact
Andrea Fagon
Director of Marketing and Communications
andrea.fagon@cuny.edu