CUNY SPS Foundation Board Publishes 2020-2021 Report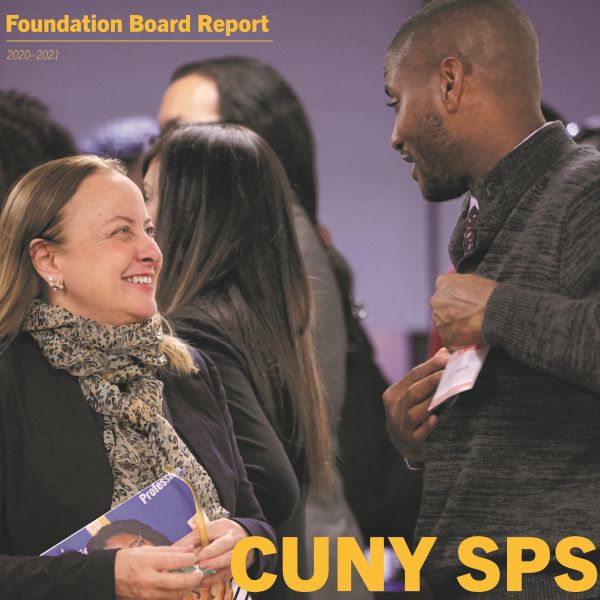 The CUNY School of Professional Studies (CUNY SPS) is pleased to announce the publication of its Foundation Board Report for 2020-2021.
Formerly titled the CUNY SPS Annual Report, the CUNY SPS Foundation Board Report is a yearly publication offering news and updates from the Foundation Board, a not-for-profit organization that operates exclusively to support adult learners at CUNY SPS while they complete their degrees.
The 2020-2021 issue showcases the efforts made by the Foundation Board to provide additional financial assistance for CUNY SPS students impacted by the COVID crisis.
Highlights from the issue include a look at the partnerships made with The Bronx Community Foundation and the Carroll and Milton Petrie Foundation to provide emergency grants to CUNY SPS students in need.
The 2020-2021 issue also features updates on several School initiatives and programs, fundraising stats and student data trends, and the year's scholarship recipients and donors.
Incorporated in 2011, the CUNY SPS Foundation Board works to enhance public understanding and recognition of CUNY SPS, to promote the School's mission, and to champion our dedicated and hard-working students. The Board's mission continuously explores new fundraising opportunities for CUNY SPS that will further the commitment to our students by promoting the educational and charitable purposes of the School.
Read the latest CUNY SPS Foundation Board Report here. The publication may also be viewed on Issuu.
About the CUNY School of Professional Studies
As New York's leader in online education since 2006, the CUNY School of Professional Studies (CUNY SPS) offers the most online bachelor's and master's degree options at the City University of New York, and serves as the University's only undergraduate all-transfer college. With 26 degrees and numerous other non-degree and grant-funded workplace learning programs, CUNY SPS meets the needs of adults who wish to finish a bachelor's degree, progress from an associate's degree, earn a master's degree or certificate in a specialized field, and advance in the workplace or change careers. Consistently ranked highly by U.S. News & World Report for its online offerings, and noted for its soaring growth and enrollment, CUNY SPS has emerged as a nationwide leader in online education. The School's renowned and affordable online programs—which offer in-state tuition to all students regardless of where they live—ensure that busy working adults may fulfill their educational goals on their own time and schedule.
Press Contact
Andrea Fagon
Director of Marketing and Communications
andrea.fagon@cuny.edu