CUNY SPS Festival Showcases Applied Theatre Student Projects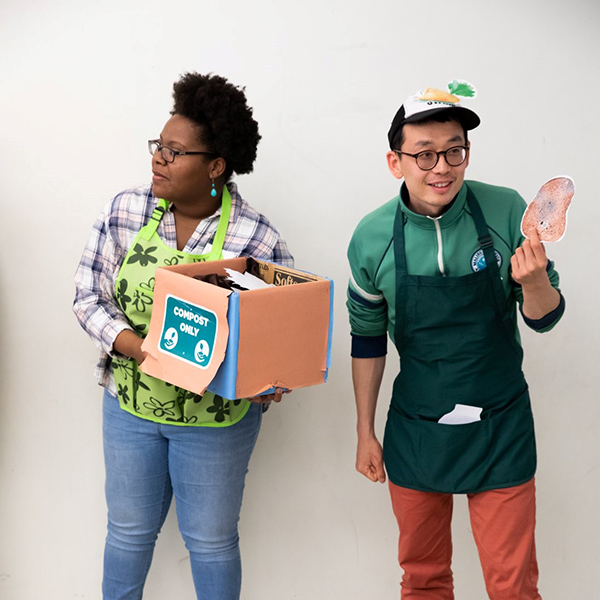 The CUNY School of Professional Studies (CUNY SPS) MA in Applied Theatre program (MAAT) hosted its 2021 virtual Theatre in Education (TIE) Festival on May 22 and May 23. The event showcased five different TIE projects, recently implemented in-person or remotely, offering an opportunity for MAAT students to share their work with a wider audience.
"I was very proud of our student's work in this year's TIE Festival. It was very strong: I was genuinely surprised by the consistency of its quality. There was an exciting range of theatricality and playfulness across the board, from the delightful project for the pre-K classroom to the complex pieces designed for the college classroom," said Chris Vine, academic director of the CUNY SPS MAAT program.
"Each piece had its own unique flavor but all were able to incorporate serious and challenging content at an age-appropriate level, and achieve an exciting level of audience engagement and thoughtful participation," continued Vine. "And all were implemented remotely, via Zoom—with one amazing in-person exception—which was no mean feat in itself. The students showed their ongoing commitment and creativity under testing conditions, and once again demonstrated the potential of our art form as a powerful stimulus for dialogue and learning."
Each year, the virtual TIE festival highlights projects categorized as theatre in education, a term used to describe theatre forms that have an explicit educational purpose and are usually presented by performers (known as 'actor-teachers') who are versed in the techniques and methods of both theatre and teaching. The work is usually designed for a specific age group within the age range of 3 to 18 years, but is also sometimes developed for adult audiences.
The five teams who presented in the festival this year are comprised of students who completed the MAAT course Teaching Through Theatre: The Theory and Practice of TIE. The students have created original pieces, devised for specific audiences: pre-K, 5th grade, middle school, and college. Prior to the festival, the work was performed for these audiences.
See below for details about each of the projects featured in this year's TIE Festival.
Designed for middle school students by Rachael Feldman, Ben Hill, and Kelsey Lappegaard, Disbanded explores the interpersonal intricacies of balancing friendship with self-growth. Set in a fictional school based on that of the original implementation, participants meet a group of friends at a crossroads as they enter high school and begin exploring other facets of their identities that don't align with their plans previously made together as a group. Participants are then invited to collaborate with the characters to explore different approaches and solutions in this interactive TIE presentation.
The Labyrinth is a theatre in education project that uses techniques derived from process drama and Augusto Boal's forum theatre to explore how much control we have over our wellness. In this piece designed for undergraduate college students, presenters Jaymie Jenks, Kassandra Pérez, and Emma Simon ask the question: Can we sashay away our stressors or acknowledge them head on? Follow a college student's journey as they search for resources, allies, and solutions for their mental health challenges. Join the quest and explore the choices, possibilities, and potential outcomes. Who or what affects how we proceed?
Monstertopia is a two-part TIE project designed for fifth-grade students by Georgia Grant, Jason Jedrusiak, and Ania Upstill. In this workshop, students, along with their fifth-grade teachers, venture into the imaginative landscape of Monstertopia to explore how we might value everyone's differences, celebrate self-acceptance in the face of perfectionism, and be proud of who we are as individuals.
In Choo-Choo to Sha-Sha Land: The Journey of a Caterpillar Growing Up, early learners embark on a journey to a beautiful, mystical, magical place -- a land of butterflies. Join us as we race against time, on the Monarch Express, to reach our destination just in time for the butterfly migration! Along the way, we will explore how to solve problems and adapt to changes, all the while helping a friendly but shy caterpillar with their own challenges -- and fear of change! This project was presented by Taifa Harris, Chelsea Rose, and Allen Warnock.
Fight or Flight? is a TIE drama designed for community college students at Bronx Community College, exploring a slice of Bronx history. Part One examines the 'decade of fire' (1970s) and the pressures and policies which contributed to 'white flight' from the South Bronx. Part Two is a process drama about the Young Lords' collaboration with hospital staff to occupy Lincoln Hospital, also known in those days as "The Butcher Shop." This piece was created and presented by Tyannie Adams, Tamelan Chauvet, Joy Leonard, Marianne Pita, and Olivia Sonell.
About the CUNY SPS MA in Applied Theatre Program
The MA in Applied Theatre degree program, the first program of its kind in the United States, uses theatre as a medium for education, community development, and the pursuit of social justice. The goal of the program is to educate scholar practitioners to become future leaders in the field of applied theatre. Applied Theatre involves the use of theatre and drama in a wide variety of nontraditional contexts and venues, such as in teaching, the justice system, health care, the political arena, community development, museums, and social service agencies.
About the CUNY School of Professional Studies
For over 15 years, the CUNY School of Professional Studies (CUNY SPS) has been leading online education in New York. Notable for offering the most online bachelor's and master's degree options at the City University of New York, and for serving transfer students as the University system's only undergraduate all-transfer college, CUNY SPS meets the needs of adults who wish to finish a bachelor's degree, progress from an associate's degree, earn a master's degree or certificate in a specialized field, and advance in the workplace or change careers.
The School's growth has been remarkable, with twenty-four degrees launched since 2006. Enrollment has risen by more than 30% in the last four years to over 4,000 students in the credit-bearing programs. Thousands more are enrolled in non-degree and grant-funded workplace learning programs. In addition, the School has an active alumni network and has established the CUNY SPS Foundation, which offers multiple scholarship opportunities to current students.
CUNY SPS has consistently been named by U.S. News & World Report as one of the country's top online institutions. This year, the School was ranked in the top 2% in the nation on the publisher's list of the 2021 Best Online Bachelor's Degree Programs.
Press Contact
Andrea Fagon
Director of Marketing and Communications
andrea.fagon@cuny.edu