You are here
CUNY SPS Establishes Nursing Scholarship with $150,000 Petrie Foundation Grant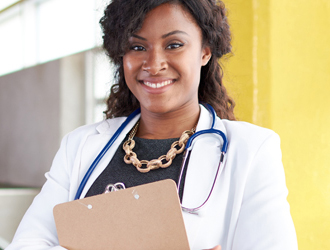 A generous grant from the Carroll and Milton Petrie Foundation is helping the CUNY School of Professional Studies (CUNY SPS) establish and sustain the Petrie Nurse Scholarship program for nursing students.
Starting in Fall 2018, Petrie Nurse Scholarship awards will provide tuition assistance for students enrolled in the CUNY SPS online bachelor's degree in nursing (RN to BSN) who previously earned an applied science (AAS) degree with a major in nursing from a CUNY Community College. Awards will underwrite 100% of tuition, and will follow recipients through degree completion.
"This much needed support from the Petrie Foundation has enabled the School to create the Petrie Nurse Scholars program," noted Marge Reilly, academic director of nursing programs at CUNY SPS. "We are thrilled to be able to provide critical tuition support to high-achieving students in the online RN to BS in nursing degree program. More than 60% of students in the CUNY SPS nursing program are self-payers, and fewer than 30% receive state or federal financial aid. The award provides essential support that directly addresses these issues."
John Mogulescu, dean of the School, echoed Dr. Reilly, and said, "I am delighted that the Petrie Foundation has provided CUNY SPS with the opportunity to help our nursing students finish their degrees and go on to positively influence New York City's healthcare provider system, impacting countless patients' lives throughout their careers."
The CCNE-accredited bachelor's degree in nursing at CUNY SPS is specifically designed to increase the number of diverse, BS-prepared nurses in New York City. With a current enrollment of more than 450 students, undergraduate nursing has rapidly become the School's largest degree program.
Press Contact:

Andrea Fagon

Director of Marketing and Communications

andrea.fagon@cuny.edu

(646) 664-8690