CUNY SPS Commemorates Class of 2020 with Well-Wishes and Tributes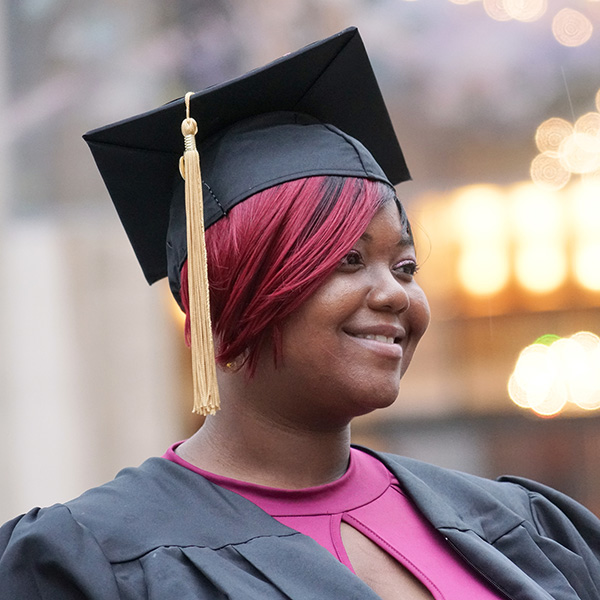 In acknowledgement of this year's graduates and their tremendous achievements, the CUNY School of Professional Studies (CUNY SPS) honored the Class of 2020 with a virtual event held on Monday, June 8. This event was livestreamed on YouTube and archived on the CUNY SPS virtual celebration website.
Over 900 students, the School's largest-ever graduating class to date, were recognized during this celebration. Notably, this year's cohort included first graduates from three master's degree programs: MS in Research Administration and Compliance, MS in Nursing Education, and MS in Nursing Organizational Leadership, along with the first graduate from the accelerated BS to MS program in Nursing Organization Leadership, and the first graduate from the advanced certificate in Research Compliance.
The livestreamed celebration, held in advance of an in-person Commencement exercise, featured recorded video speeches, a comments section for people to write messages, and a live tassel-turning ritual so that those wearing their mortarboard cap could make the transition from student to graduate. Following the formal ceremony, students and guests were invited to join a dance party led by DJ Sha Savage. All videos, along with a commemorative listing of graduates and each program's personalized graduation slides, can be viewed on the CUNY SPS virtual celebration site.
Speakers offering congratulatory video messages included CUNY Chancellor Félix V. Matos Rodríguez, CUNY SPS Dean John Mogulescu, along with several other CUNY SPS students, and faculty, and a number of special guests, including author and civil rights activist Shaun King, Senator Chuck Schumer, New York Lieutenant Governor Kathy Hochul, and CUNY SPS Foundation Board Chair Blake Foote.
Other videos paid tributes through cheers and song to the graduates for their hard work and commitment to their education, particularly during a semester marked by the COVID-19 crisis and, more recently, the struggle against racist aggression and injustice.
Dean John Mogulescu, in his video to the graduates, urged them to recognize all that they've personally achieved to earn their degree. "Your diploma is, more than anything, an emblem to mark all of the million little moments that brought you to this stage of your journey. … All of these moments have led to the choices you've made, the work you've done, the values you've formed, and the resilience you've continually demonstrated to the world."
Lisa Sheridan, this year's Student Speaker, observed in her video message that current events have made this celebration even more important. "This is an amazing, weird, and historic moment. We are honoring our graduates in a format that has never been done before. Someday, hopefully, sooner than later, we will be able to gather together in person. But our accomplishments are too significant to hold off acknowledging. And after pandemics and lockdowns, isn't it wonderful to have something to celebrate?"
Sheridan, who earned a BA in media and communications more than 30 years after completing high school, continued with a story of what she had learned in college. "At SPS, I also picked up my other great college takeaway ––stay curious. …College showed me that it was OK to admit I didn't have all the answers, to ask questions, to be open to new solutions, and to let other people share their answers and insights…. I owe CUNY SPS a great debt of gratitude for showing me that learning is a life-long process."
About the CUNY School of Professional Studies
For over 15 years, the CUNY School of Professional Studies (CUNY SPS) has been leading online education in New York. Offering the most online Bachelor's and Master's degree options at the City University of New York, CUNY SPS meets the needs of adults who are looking to finish a bachelor's degree, progress from an associate's degree, earn a master's degree or certificate in a specialized field, and advance in the workplace or change careers.
The School's growth has been remarkable, with twenty-three degrees launched since 2006. Enrollment has risen by more than 30% in the last four years to over 3,700 students in the credit-bearing programs and thousands more who are enrolled in non-degree and grant-funded workplace learning programs. In addition, the School has an active Alumni network and has established the CUNY SPS Foundation, which offers multiple scholarship opportunities to current students.
CUNY SPS has been ranked in the nation's top 5% by U.S. News & World Report for the past six years, most recently in its list of the 2020 Best Online Bachelor's Degree Programs, making CUNY SPS the highest nationally listed program in New York State and New York City.
Press Contact
Andrea Fagon
Director of Marketing and Communications
andrea.fagon@cuny.edu
(646) 664-8690