CUNY SPS Celebrates Day of Giving With #CUNYTuesday Event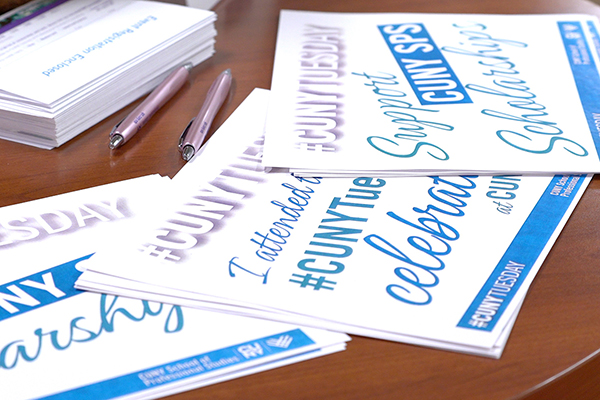 The CUNY School of Professional Studies (CUNY SPS) hosted an event on December 3, 2019, for #CUNYTuesday, a University-wide day of giving in support and recognition of the international day of charitable giving known as #GivingTuesday. A record high of over 80 people from the CUNY SPS community, including alumni, students, staff, faculty, foundation board members and friends, attended the on-campus event.
This year, the #CUNYTuesday event at CUNY SPS celebrated the day of giving and highlighted the School's data science programs, which currently have more than 280 students enrolled, and 135 alumni working in the field. The evening's activities featured discussions about current data science trends, including blockchain technology, predictions in analytics, financing, AI systems, and YouTube's automated speech recognition technology, along with raffle prizes and professional headshots.
Several CUNY SPS data science students and alumni gave presentations and shared their expertise. Speakers included James Hamski (MS in Data Analytics '17), Saheli Kar (MS in Data Analytics '17), Duubar Villalobos Jimenez (MS in Data Science student), and Niteen Kumar (MS in Data Science '19). Shaun Stewart, CEO of New Lab, also made a guest appearance to discuss his work on Google X's self-driving car project as well as entrepreneurship opportunities and technology applications within various industries.
Dean John Mogulescu welcomed everyone to the event through a video streamed via YouTube. In his remarks, he thanked everyone for attending and observed, "It's such a wonderful time for CUNY SPS. Our enrollment is the highest ever, close to 3,700 students in our credit-bearing programs and over 15,000 in our noncredit workplace learning offerings. And we are proud of the fact that U.S. News and World Report's 2019 List of Best Online Bachelor Degree Programs ranked CUNY SPS 15th in the nation. We're so grateful for your support and engagement with our School."
In 2019, CUNY SPS sought to raise $46,000 towards student scholarships, and although gifts are still being counted, the School expects to exceed this goal. The deadline to support #CUNYTuesday has been extended through the end of the year, so interested donors may still give by visiting the #CUNYTuesday website through December 31, 2019.
About the CUNY School of Professional Studies
Home to the first fully online degree programs at the City University of New York, the CUNY School of Professional Studies (CUNY SPS) provides online and on campus programs that meet the needs of adults who are looking to finish a bachelor's degree, earn a master's degree or certificate in a specialized field, advance in the workplace, or change careers.
The School's growth has been remarkable, with twenty-three degrees launched since 2006. Enrollment has risen by more than 30% in the last four years to over 3,700 students in the credit-bearing programs and thousands more who are enrolled in non-degree and grant-funded workforce development programs. In addition, the School has an active Alumni network and has established the CUNY SPS Foundation, which offers multiple scholarship opportunities to current students.
CUNY SPS is ranked in the top 5% of U.S. News & World Report's list of the 2019 Best Online Bachelor's Degree Programs, making CUNY SPS the highest nationally listed program in New York City.
Press Contact:
Andrea Fagon
Director of Marketing and Communications
andrea.fagon@cuny.edu
(646) 664-8690