CUNY SPS Announces Partnership with JetBlue in Its Expanded 'JetBlue Scholars' Program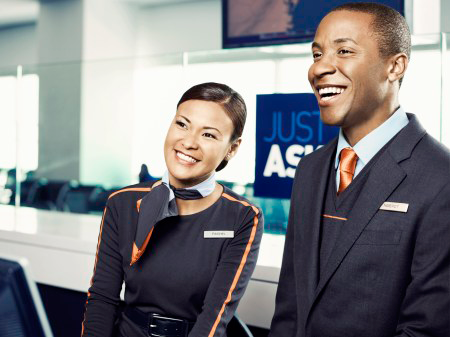 New York, NY – The CUNY School of Professional Studies (CUNY SPS) today announced a new partnership with JetBlue to offer crewmembers an avenue through which they can pursue a graduate degree. The Master's Degree Pathway, an expansion of the existing JetBlue Scholars program, will feature online degrees from CUNY SPS in the areas of business, data science, and psychology.
Consistent with CUNY SPS's dedication to increasing upward mobility for New Yorkers and the airline's mission of inspiring humanity, the partnership creates an opportunity for crewmembers to further their education with convenient online degree options, which make a graduate level education more accessible and attainable. CUNY SPS was selected as one of JetBlue's exclusive institution partners based on the School's online graduate program offerings, commitment to expanding access to higher education, affordability, and the quality of academic support available to students.
John Mogulescu, Dean of CUNY SPS said, "We are delighted that our partnership with the JetBlue Scholars Master's Pathways program will help JetBlue's highly-motivated students obtain graduate degrees in business, data science, and psychology at CUNY SPS. As a School whose mission is to serve working adults, we are very happy to help the professionals at JetBlue reach their educational goals."
JetBlue launched JetBlue Scholars, a program that helps staff complete their bachelor's degrees, in 2016; since the program's beginning, crewmembers have shown interest in master's degree opportunities. The evolution of the Master's Degree Pathway program comes as a direct response to crewmember requests for additional options.
"The online MS in Business Management and Leadership program at CUNY SPS provided the flexibility I needed to grow in both my career and academic journey," explained Mabel Herrera, a success coach for the JetBlue Scholars program and a CUNY SPS alumna. "The combination of high-quality faculty and courses made me a more competitive candidate and helped me land a new role at JetBlue! Further, as an online student, I was able to develop and maintain virtual relationships, which has become an important skill to have in today's job market."
The current JetBlue Scholars program for undergraduate degrees has already proven to be successful. In year one, 50 crewmembers received their degrees from Thomas Edison State University, and to date more than 185 undergraduate degrees have been conferred. JetBlue Scholars provides access to alternative college credit options, innovative learning platforms, online courses and internal Success Coaches to help guide crewmembers throughout the journey. The Master's Pathways are a natural extension of this type of programming designed around adult learners and their unique needs.
About JetBlue
JetBlue is New York's Hometown Airline®, and a leading carrier in Boston, Fort Lauderdale-Hollywood, Los Angeles (Long Beach), Orlando, and San Juan. JetBlue carries more than 42 million customers a year to 100+ cities in the U.S., Caribbean, and Latin America with an average of more than 1,000 daily flights. For more information please visit jetblue.com.
About the CUNY School of Professional Studies
Home to the first fully online degree programs at the City University of New York, the CUNY School of Professional Studies provides online and on campus programs that meet the needs of adults who are looking to finish a bachelor's degree, earn a master's degree or certificate in a specialized field, advance in the workplace, or change careers.
Affirming our role as a leader in online education, CUNY SPS was ranked in the top 5% of U.S. News & World Report's list of the 2019 Best Online Bachelor's Degree Programs, making CUNY SPS the highest nationally listed program in New York City.
Press Contact:
Andrea Fagon
646-664-8690