CUNY Grant to Fund Career Ladders Mentoring Program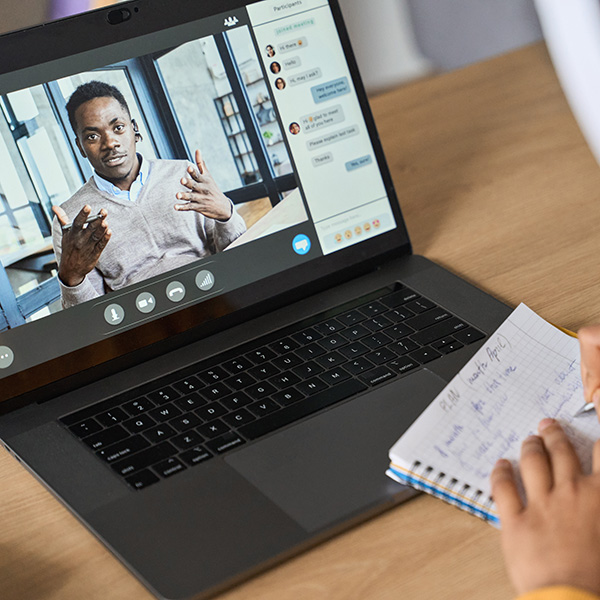 The CUNY School of Professional Studies (CUNY SPS) has been awarded $20,000 by the CUNY Black Male Initiative (CUNY BMI) to support the diversity recruitment and academic success of men of color at SPS.
CUNY SPS will apply this award toward its Inclusive Career Ladders scholarship program, which provides tuition support for Black, Latino, and Asian American and Pacific Islander (AAPI) men seeking professional degrees within nursing and related healthcare fields as part of an effort to improve diversity within those fields. The BMI funds will be earmarked specifically to implement the culturally competent peer mentoring model, developed by BMI to build additional support for the Career Ladders Scholars.
"The CUNY School of Professional Studies (CUNY SPS) is a breeding ground for growing professional talent of color in NYC—and for all other demographics as well. When I think of what CUNY Black Male Initiative means to CUNY, it means providing the academic, mentorship, and socioemotional support that is necessary—even required—to be a part of the college journey for Black and Latinx communities; especially our men. The Wall Street Journal released an article entitled "A Generation of American Men Give Up on College: 'I Just Feel Lost'" which underscores the need for a CUNY BMI at every CUNY campus. We're proud to now have CUNY BMI represented at CUNY SPS and will reap benefits from this partnership for hopefully years to come," said Dr. Best, university director of the CUNY Black Male Initiative.
"I am delighted to learn that CUNY BMI has granted us this award to expand the services offered through our Inclusive Career Ladders program. The addition of culturally competent peer mentoring into a program built to address the severe under-representation of men of color in well-paying jobs in nursing and other healthcare fields will not only increase student engagement and persistence, but also strengthen our commitment to equity, diversity, and inclusion in healthcare," said Tracy Meade, senior associate dean for strategy and innovation at CUNY SPS, who served as lead on this grant.
Funded primarily by the Robin Hood Foundation, the CUNY SPS Inclusive Career Ladders program was established to help correct the imbalance within health care fields, where Black, Latino, and AAPI men represent only a tiny percentage of the workforce, as a way to both help this population gain access to jobs with high earning and advancement potential and to be a part of national efforts to narrow gaps in health care disparities.
With the funds granted by CUNY BMI, the Inclusive Career Ladders program will be able to support stipends of five peer mentors during the 2021-22 academic year, and to also cover the costs of student memberships in the American Association for Men in Nursing. Mentors will also receive training based on CUNY BMI's program and, once completed, will offer online mentoring on an ongoing basis to the Career Ladders cohort.
About the CUNY Black Male Initiative
The City University of New York Black Male Initiative (CUNY BMI), through its focus on one of the most severely underrepresented populations in higher education, represents one expression of CUNY's most significant commitment to access and diversity. CUNY BMI was established in 2005 and is based on a promising model that first started at Medgar Evers College.
With the generous support of sixteen consecutive grants from the New York City Council, CUNY BMI funds projects throughout the University. These projects are designed to strengthen the education pipeline for severely underrepresented populations in higher education, particularly African, African American, Black, Caribbean, and Latino/Hispanic males, by increasing these students' enrollment, retention, and graduation rates.
Since its beginning in 2005, CUNY BMI has grown from 15 projects to over 30 projects. CUNY BMI projects do not discriminate based on race or gender and will serve as models for improving the educational outcomes of all students. All programs and activities of the CUNY Black Male Initiative programs and activities are open to all academically eligible students, faculty, and staff, without regard to race, gender, national origin, or other characteristics.
About the CUNY School of Professional Studies
For over 15 years, the CUNY School of Professional Studies (CUNY SPS) has been leading online education in New York. Notable for offering the most online bachelor's and master's degree options at the City University of New York, and for serving transfer students as the University system's only undergraduate all-transfer college, CUNY SPS meets the needs of adults who wish to finish a bachelor's degree, progress from an associate's degree, earn a master's degree or certificate in a specialized field, and advance in the workplace or change careers.
The School's growth has been remarkable, with twenty-four degrees launched since 2006. Enrollment has risen by more than 30% in the last four years to over 4,000 students in the credit-bearing programs. Thousands more are enrolled in non-degree and grant-funded workplace learning programs. In addition, the School has an active alumni network and has established the CUNY SPS Foundation, which offers multiple scholarship opportunities to current students.
CUNY SPS has consistently been named by U.S. News & World Report as one of the country's top online institutions. This year, the School was ranked in the top 2% in the nation on the publisher's list of the 2021 Best Online Bachelor's Degree Programs.
Press Contact
Andrea Fagon
Director of Marketing and Communications
andrea.fagon@cuny.edu