You are here
CUNY Campuses Marshal Creativity to Celebrate en Grande Hispanic Heritage Month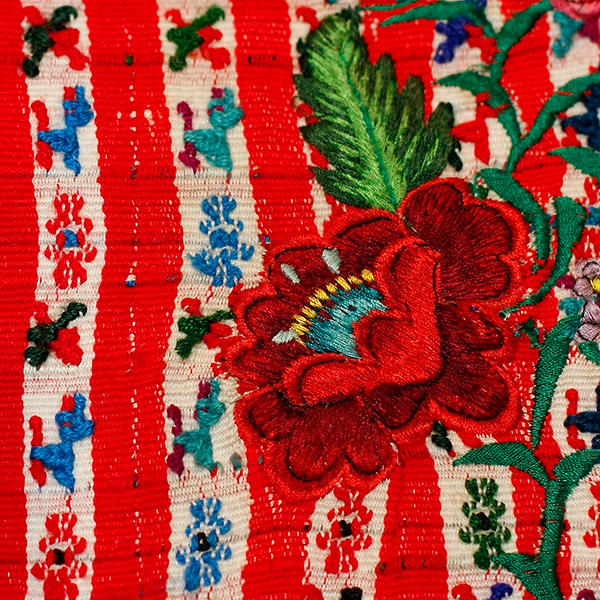 This article was posted first on CUNY.edu.
Campuses across CUNY will mark the 33rd annual National Hispanic Heritage Month, which starts today, with dozens of virtual programs, performances and events that celebrate and engage the city's diverse Latino communities.
The events range from the cultural to the civic. New York City College of Technology will have a "Hispanic Spoken Word" poetry contest on Instagram. Among the many virtual performances to be featured this month is Lehman College's presentation of "The Trouble with My Name," an examination of language, race and social justice by renowned Puerto Rican writer Javier Ávila. Several campuses will host online events to engage and mobilize the Latinx vote and the College of Staten Island will feature New York State's first undocumented attorney, who will share his experiences with the politics of immigration.
Movie screenings include an upcoming HBO documentary that follows Grammy winners Arturo O'Farrill and Kabir Sehgal as they prepare to record a live album at the U.S.-Mexico border, a 1996 documentary about The Young Lords, and the recently released Netflix documentary about legendary Puerto Rican astrologer Walter Mercado.
"The wide range of programs available this year under challenging circumstances is a testament to the resolve of our campuses and the University community's deep appreciation of the heritage and accomplishments of Hispanics past and present," said CUNY's first Latino Chancellor, Félix V. Matos Rodríguez. "National Hispanic Heritage Month is an opportunity to pay tribute to customs, traditions, histories and cultures that have greatly enriched the communities of our University. CUNY embraces this commemoration in the same way we embrace diversity and inclusion on all of our campuses, each and every day of the year."
National Hispanic Heritage Month each year is from September 15 to October 15. The commemoration began by federal law in 1968 as Hispanic Heritage Week to celebrate the customs and achievements of individuals who trace their roots to Spain, Mexico, the Caribbean and Central and South America. It was expanded to a month in 1988.
CUNY is a Hispanic Serving Institution (HSI) and is proud that 11 of its 25 colleges have that designation. The University joins the Hispanic Association of Colleges and Universities (HACU) in celebrating National HSI Week from Sept. 14-20. Among CUNY's HSI, Bronx Community College, Hostos, Guttman and Lehman all have a student body that is more than 50% Latino.
Here is more information about activities scheduled by CUNY campuses during Hispanic Heritage Month:
BARUCH COLLEGE
Rhythm and Culture: Every Friday night from 7:30 to 8:30 p.m., Baruch's WBMB Radio with DJ Tyler Marin will play a variety of Latin genres. Additional virtual engagement — videos, quizzes, recipes and more — can be found on Instagram: @BaruchLHM.
BRONX COMMUNITY COLLEGE
BCC has a month of live virtual events. Click here to register for any of the following events and to receive more information and Zoom links.
Watch Party: Yo Soy La Salsa (I am Salsa) documentary. 15, 7:30 to 9:30 p.m.
Constitution & Citizenship Day: An annual celebration featuring a student government presentation on getting civically involved on campus, a talk by criminal justice professor Leroy Gadsden on knowing your rights, a Constitution song by Professor Benjamin Yarmolinsky and more. 17, 2 to 3 p.m.
Beca's y Cafecito: Presentation and Q&A on scholarship opportunities for all students with a focus on undocumented students. 18, 1 to 2 p.m.
Let Dreamers Dream: An event to build community among the DACA/Dreamer population with speakers including a currently enrolled Dreamer student, BCC's first DACA valedictorian alum and DACA/Dreamer advisor Yvonne Erazo-Dávila. 21, 4 to 6 p.m.
National Voter Registration Day: Speakers will discuss and answer questions about 2020 voting issues, poll worker opportunities, the importance of the Census, student government and more. 22, 12 to 2 p.m.
Marathon Civic Day: Workshops and programs include an all-day screening of "Good Trouble," a documentary about John Lewis; a screening of "¡Pa'lante Siempre Pa'lante!" a documentary about TheYoung Lords; workshops on voter suppression and student empowerment, the history of women's suffrage and other topics. September 23.
LatinX Bronx Poet/Workshop Leader Event: Sept. 29, 1 to 2 p.m.
Celebrating Tertulia at CUNY: A conversation with Professor Vincent Toro. 2, 7 to 8:30 p.m.
LatinX Comedy Night: Virtual stand-up by Latinx comedians. Oct. 15, 7:30 to 8:30 p.m.
​COLLEGE OF STATEN ISLAND
Nuestra Isla: The Struggle and Power of Staten Island's Hispanic-Latinx Community. Staten Island attorney César Vargas tells his story of becoming the first undocumented attorney in New York State and discusses the struggles and power of the local immigrant and Hispanic communities as they face the challenges of the immigration system and political landscape of Staten Island. 24, 3 to 4 p.m. Click here to register for this Zoom event.
GUTTMAN COMMUNITY COLLEGE
SGA Live: Student Government Association. Vice President Miguel Tejeda shares his personal narrative as a Dominican man growing up in the Bronx. Focusing on his journey to becoming a first-generation college student, Miguel will help us better understand some of the trials and triumphs faced by Dominican youth as they navigate the U.S. and its education system. 13, 11:30 a.m. Zoom event link:  www.guttman.cuny.edu/sgalive.
Noche Latina: Great Grizzly House Party. The Office of Student Leadership & Campus Life in collaboration with the Student Government Association present a night of música Latina. Join us in the Zoom room to meet up with your friends and show off your dance moves, Guttman spirit and cultural pride. Music provided by DJ Joe Fader Productions. 15, 8 p.m. Zoom event link:  https://us02web.zoom.us/j/86018613093.
JOHN JAY COLLEGE OF CRIMINAL JUSTICE
Studying en la sala: Building Boundaries for a Successful Semester. 24, 1:30 to 3 p.m. Email umi@jjay.cuny.edu for more information. Click here to register.
Colorism and Allyship in the Latinx Community: As fierce advocates for justice, John Jay students and alumni understand the need to have difficult conversations about the current state of racial and ethnic politics in America. Meet John Jay alumni from a variety of industries and disciplines who will speak to their experiences with the challenges of colorism and what it is to be an ally. 8, 6 to 7 p.m. Click here to register.
KINGSBOROUGH COMMUNITY COLLEGE
Salsa Dancing: In collaboration with Mayday Space, learn the history and origins of salsa dancing while learning basic steps. Lessons and performances by Joaquin Esquilín and Sarah Serrano. Great for beginners and experienced dancers! 15, 2 p.m. Instagram Live @kccstudentlife and Zoom here.
Carla's Quince: Even a global pandemic can't stop birthday girl Carla from celebrating her quinceañera. Music? Check. Dancing? Check. Gifts? Just one. Carla would really, really, really like you to register to vote! Carla's Quince is a bilingual, nonpartisan and immersive virtual experience aimed at increasing Latinx participation in the electoral process, breaking down the issues and providing space for individuals to reflect on how their voting choices affect their communities. Sponsored by the Student Union and Intercultural Center in support of the KCC Votes Initiative and Latinx Heritage Month. 17, 8 p.m. Click here to register.
IG Challenge: Yo Perreo Solx. Comment in the @kccstudentlife post with your favorite Latinx song and a friend you would bring to the perreo! The Office of Student Life will select one student winner for a $50 giveaway to the KCC Bookstore. 21 to 25. See more info here.
Palabras y Empanadas with writer Anel I. Flores: Instagram Live to hear Flores discuss her writings about sexuality, gender variance, gender exploration and body. 21, 11:30 a.m. IG Live @kccstudentlife.
Healing the Spirit and Land: In collaboration with the University of Utah, Student Life presents an Instagram Live discussion with a curandero, a Latino spiritual healer, about healing practices with the body, mind and land. 29, 3 p.m. IG Live @kccstudentlife.
Kahoot! Trivia: Latinx Heritage Month. How well do you know Latinx history, pop culture, music, and icons? Play Trivia with Kahoot! To play, download Kahoot! or use the link and code provided on the @kccstudentlife bio. Top 3 KCC student winners will receive electronic gift cards to use at KCC Bookstore. 5 to 6.
Mucho Mucho Amor: The Legend of Walter Mercado. Watch the Netflix documentary about the famous Puerto Rican astrologer and hear Nataley Renteria, a queer Afro-Colombian healer. 6, 1 p.m. Zoom link here.
Immigration and COVID in the Latinx Community: A Puerto Rican immigration lawyer discusses immigration policies affecting the Latinx community during the pandemic. 7, 2 p.m. Zoom link here.
NEW YORK CITY COLLEGE OF TECHNOLOGY
Hispanic Spoken Word Poetry Contest: Post your poem on your Instagram story and be sure to tag @citytechSLD and include #identitycitytech. Students will vote by responding to the Office of Student Life and Development's question sticker with the IG handle of their favorite. Winners will present their pieces at an upcoming poetry showcase.
Aprende a Hablar Español: Learn to speak Spanish via Word of the Day. Use the word of the day in a sentence and post it with #espanolwithcitytech or tag @citytechSLD. 15 to Oct. 15.
LEHMAN COLLEGE
Mexican State of Mind: New York City and the New Borderlands of Culture. Assistant Professor of English Melissa Castillo Planas will present her new book which highlights the creative work of the mostly undocumented Mexican migrant youth population of New York City. 15, 2 p.m. Click here to register.
"Fandango at the Wall": The CUNY Mexican Studies Institute presents a screening of a new HBO documentary that follows Grammy winners Arturo O'Farrill and Kabir Sehgal as they prepare to record a live album at the U.S.-Mexico border wall. Watch the film before it debuts on HBO, followed by a panel with the filmmakers. 15, 8:30 p.m. Click here to register.
Latino Lunchtime Comedy: Featuring: Luis Galilei (NBC, SIRIUS XM), Ariana Rodriguez (NBC Bring The Funny, BET) and Rojo Perez (HBO, Conan, TruTV). 17, 12:30 to 1:45 p.m. RSVP here to get the Zoom link.
Somos Hispanxs! Black Latinx & Queer Theory, Literature & Culture: An Intersectional Conversation on Hispanic Heritage & Afro-Latinx Studies. Lehman's Latinx Student Alliance presents a panel discussion featuring Mesi Walton on Afro Hispanic heritage in the U.S. Yasmin S. Portales-Machado on Afro-Latina and queer voices in Spanish speaking Caribbean science fiction and Lehman alum Chanta Palmer on Black feminism and Afro-Latinx feminists. Moderated by Sarah Soanirina Ohmer, assistant professor in Africana Studies and Latin American and Latino Studies. 18, 5 to 6:30 p.m. Zoom number: 955 2507 3828 090561.
Experts Among Us Workshop: A discussion exploring ways to diversify the study of literature via the incorporation of Latinx authors in curriculum, featuring Melissa Castillo Planas, Bret Maney and Magdalena Sagardia. 21, 3 to 4:30 p.m. Click here for the Zoom link.
Influential Latinas: Mobilizing the LatinX Vote: A panel discussion with Rossano Rosado, New York State Secretary of State; Alejandra Y. Castillo, CEO of YWCA USA; and Katina Rojas Nazario-Roy, Latino liaison for the county executive of Prince George's County, Md. 21, 6 to 7:30 p.m. Click here to register and get the Zoom link.
"The Trouble with My Name": Performance by Javier Ávila. The noted poet and writer examines issues of language, race, and social justice in a one-man show that tells his life story and explores what it means to be the American of the future. 24, 12:30 to 1:45 p.m. Click here to register and get the Zoom link.
Movie Night with the Student Government Association: "Stolen Education" documents the untold story of Mexican-American schoolchildren who challenged discrimination in Texas schools in the 1950s and changed the face of education in the Southwest. 25, 5 p.m. Click here to register and get the Zoom link.
Book Talk: Mila Burns on Dona (Lady) Ivone Lara's "Sorriso Negro." Professor Burns discusses her book on Lara's 1981 Brazilian samba album "Sorriso Negro." Burns explores Lara's pathbreaking career, tracing the ways she navigated the tense gender and race relations of the samba universe to ultimately conquer the masculine world of samba composers. 30, 3:30 to 5 p.m. Click here to register and get the Zoom link.
Poet Carlos Andres Gómez: Gomez is a Colombian-American poet, speaker, actor, and award-winning author widely known for his viral poems "Where are you really from?" and "What Latino Looks Like," which have garnered millions of views online. Gómez is a star of HBO's "Def Poetry Jam," TV One's "Verses and Flow," and Spike Lee's film "Inside Man." 2, 3:30 to 5 p.m. Click here to register and get the Zoom link.
"LatiNext," a New Anthology of Latinx Poets: In the tradition of the BreakBeat Poets anthology, "The BreakBeat Poets Vol. 4: LatiNext" features poets speaking from an array of nationalities, genders, sexualities, races, and writing styles, staking a claim to our cultural and civic space. Oct 8, 5 p.m. Click here to register and get the Zoom link.
Closing Event Featuring Student Performances and Special Guest Alum Hector Velez. Velez is one of the founding members of the Latino Studies Program at Cornell University and created the first Latinx course there. He has worked as a consultant to the Dominican Republic, has traveled to Cuba to investigate the effects of "Radio Marti," and was an official observer in the 1994 Paraguayan elections. 15, 5 p.m. Click here to register and get the Zoom link.
QUEENS COLLEGE
Jan Kus & The Slavo Rican Assembly: A free livestreaming concert. A Slovenian native and Queens College/Aaron Copland School of Music alum, Jan Kus is a saxophonist, composer, and producer who founded and leads the cross-cultural group, Slavo Rican Assembly (SRA), a project that unites notable musicians from the Caribbean and the Slavic worlds, creating a unique blend of music rooted in tradition but continuously flying into new sonic galaxies. The concert will be followed by a livestream Q&A with the artists. 20, 7 p.m. Streaming free on the Kupferberg Center for the Arts at Queens College's Facebook and YouTube pages. Additional information on the Kupferberg Center website.
QUEENSBOROUGH COMMUNITY COLLEGE
Hispanic Heritage Month Book Club: "Del Amor y Otros Demonios" ("Of Love and Other Demons") by Gabriel García Márquez, organized by the QCC Hispanic Heritage Month Committee and the Foreign Language Club. 18 to Nov. 13. Interested students can join here.
The City University of New York is the nation's largest urban public university, a transformative engine of social mobility that is a critical component of the lifeblood of New York City. Founded in 1847 as the nation's first free public institution of higher education, CUNY today has seven community colleges, 11 senior colleges and seven graduate or professional institutions spread across New York City's five boroughs, serving 500,000 students of all ages and awarding 55,000 degrees each year. CUNY's mix of quality and affordability propels almost six times as many low-income students into the middle class and beyond as all the Ivy League colleges combined. More than 80 percent of the University's graduates stay in New York, contributing to all aspects of the city's economic, civic and cultural life and diversifying the city's workforce in every sector. CUNY's graduates and faculty have received many prestigious honors, including 13 Nobel Prizes and 26 MacArthur "Genius" Grants. The University's historic mission continues to this day: provide a first-rate public education to all students, regardless of means or background.