CUNY's Executive Vice Chancellor Visits CUNY SPS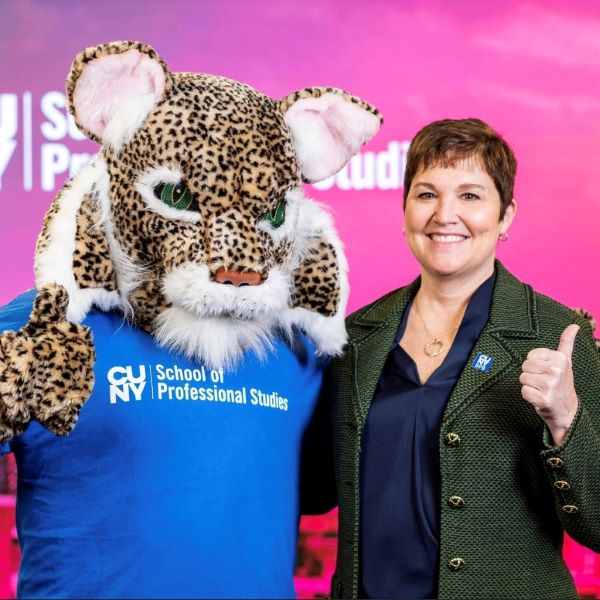 The CUNY School of Professional Studies (CUNY SPS) welcomed Wendy F. Hensel, the Executive Vice Chancellor (EVC) and University Provost of The City University of New York, during a campus visit on February 23.
"When I began at CUNY in June, it was important to me to visit each of our campuses and understand their unique academic programs, mission, and challenges. I was so impressed by the SPS faculty, staff, and students that I met throughout the day. SPS's innovative credit for prior learning initiative, interactive high-quality online courses, and supportive admissions practices all relate to student success and laudably reflect the future-oriented focus of this school," said Executive Vice Chancellor and University Provost Wendy Hensel.
"CUNY SPS welcomed the opportunity to host EVC Hensel on our campus last week, offering us a chance to highlight our remarkable community and online educational expertise, and to begin a broader conversation about the ways that our School may contribute to the University's future plans," said CUNY SPS Interim Dean Jorge Silva-Puras.
During the visit, Interim Dean Silva-Puras and other School leaders, along with a number of students, faculty and staff, met with EVC Hensel. Her visit also included a tour of the CUNY SPS facilities, including a peek at the School's new state-of-the-art multimedia studio. The day culminated in a virtual town hall, in which EVC Hensel introduced herself to the CUNY SPS community and answered questions in real-time about CUNY matters.
EVC Hensel, who began her tenure in June 2022, made the visit as part of her first-of-its-kind listening tour to CUNY campuses throughout Spring 2023. These campus visits, which were jointly organized by the Office of the Executive Vice Chancellor & University Provost (OEVC) and administrative representatives from each CUNY campus, are designed to offer a prime opportunity for students, faculty, and staff to engage with EVC Hensel and for her to connect with the community of each distinct campus.
As CUNY's chief academic officer and chief executive of the Office of Academic Affairs, EVC Hensel oversees ongoing initiatives to improve student transfer, and foster innovation in pedagogy and instruction. She also oversees CUNY's faculty and student affairs; research programs; student inclusion initiatives; efforts to promote student mental health and wellness; K-16 initiatives and efforts to promote enrollment growth; student success and research evaluation; and academic programs and policies.
For more information on the EVC and the listening tour, visit the OEVC website.
About the CUNY School of Professional Studies
As New York's leading online school since 2006, the CUNY School of Professional Studies (CUNY SPS) offers the most online bachelor's and master's degree options at the City University of New York, and serves as the University's first undergraduate all-transfer college. With 26 degrees and numerous other non-degree and grant-funded workplace learning programs, CUNY SPS meets the needs of adults who wish to finish a bachelor's degree, progress from an associate's degree, earn a master's degree or certificate in a specialized field, and advance in the workplace or change careers. Consistently ranked highly by U.S. News & World Report for its online offerings, CUNY SPS has emerged as a nationwide leader in online education. The School's renowned and affordable online programs ensure that busy working adults may fulfill their educational goals on their own time and schedule.
Press Contact
Andrea Fagon
Chief Marketing and Communications Officer
andrea.fagon@cuny.edu