Comic and Disability Advocate Inspires CUNY SPS Students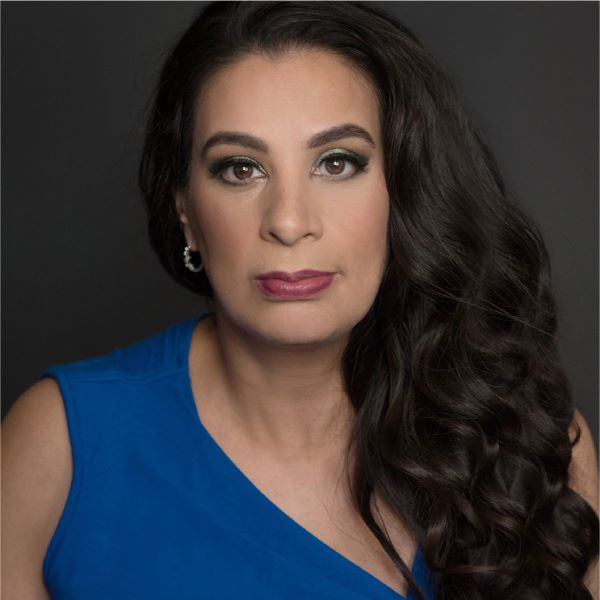 To celebrate the onset of National Disability Employment Awareness Month (NDEAM), the CUNY School of Professional Studies (CUNY SPS) hosted a memorable night of laughter and community-building with comedian, actor, writer, and disability advocate Maysoon Zayid on September 29.
The online event was sponsored by a coalition that included the CUNY SPS Student Association, the CUNY SPS Disability and Access Coalition, the CUNY Coalition for Students with Disabilities, the CUNY Office of Student Inclusion Initiatives, and the CUNY University Student Senate. Due to pandemic complications, this collective group worked together for more than one year to produce the comedy show. Still, the evening turned out to be well worth the wait, drawing a group of over 70 students from numerous CUNY campuses.
One of Zayid's opening lines for the evening was, "I have 99 problems, and palsy is just one." As a Muslim-American of Palestinian descent who has cerebral palsy, Zayid's humor draws from her life experiences. Her entertaining monologue encouraged the audience to recognize the importance of inclusion and acceptance. Zayid's TED Talk, filmed in 2014, garnered over 11 million views and was the most viewed TED Talk of that year.
Co-host Sarit Cahana, a first-semester student in the CUNY SPS MA in disability studies program, shared her impression of Zayid's comedic messaging. "Maysoon's comedy aligns so well with our disability services programs because she highlights the need for both self-advocacy and ally-advocacy. Her exciting comedy reaches broad audiences by integrating the intersectionality of her identity." Cahana also said that she had received several emails from members of the audience praising the show.
CUNY University Director of Student Engagement and Inclusion Charmaine Townsell, who also attended Zayid's performance, perfectly summed up the occasion, "It was an honor to attend 'An Evening of Laughter with Maysoon Zayid.' Maysoon embraces disability empowerment while highlighting the value of intersectionality and inclusion. It was a wonderfully funny and honest experience, and I want to thank all the co-sponsors who made the evening possible. CUNY SPS is the beacon of success for online opportunities, and this one was greatly appreciated by all!"
Following the event, Zayid spoke further with CUNY SPS, offering words of inspiration to CUNY's disabled students as they embark on their careers.
"Don't be afraid to ask for accommodations. I know disabled people fear that if they ask for accommodations, they won't get the job. Instead, employers see you as confident and as a positive problem-solver, so ask for what you need and know the answers when they ask you that question. Working is hard for everybody. It's going to be harder for you, and very few people will care, so be prepared to have to prove yourself even though you shouldn't have to. Also, take your first paycheck and blow it. Don't save a dime of it. Buy something you've always wanted, treat your friends to a dinner, live. And then figure out if you're going to lose all government assistance because you got a job. But enjoy that paycheck first."
About the CUNY School of Professional Studies
For over 15 years, the CUNY School of Professional Studies (CUNY SPS) has been leading online education in New York. Notable for offering the most online bachelor's and master's degree options at the City University of New York, and for serving transfer students as the University system's only undergraduate all-transfer college, CUNY SPS meets the needs of adults who wish to finish a bachelor's degree, progress from an associate's degree, earn a master's degree or certificate in a specialized field, and advance in the workplace or change careers.
The School's growth has been remarkable, with twenty-four degrees launched since 2006. Enrollment has risen by more than 30% in the last four years to over 4,000 students in the credit-bearing programs. Thousands more are enrolled in non-degree and grant-funded workplace learning programs. In addition, the School has an active alumni network and has established the CUNY SPS Foundation, which offers multiple scholarship opportunities to current students.
CUNY SPS has consistently been named by US News & World Report as one of the country's top online institutions. This year, the School was ranked in the top 2% in the nation on the publisher's list of the 2021 Best Online Bachelor's Degree Programs.
Press Contact
Andrea Fagon
Director of Marketing and Communications
andrea.fagon@cuny.edu