Chris Vine Receives Campton Bell Lifetime Achievement Award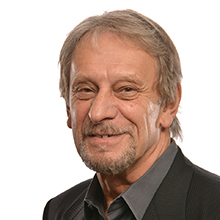 The CUNY School of Professional Studies (CUNY SPS) is delighted to announce that Christopher Vine, academic director of the MA in Applied Theatre degree program, has received the 2019 Campton Bell Lifetime Achievement Award from the American Alliance for Theatre and Education (AATE).
"I am honored to accept this generous recognition and very grateful to those who have seen fit to propose me," says Vine. "There are so many of us in this work that just do our best, usually as part of a team, and rely on the support of others every step of the way. I have done that for others and I am mindful of the work it entails. A big and humble thank you to them!"
Vine has devoted over 35 years to the theatre and education community, specializing in the areas of theatre-in-education, process drama, and Theatre of the Oppressed. During this time, he created the MA in Applied Theatre program with long-time collaborator Helen White, helped found Perspectives Theatre Company (UK), and served as artistic director of Greenwich Young People's Theatre (London) and the CUNY Creative Arts Team (New York). His work has extended worldwide with Project Rwanda: Drama and Theatre Education for Reconciliation and Development, a program currently run by the Applied Theatre program. His most recent publication is as co-editor of Learning Through Theatre: The Changing Face of Theatre in Education (Routledge 2013).
"I am delighted that Chris has been honored with this recognition," says John Mogulescu, dean of the CUNY School of Professional Studies. "His contributions to the groundbreaking field of Applied Theatre, at CUNY and elsewhere, are inspiring and significant, and he has changed the lives of thousands of students through his work."
Among the most recognized arts education organizations in the nation, AATE works to ensure that young people experience quality theatre arts provided by proficient, talented artists and educators. AATE founded the Campton Bell Lifetime Achievement Award in 1983 as a way to honor an individual for a lifetime of outstanding contributions to the field.
About the CUNY School of Professional Studies
Home to the first fully online degree programs at the City University of New York, the CUNY School of Professional Studies provides online and on campus programs that meet the needs of adults who are looking to finish a bachelor's degree, earn a master's degree or certificate in a specialized field, advance in the workplace, or change careers.
Affirming our role as a leader in online education, CUNY SPS was ranked in the top 5% of U.S. News & World Report's list of the 2019 Best Online Bachelor's Degree Programs, making CUNY SPS the highest nationally listed program in New York City.
Press Contact:
Andrea Fagon
646-664-8690