BS in Nursing at CUNY SPS Granted Accreditation by Commission on Collegiate Nursing Education (CCNE)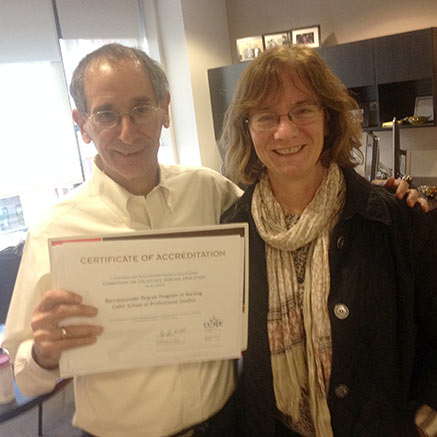 The CUNY School of Professional Studies (CUNY SPS) is pleased to announce that the bachelor of science degree in nursing was granted accreditation by the Commission on Collegiate Nursing Education (CCNE). At its October meeting, the Commission determined that the program met all accreditation standards and additionally determined that there are no compliance concerns regarding the key elements.
"This accreditation is a tribute to the incredible hard work of the faculty and their indefatigable efforts to promote the success of our students and our program," said Margaret Reilly, academic director of the online BS in nursing at CUNY SPS. "We are delighted share this wonderful news with our communities of interest."
The online BS in nursing program at CUNY SPS prepares licensed registered nurses to assume leadership positions in hospitals, community agencies, and long-term care facilities across the metropolitan area and beyond. Students gain the tools needed to meet the challenges of the evolving healthcare system, as well as the knowledge and experience required to move forward into graduate level studies and advanced practice nursing.