Bronze Star Medal Recipient Joins CUNY SPS Foundation Board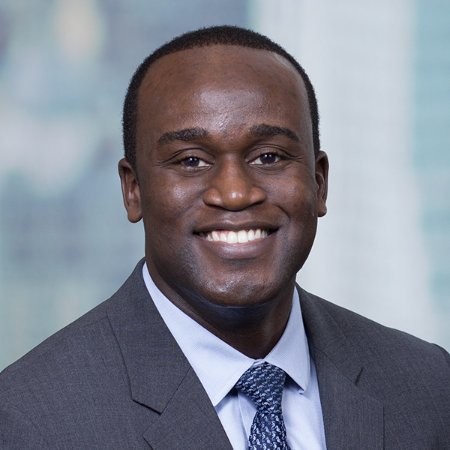 The CUNY School of Professional Studies (CUNY SPS) is pleased to announce that Donatus Anusionwu, a business executive, Iraq war veteran, and Bronze Star Medal recipient, has been appointed to serve on the CUNY SPS Foundation Board of Directors.
 "We are thrilled to have Donatus join our Foundation Board. He's met and been supportive of our students, and we know his finance skills and experience will be imperative in our fundraising efforts," says Blake Foote, chair of the Foundation Board. Foote added, "We also feel fortunate to have his insights as a decorated veteran to help CUNY SPS best serve this special population of students."
A Bronx native born to Nigerian parents, Anusionwu is a graduate of New York City public schools, the United States Military Academy, and Columbia Business School, and is also a decorated combat veteran of the Iraq war. He will bring his vast business acumen and experience to the role on the Foundation Board, which is dedicated to exploring new opportunities that promote, support, and enhance the CUNY SPS mission and its students.
Anusionwu, who has been at Morgan Stanley for three years and is currently an executive director within global capital markets, focuses on private placements involving structured and alternative capital solutions. He is a member of the Morgan Stanley Veterans Employee Network Group (VENG), where he assists with developing and broadly syndicating a financial literacy curriculum for various veterans' communities nationwide. Prior to Morgan Stanley, Anusionwu worked for five years in the corporate and investment banking (CIB) division of J.P. Morgan with a focus on CIB origination and leveraged credit lending within the technology, media, and telecommunications industry.
He is a 2002 graduate of the United States Military Academy (USMA) at West Point, where he received a Bachelor of Science in economics with a minor concentration in systems engineering. After graduation, he served on active duty for five years as a field artillery fire support officer engaged in readiness and combat operations in South Korea and Ar Ramadi, Iraq. Anusionwu was decorated with the Bronze Star Medal for meritorious service while deployed to Iraq. He also earned his master of business administration in 2009 with concentrations in finance and accounting from Columbia Business School.
About the CUNY SPS Foundation
The CUNY School of Professional Studies Foundation exists to enhance public understanding and recognition of CUNY SPS, and to develop support for the School. Inspired by CUNY SPS students and guided by the visionary leadership of its Board of Directors, the Foundation works to build lasting relationships that foster a community of support among CUNY SPS alumni, faculty, staff, community members, donors, and friends of the School.
About the CUNY School of Professional Studies
Home to the first fully online degree programs at the City University of New York, the CUNY School of Professional Studies provides online and on campus programs that meet the needs of adults who are looking for a way to finish a bachelor's degree, earn a master's degree or certificate in a specialized field, advance in the workplace, or change careers.
Affirming its role as a leader in online education, CUNY SPS was ranked in the top 5% in the Nation in U.S. News & World Report's list of the 2019 Best Online Bachelor's Degree Programs. Of the institutions listed, CUNY SPS ranks 1st in New York City.
Press Contact:
Andrea Fagon
Director of Marketing and Communications
andrea.fagon@cuny.edu
(646) 664-8690