Blake Foote Appointed as CUNY SPS Foundation Board Chair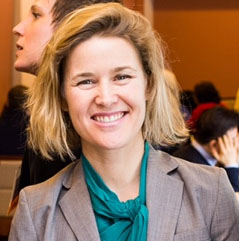 New York, NY – April 2, 2019 - The CUNY School of Professional Studies (CUNY SPS) is pleased to announce the appointment of Blake Foote as chair of the CUNY SPS Foundation Board, after serving on the board for over five years.
Working alongside the Foundation Board's nine additional members and CUNY SPS Dean John Mogulescu, Foote will work to uphold the Foundation Board's mission of building lasting relationships that foster a community of support among the School's constituents. Foote will also establish and meet the Foundation Board's goals and objectives, encourage its role in the School's strategic planning process, and oversee fundraising and alumni activities, among other responsibilities.
"It's an honor to work with Dean Mogulescu, the other Board members, and the high-caliber faculty and staff, all of whom bring diverse talents and intense commitment to the CUNY SPS students," says Foote. "I've been continuously impressed by how the School has grown, providing an incredible array of degree and certificate programs that catapult thousands of hard-working students ahead in their careers. The faculty and staff consistently focus on offering new opportunities and more support for students' success every day."
Foote has held various roles in the workforce development field since 1995 at the local and national level, beginning her career as a workshop facilitator and counselor for homeless jobseekers and at-risk youth in California and Washington, D.C.  She researched federal workforce programs for Congress at the U.S. Government Accountability Office, and launched and supported sector-based employment programs with the National Economic Development & Law Center.
Since 2005, Foote has worked in partnership with local government, nonprofits, businesses, and foundations to implement workforce programs and influence policy in New York City. She served as executive director of the New York City Workforce Investment Board where she oversaw $80M in federal funding and engaged over 40 board members in local workforce policy. She was an executive director at the New York City Department of Small Business Services where she supervised the City's large-scale recruitment initiatives in target industries, and provided management support for Workforce1 Career Centers and the agency's partnerships with private foundations. Additionally, Foote held the positions of board chair for the Workforce Professionals Training Institute and board secretary for the Center for an Urban Future.
Presently, she concurrently serves as a trustee of the Brooklyn Public Library where she also participates on multiple committees and leads fundraising efforts.
"I am delighted that Blake is undertaking this leadership role on our Foundation Board," said Dean Mogulescu. "For the past five years, Blake has been a committed member of the Board, a remarkable supporter of our School, and a wonderful colleague. I am looking forward to our continued work together and to the future of the Foundation Board under her leadership."
About the CUNY SPS Foundation:
The CUNY School of Professional Studies Foundation exists to enhance public understanding and recognition of CUNY SPS, and to develop support for the School. Inspired by CUNY SPS students and guided by the visionary leadership of its Board of Directors, the Foundation works to build lasting relationships that foster a community of support among CUNY SPS alumni, faculty, staff, community members, donors and friends of the School.
About the CUNY School of Professional Studies
Home to the first fully online degree programs at the City University of New York, the CUNY School of Professional Studies provides online and on campus programs that meet the needs of adults who are looking for a seamless way to finish a bachelor's degree, earn a master's degree or certificate in a specialized field, advance in the workplace, or change careers.
Affirming its role as a leader in online education, CUNY SPS was ranked in the top 5% in the Nation in U.S. News & World Report's list of the 2019 Best Online Bachelor's Degree Programs. Of the institutions listed, CUNY SPS ranks 1st in New York City.
Press Contact:
Andrea Fagon
Director of Marketing and Communications
andrea.fagon@cuny.edu
(646) 664-8690