Alums Learn LinkedIn Tips During 5th Annual Multi-Campus Career Event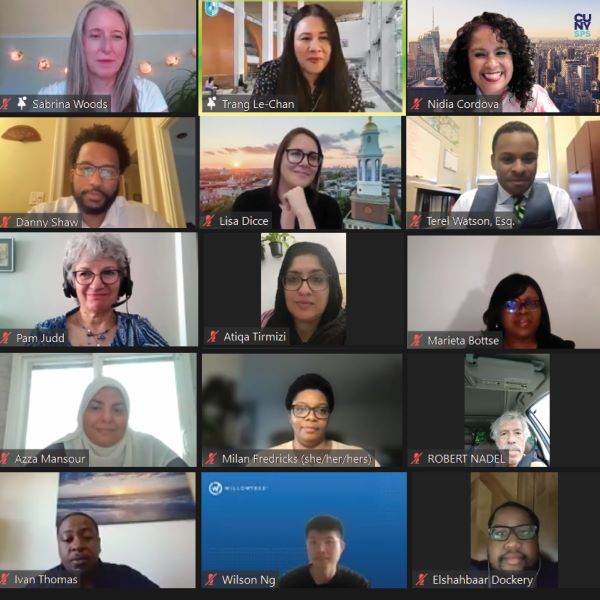 The CUNY School of Professional Studies (CUNY SPS) co-hosted the 5th Annual CUNY Multi-Campus Alumni Career Event on Tuesday, June 28. Organized by the School's Offices of Alumni Relations and Career Services, the hands-on, highly interactive webinar was designed to help alums learn the most effective ways to market their skills as professionals on LinkedIn while offering fun and creative ways to grow their networks.
In addition to CUNY SPS, seven other CUNY campuses collaborated to launch the virtual gathering: Brooklyn College, The City College of New York, Craig Newmark Graduate School of Journalism, The Graduate Center, Guttman Community College, The New York City College of Technology (City Tech), and York College. A record-breaking 160 attendees joined from across the eight campuses.
In her opening remarks, CUNY SPS Alumni Relations Manager Nidia Cordova marveled at the growth of the event. "Five years ago, the program originally began with four CUNY schools with the intention of offering a broader networking opportunity for CUNY graduates," Cordova said. "Now we are double that with eight participating schools!" After acknowledging the contributions of the other CUNY schools, Cordova introduced the first guest speaker, CUNY SPS alum Danny Shaw (MS in Business Management and Leadership '17).
Shaw, who serves on the Alumni Engagement Council at CUNY SPS, shared some of his insights and success as a multipreneur (a serial entrepreneur) utilizing LinkedIn's platform for his company 5Lines Design. "Back when it wasn't as well known, LinkedIn was a digital space where I kept bullet points of what I do… [so I could] mold those experiences into relevant opportunities to explore," he observed. Shaw, who is also an adjunct professor at City Tech, noted that he often uses LinkedIn to pay it forward by helping people in his network. "I definitely use it a lot to help amplify other people in my network who might be looking for work or who might be trying to bring more attention to their causes."
Following Shaw, several other guest speakers shared their own experiences with LinkedIn. First, City Tech alum Terel Watson, who now works as the Manhattan assistant district attorney, offered examples of how he advanced his own career by using LinkedIn tools.
After Watson's talk, Sabrina Woods presented an interactive workshop geared to helping alums upgrade their LinkedIn profiles. Woods, a holistic career/life coach and consultant, used exercises, break-out groups, and even mini-meditations to help alum better understand how to build their brand on LinkedIn.
Woods addressed how each component on a LinkedIn profile can boost visibility and improve prospects. In one such example, Woods detailed how to maximize the profile summary segment. "I really want you to start thinking forward [to your dream job] and having that mindset because when we put those kinds of words in our LinkedIn profile summary—that's what we're going to attract," said Woods.
Using herself as a case study, she further explained, "I'm a career coach, right? But if you look at the summary section of my LinkedIn profile, you won't see the word 'resume' or 'interview.' Well—I can do those things. But what I really want more is [to work] in this holistic capacity: helping people with career transitions and doing LinkedIn training…. I use my summary section to really focus on what I want to be in the future."
At the conclusion of Woods' workshop, alumni moved into break-out rooms to network and meet fellow alumni from other CUNY campuses. In the mini-groups, alumni were encouraged to share stories, tips, and job leads.
After the final break-out session ended, the chat box was filled with enthusiastic responses from alumni who raved about all that they had learned, and how much they appreciated the opportunity to connect with their fellow CUNY alumni.
To watch the full video, please visit the CUNY SPS YouTube channel.
About the CUNY School of Professional Studies
As New York's leader in online education since 2006, the CUNY School of Professional Studies (CUNY SPS) offers the most online bachelor's and master's degree options at the City University of New York, and serves as the University's only undergraduate all-transfer college. With 26 degrees and numerous other non-degree and grant-funded workplace learning programs, CUNY SPS meets the needs of adults who wish to finish a bachelor's degree, progress from an associate's degree, earn a master's degree or certificate in a specialized field, and advance in the workplace or change careers. Consistently ranked highly by U.S. News & World Report for its online offerings, and noted for its soaring growth and enrollment, CUNY SPS has emerged as a nationwide leader in online education. The School's renowned and affordable online programs—which offer in-state tuition to all students regardless of where they live—ensure that busy working adults may fulfill their educational goals on their own time and schedule.
Press Contact
Andrea Fagon
Director of Marketing and Communications
andrea.fagon@cuny.edu