2nd Annual CUNY Multi-Campus Alumni Training & Networking Event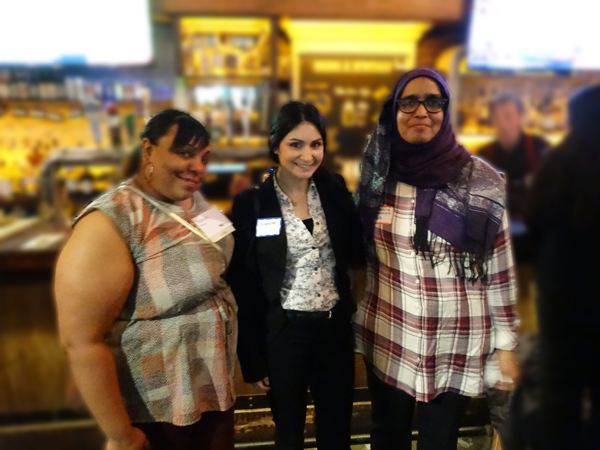 April 3, 2019 - New York, NY - On March 26, 2019, the CUNY School of Professional Studies (CUNY SPS) co-sponsored the 2nd Annual CUNY Multi-Campus Alumni Training & Networking Event in downtown Manhattan.
CUNY's Brooklyn College, City College of New York, and the Craig Newmark Graduate School of Journalism partnered with CUNY SPS to draw 80 alumni, 23 of whom were CUNY SPS graduates, to this event. The multi-campus event serves as one of the rare occasions where graduates from CUNY campuses have the opportunity to connect with one another with the goal of strengthening their career relationships.
"The key word in the phrase alumni community is community. Events such as the CUNY Multi-Campus allows us to derive value from that community by increasing our networks and reinforcing the narrative that we are the life blood of the city," says Brennon Marcano, a member of the CUNY SPS Foundation Board, who attended the event. "There is great strength in the CUNY alumni and that was certainly on display at this event. I look forward to seeing it again at the next."
Organized in part by Michael Iadarola, executive director of development, Nidia Cordova, alumni relations specialist, and Nicholas Barratt, development specialist, the evening began with a career training workshop led by Shannon Gallo, career services manager, that reviewed the art of networking, how to perfect both a personal and elevator pitch, and the "do's and don'ts" of small talk. A networking reception immediately followed during which time alumni including Tye Brown (BS in Business '16) and Stefanie Jenkins (Advanced Certificate in Public Administration and Public Policy '16) provided resume feedback for all attendees in 15-minute intervals.
"[CUNY SPS] definitely make[s] being an alumnus a proud, fun, and valued experience," said Brown. While Leticia Arroyo (BA in Sociology '16) added, "It's truly nice to know we have such an amazing resource within CUNY."
Based on the positive reception received by alumni and administrators alike, the campuses look forward to holding a third event in Spring 2020.
About the CUNY School of Professional Studies
Home to the first fully online degree programs at the City University of New York, the CUNY School of Professional Studies provides online and on campus programs that meet the needs of adults who are looking for a seamless way to finish a bachelor's degree, earn a master's degree or certificate in a specialized field, advance in the workplace, or change careers.
Affirming its role as a leader in online education, CUNY SPS was ranked in the top 5% in the Nation in U.S. News & World Report's list of the 2019 Best Online Bachelor's Degree Programs. Of the institutions listed, CUNY SPS ranks 1st in New York City.
Press Contact:
Andrea Fagon
Director of Marketing and Communications
andrea.fagon@cuny.edu
(646) 664-8690