2021 Youth Studies Speaker Series Draws on Current Political Events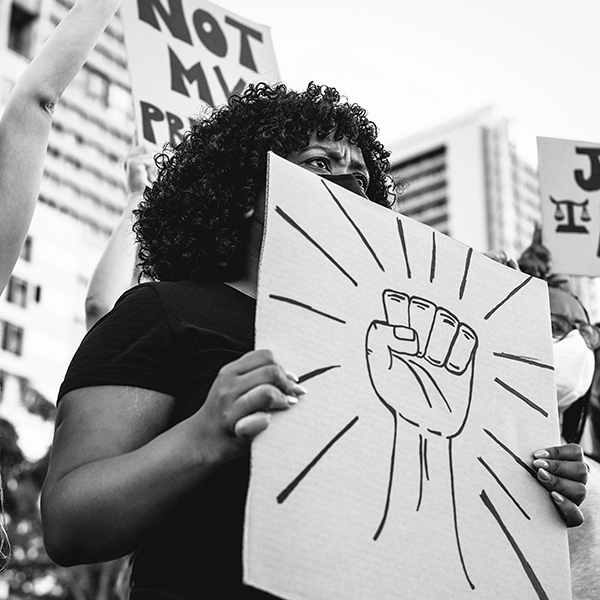 The CUNY School of Professional Studies (CUNY SPS) youth studies program hosted its annual Community & Youth Organizing Speaker Series in January, with three talks that were shaped by several momentous political events that happened to occur on the same days. Nearly 300 students, faculty, staff, alumni and community members in total attended the online events, which were curated and moderated by Lumumba Bandele, an adjunct faculty in the youth studies program, and which focused on defunding law enforcement, the U.S. electoral system, and racial capitalism.
"This year's conversations in the Community & Youth Organizing Series about defund/refund, electoral politics and beyond, and racial capitalism were timely and extremely important. We anticipated that this year's class would be remarkable given the broader socio-political context and it was!" said Dr. Sarah Zeller-Berkman, director of the CUNY SPS youth studies program and the Intergenerational Change Initiative. "Each of our three events in January 2021 were accompanied by major political happenings; the storming of the capitol, the second impeachment of the president, and the inauguration. We felt so lucky to have Professor Bandele and the incredible group of activists-scholars he brought together to help tease out the relationships between racism, capitalism, policing, prisons, electoral politics, and uprisings in real time. It was a gift to the youth studies community and beyond."
The first talk on January 6 "Defund: Reimagining Public Safety" was held just hours after the Capitol riots. Speakers included Mark-Anthony Johnson, board member of Dignity and Power Now, a Los Angeles-based grassroots organization that fights for the dignity and power of all incarcerated people, their families, and communities; Tré Murphy, the deputy director of community organizing at the NAACP Legal Defense Fund; and Anthonine Pierre, deputy director of the Brooklyn Movement Center, a community organizing group based in Bed Stuy and Crown Heights neighborhoods of Brooklyn. As facilitated by Bandele, speakers discussed their community organizing efforts, presented videos about their organizations, and answered questions posed by the audience. Throughout the night, the dialogue about the defund movement was influenced by the unfolding insurrection, leading to incisive and impassioned discussions about state-sanctioned violence and white supremacy.
On January 13, the series hosted its second event "Democracy vs. Electoral Politics", featuring speakers Nelini Stamp, national organizing director of Working Families Party, and L. Joy Williams, president of Brooklyn NAACP. The inspiring and illuminating talks this night, which marked the historic day that former President Trump was impeached for the second time, centered around ways to make the U.S. electoral structure more democratic, the recent victories and setbacks in the fight for a more democratic system, and different strategies that activists and organizers can use to help make the U.S. government more participatory and representative of its people.
Finally, the last talk "Racial Capitalism", which was held the same day as the inauguration of President Joe Biden, was hosted on January 20. Dr. Charisse Burden-Stelly, the 2020-21 visiting scholar in the Race and Capitalism Project at University of Chicago, sat down with Bandele to discuss her research and engage in a rousing and informative conversation about the meaning and history of racial capitalism, its roots in Marxism, and its connection to the current-day political and economic climate. She also responded to a series of audience Q&As that touched upon topics like reparations, imperialism, and mutual aid societies.
About the MA in Youth Studies program
The MA in Youth Studies, the first program of its kind in New York, was established in 2017 with the goal of supporting the needs of individuals ages 12 to 24 by training qualified frontline youth workers, directors, and administrators. In addition to offering a high-quality degree, the Youth Studies program has a research agenda that uses youth-adult partnerships and a critical participatory action research approach to inform youth policy and practice in NYC. Current projects include partnerships with ACS and DOE and Amplify, a set of new and innovative research tools designed to engage young people in city-wide policy making and drive local action.
About the CUNY School of Professional Studies
For over 15 years, the CUNY School of Professional Studies (CUNY SPS) has been leading online education in New York. Notable for offering the most online bachelor's and master's degree options at the City University of New York, and for serving transfer students as the University system's only undergraduate all-transfer college, CUNY SPS meets the needs of adults who wish to finish a bachelor's degree, progress from an associate's degree, earn a master's degree or certificate in a specialized field, and advance in the workplace or change careers.
The School's growth has been remarkable, with twenty-four degrees launched since 2006. Enrollment has risen by more than 30% in the last four years to over 4,000 students in the credit-bearing programs. Thousands more are enrolled in non-degree and grant-funded workplace learning programs. In addition, the School has an active alumni network and has established the CUNY SPS Foundation, which offers multiple scholarship opportunities to current students.
CUNY SPS has consistently been named by U.S. News & World Report as one of the country's top online institutions. This year, the School was ranked in the top 2% in the nation on the publisher's list of the 2021 Best Online Bachelor's Degree Programs.
Press Contact
Andrea Fagon
Director of Marketing and Communications
andrea.fagon@cuny.edu