Yuliya Momont
RN to BS in Nursing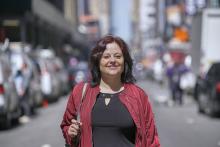 "Sometimes it takes a little more time than expected to pursue our dreams, but I finally decided to follow mine and became a nurse."
Why did you decide to become a nurse? What is the most gratifying aspect of your job? What is the most difficult aspect?
My love story with nursing began from my childhood. My mother worked as a nurse and I was always around her. I saw how she cared for sick people and how she helped them to recover from illnesses. I tried to be like her, so during every school trip, I was responsible for a first aid kit where I had everything that was ready for help. Sometimes it takes a little more time than expected to pursue our dreams, but I finally decided to follow mine and became a nurse.
The most gratifying aspect of my job is seeing patients get better and stronger. It is always a pleasure to discharge patients home with full recovery and understand that you were part of it. Of course, nursing also has its challenging moments. Nurses work hard and endure long hours, sometimes under stress or pressure. Nurses sacrifice their weekends, holidays, nights, and own comfort for the sake of many others and their health.
Why do you believe it's so important now for nurses to have a bachelor's degree?
I believe that earning a bachelor's degree will give me more chances to have a better position with various opportunities for career and personal growth. Bachelor's degrees are now necessary for nurses to obtain because it can help them develop better critical thinking and leadership skills.
What was your motivation for returning to school for your degree?
I graduated from my first college with an Associate of Science Degree in Nursing and straightly went for my Bachelor of Science Degree in Nursing at the CUNY School of Professional Studies. I always believed in the value of education and was driven to improve my knowledge and learn something new. This is why I am also planning to enroll in the new online Master of Science Degree in Nursing Organizational Leadership at CUNY SPS.
Why did you choose to continue your nursing education at CUNY SPS? Why an online program?
I chose to continue my education at CUNY SPS because they offer an online program in nursing. The program gives me the ability to manage my education around my life. I have to work full-time or sometimes extra-time while supporting my entire family, my son, and my parents.
Did you ever think that you would enroll in an online program?
Yes, I was looking specifically for an online program because I knew it would give me more flexibility with my schedule. My study time can be at any time when I am free from work or family responsibilities.
Which aspects of the program have you enjoyed most?
I like independent learning and the online program is giving me the opportunity to read and learn on my own schedule. Also, I really like that fact that I can conduct all of my coursework and can study without traveling to college. I can do research and write assignments anywhere.
What is your relationship like with your classmates and professors?
I had the opportunity to meet wonderful people while studying at CUNY SPS. It is always a pleasure communicating with my classmates and learning something new from them. Our professors are always ready to help students with their questions and accommodate their needs.
Which professional or personal goals would you like to achieve during your time at CUNY SPS?
I believe that my education at CUNY SPS will help me develop critical leadership competencies and help me make a positive influence on the nursing practice. I want to become an influential person who has the capacity to promote patient advocacy and contribute to the policy-making process.
In which ways have you grown so far as a result of your studies at CUNY SPS?
I believe that my experience at CUNY SPS has given me confidence in my knowledge and helped me grow professionally. When I entered nursing, I started as a bed site staff nurse. Now, I have an administrative position as an MDS assessor where I have more power to improve the quality of care for my patients.
What's the greatest piece of advice you've received while at CUNY SPS?
At CUNY SPS, I learned that it is never late to learn something new. I see that many people of all ages and from completely different professional fields return to college and have their own story, but they all have one goal in common, which is to earn a degree for a better future. They inspire me to continue on my path for a better future.
What advice would you offer someone considering applying for admission to your program? What advice can you offer someone who is juggling, school, work, and other obligations?
If you have a full-time job, a family, and a lot of responsibilities, online education may be your best option. So, use that opportunity and become a student at CUNY SPS to improve yourself and your future.
What do you hope to do after graduating from CUNY SPS? What does your future look like?
I wish to continue to grow in the nursing profession as an MDS coordinator or assistant director of nursing. I also plan to enroll in the online MS in Nursing Organizational Leadership, which will help me achieve my career goals.
Yuliya's Fun Facts
Place of residence: Brooklyn, NYC
Weirdest place you have studied: Subway
Best thing about your community: Brighton Beach
What are you reading right now? The Martian
What are you watching right now? Grey's Anatomy
What you enjoy doing in your spare time: Going to gym, swimming, biking